Most Rev Terence John Gerard Brady was born on 19 April 1947 at St Margaret's Private Hospital in the inner-Sydney suburb of Darlinghurst. He was born seven weeks premature but survived, which was rare in those days. Two brothers, one older and one younger died in infancy. Bishop Terry has a younger sister, Frances, born eight years after him, and he has four nieces and nephews.
He grew up by the harbour in Rose Bay and was baptised in the parish church of St Mary Magdalene. His late mother, Mary, came to Australia from Ireland. His late father, Bernard, a builder, was born in Australia of Irish-born parents. Irish culture was a large part of Bishop Terry's upbringing, and he describes it as having a huge impact on his life.
When Bishop Terry was four, his family moved to Oatley and became regular parishioners at St Joseph's. He attended St Declan's Catholic Primary School, Penshurst, and undertook secondary schooling at De La Salle Catholic College, Cronulla. He left school in Year 10 to work in the Postmaster General's Department as a clerk and studied for his Higher School Certificate at night.
In a decision that would later shape his life, as a Year 8 student he began volunteering at the Matthew Talbot Hostel for homeless men. He says the experience gave him great confidence and a desire to serve others.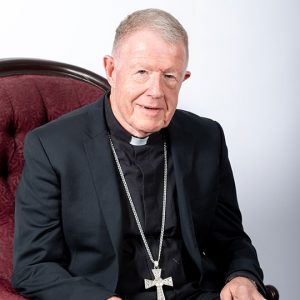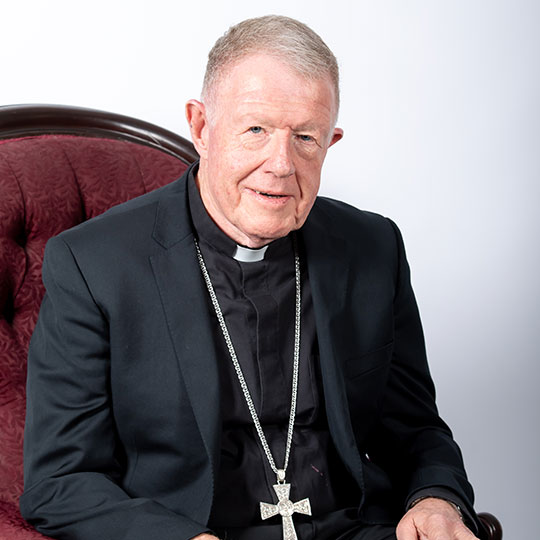 At age 18, Bishop Terry began life as a religious brother with the Missionaries of the Sacred Heart.
He describes the formation there as "excellent", recalling, "I would never, ever have become a priest, only for the homeless people and the wonderful spiritual formation given to me by the Missionaries of the Sacred Heart."
As part of his formation, he studied a three-year commerce course at TAFE in Wollongong, and undertook the roles of Bursar for Daramalan Catholic College, Canberra and the Business Manager for Annals Magazine.
Bishop Terry left the Missionaries of the Sacred Heart before making his final vows, and began working with the police department, and then St Vincent's Hospital as a wardsman.
Prior to commencing his studies for the priesthood at St Patrick's College, Manly, he also worked as a social worker with South Sydney Council. He was ordained a priest for the Archdiocese of Sydney on 20 August 1983. "I fitted in like a glove, and I loved it," Bishop Terry says of his ordination. "I never looked back after that."
Bishop Terry speaks of his love of parish life, and has served as assistant Priest in the parishes of Harris Park, Liverpool, Strathfield and finally Kingsgrove, where he was appointed Parish Priest in 1993. In February 2004, he was appointed Parish Priest of Sydney Harbour North, comprising the partnered parishes of Clifton Gardens, Mosman and Neutral Bay. This appointment ended on 29 February 2008.
On 4 October 2007, Pope Benedict XVI appointed him as auxiliary bishop of Sydney, and he was ordained a bishop at St Mary's Cathedral on 16 November 2007. His late mother, Mary, and sister Frances, were present.
As an auxiliary bishop he was assigned the titular episcopal see of Talattula, an ancient North African diocese in what is now Tunisia.
He has maintained a strong commitment to social justice through a long connection with the St Vincent de Paul Society, especially serving the homeless and for the past seven years as the Director of Catholic Mission for the Archdiocese.
A big part of his ministry is working in prisons, a "very special" opportunity and something he says would never have happened if he didn't become a Bishop.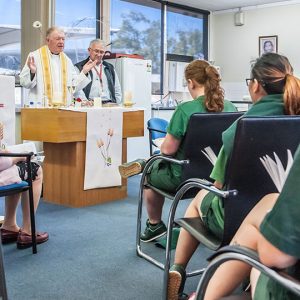 He says being a Bishop has enabled him to closely encounter a number of groups he otherwise might not have had a lot of contact with: seafarers, people with disabilities, politicians, trade unions and Australia's many multicultural communities (many of whom he says have contributed much to the richness of the Catholic Church in Australia.)
When not ministering to others, he loves swimming at the beach and enjoys listening to music (especially Celtic).
He speaks of the profound impact of his parents on his life and mission as a priest, as well as the late Father John McSweeney, another Sydney priest who died in 2013. He also cherishes the presence of religious women and men who have provided him with great support over the years.
In May 2012, the Australian Catholic Bishops Conference elected Bishop Terry to chair the Bishops Commission for Pastoral Life responsible for defending the rights of migrants and refugees, the pastoral care of prisoners, prison chaplains and people with disabilities.
In May 2018, this Bishops Commission was combined with the Bishops Commission for Health and Community Services and the Bishops Commission for Justice, Ecology and Development to form the Bishops Commission for Social Justice – Mission and Service.