Most Rev Bishop Richard Umbers was born in Auckland, New Zealand on 17 March 1971 to Declan and Mary Umbers, the youngest of five children, brother to Anthony, Andrew, Gregory and Margaret and uncle to 8 nieces and nephews.
He studied management at the University of Waikato in 1989 but transferred to University of Sydney in 1992 to receive more intense formation at a Centre of Opus Dei in Chatswood on Sydney's North Shore. He later qualified with a Bachelor of Economics from University of Sydney and a Masters of Management from the University of Waikato.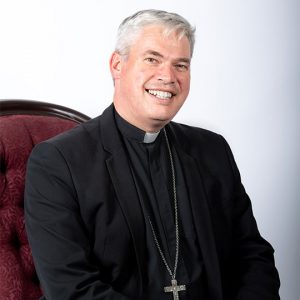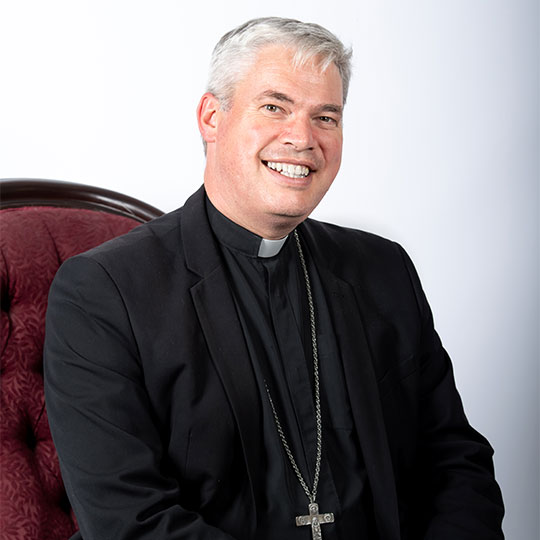 Bishop Richard entered the Opus Dei Seminary of Cavabianca, Rome in 1996 and studied at Santa Croce Pontifical University, Rome, achieving a Bachelor of Theology in 1999. Of his time in Rome, Bishop Richard says that one of his fondest memories is participating in a Eucharistic Procession with St John Paul II when he should have been studying for a liturgy exam.
Between 1999-2002, Bishop Richard studied at the University of Navarre, Spain where he received a Doctorate in Philosophy. On 14 February 2002, he was ordained a deacon and on 1 September 2002 a priest at the spectacular 11th Century Marian Shrine at Torrecuidad in northern Spain. Present at his ordination were his mother (who Bishop Richard says was so excited, she couldn't sleep for a week), one of his brothers, his uncle Father Bob and Father Amin Abboud, the person who first invited Bishop Richard to think about becoming a priest.
Since 2003, Bishop Richard has worked pastorally as a school and university chaplain at a number of NSW colleges. He was chaplain of Warrane College, Redfield College, Creston College Kenvale College and the Nairana Study Centre, and says that the best thing about working with students is being able to discuss all manner of ideas with them.
He tutored and lectured in philosophy at the University of Notre Dame, Sydney between 2006 and 2013, and served as the spiritual adviser to the University's St Thomas More Society. He was also a sought-after retreat master for high school and university students. As part of his engagement with students, Bishop Richard attended World Youth Day in Sydney in 2008 and in Krakow, Poland, in 2016. He went to World Youth Day in Manila in 1995 as a pilgrim.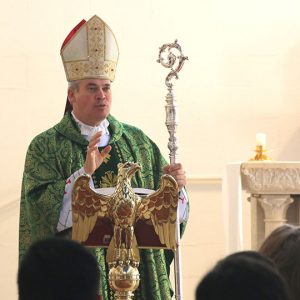 On 25 June 2016, Pope Francis appointed Bishop Richard as auxiliary bishop of Sydney and titular bishop of Thala in Tunisia. He was ordained as a bishop along with Bishop Anthony Randazzo on 24 August 2016 at St Mary's Cathedral, Sydney.
Present at his ordination was Bishop Denis Browne, Emeritus Bishop of Hamilton, New Zealand, who baptised Bishop Richard, and Father Bob.
More recently, Bishop Richard has been a representative of the Archbishop on the Council of Priests of the Archdiocese of Sydney and a member representative for the Archdiocese to the St John of God Hospitals.
In November 2018 he takes up his position on the Australian Catholic Bishops Conference's Bishops Commission for Life, Family and Public Engagement. He is also the Episcopal Vicar for the South Eastern Region, the Episcopal Vicar for Evangelisation and the Liaison Bishop for Tertiary Education.
Bishop Richard is widely published in the area of philosophy, regularly addresses youth gatherings, has a strong interest in social media and has a library of his own podcasts. He is proficient in Spanish, Italian and Latin.
In his spare time, our NZ-born Bishop is partial to watching a bit of "Netflux."