William Ullathorne (1806-1889)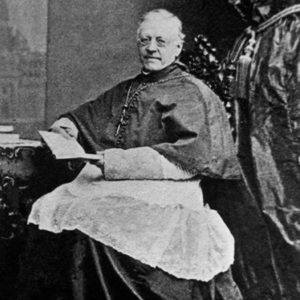 William Bernard Ullathorne was born on 7 May 1806 at Pocklington, Yorkshire, England, the eldest of ten children of William Ullathorne and his wife Hannah Longstaff. At 12 his schooling was cut short and he entered the family business at Scarborough. Soon afterwards he was apprenticed before the mast and was at sea for four years. Ashore in Memel, however, he experienced a sudden and decisive religious conversion and in February 1823 he entered the English Benedictine school at Downside and the Abbey in the following year. John Bede Polding was then his novice-master and was set to continue to dominate his spiritual and intellectual formation for many years.
On 16 September 1832 Ullathorne sailed for Sydney. He took control without any hesitation; Governor Bourke, Father McEncroe and the leading. Catholic laymen were all relieved to have Ullathorne's clear business head in charge. By July 1833 the Legislative Council made grants for the appointment of four new chaplains, the completion of three unfinished churches, and £800 a year for schools and schoolteachers. By Christmas 1833, St Mary's was in use and Ullathorne had visited the Hunter River and Bathurst; the next year he visited Norfolk Island and the Illawarra district.
Ullathorne strongly urged the appointment of a bishop resident in Sydney, and in May 1834 Propaganda issued the brief of Polding's appointment as Vicar Apostolic for New South Wales. Polding arrived in Sydney in September 1835 with one priest, three ecclesiastical students and a catechist, all paid by the government. Ullathorne then became parish priest of Parramatta.
He returned to England but continued to work for the Australian mission, travelling widely to recruit teachers and priests and raise money. He embarked on 17 August 1838 with three priests, four students and five nuns, arriving in Sydney on 31 December. He had now added fifteen clergy to the mission.
1840 was to be Ullathorne's most active year in Australia, teaching at the seminary, lecturing publicly on the Catholic religion, and administering the diocese while the bishop travelled its length and breadth founding a dozen new churches and schools.
Ullathorne was later made bishop and later archbishop of Birmingham. In 1888 Ullathorne retired from his diocese to Oscott College, where he died on 21 March 1889.