Annual Marriage Mass, St. Mary's Cathedral, Sydney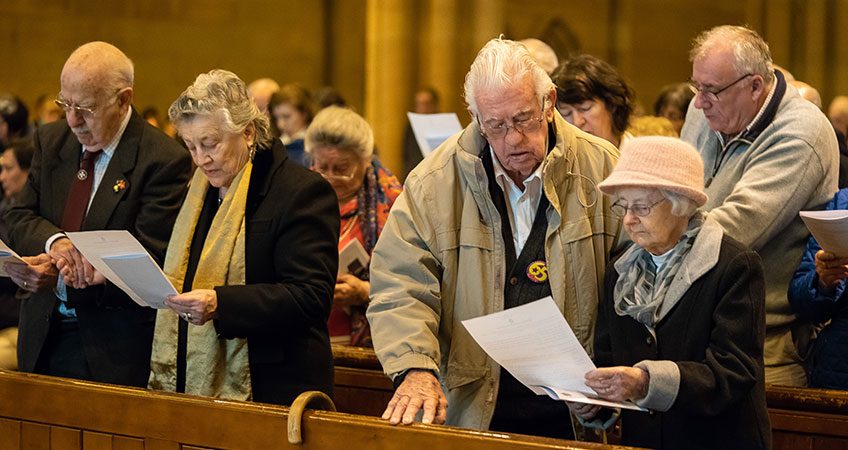 HOMILY FOR MASS FOR 14TH SUNDAY ORDINARY TIME YEAR B +
ANNUAL MARRIAGE MASS
St. Mary's Cathedral, Sydney, 8 July 2018
Silence. It can be oppressive, as in today's Gospel when the people of Jesus' hometown effectively gag his words and miracles (Mk 6:1-6). Silence can be angry or indolent, as when people sulk or neglect to speak up when they should. It can even be a weapon of passive resistance. The Anglican divine, Adam Ford, tells of a husband and wife he met who hadn't spoken a word to each other in twenty years. They communicated only through their hired hand, and when he wasn't around, not at all. The silence on that farm was deafening, indeed overpowering.
Yet some quiet is empowering. Paradoxically, silence is essential to communication: there can be no words, no music, without spaces between the words or the notes. And, to be frank, people who talk endlessly are less well attended to than those who choose their words and their moment judiciously. [If you are inclined at this point to say 'It's time for some shush Archbishop', fair enough…]. If silence is essential to communication it's also essential to having anything worth communicating. We should listen to what others are saying and should think before we put our mouth into gear. We all need some reflective time, from time to time, especially if we are busy-busy-busy, amidst a world of noise. Even Jesus, whose link to God was perfect even at His busiest, would step aside to some quiet place from time to time, often after days of preaching and healing and being surrounded by crowds. He'd call his intimates to do the same. Some hermits and monks devote whole slabs of their life to silence, as they focus on God alone. Those of us who are not that spiritually mature – and I, for one, find a week's silent retreat long enough – can certainly appreciate the breathtaking awe before something truly wonderful. A hush naturally comes over us!
So quiet can help contemplation and communication. It can also help loving. In this month of the jubilee of Paul VI's golden encyclical Humanae vitae we might recall his crucial insight that sex is a language of loving, saying I give you all that I am or I receive from you all that you are; but that there are times for couples to stay silent when it comes to the language of sex. If you get the urge in the shopping centre, for instance, it's best to wait. And sometimes when you know you are fertile it is responsible to abstain for now and find other ways to love.
I remember very well my grandparents, married by this stage for fifty years and more, wordlessly holding hands for long periods, and seeming somehow to know what the other was thinking or feeling, as if telepathically. Life-long lovers know that not every moments needs to be packed full of noise and excitement; that sometimes we can rest quietly in each other's presence. And the same is true in that love-life we call prayer, which is perhaps why our senior citizens are often our best pray-ers.
Earlier this year John Krasinski's film, A Quiet Place was released. I'd recommend it even to people not into sci-fi. It centres on a family, the Abbots, hiding in silence on a farm. Their world has been overrun by terrible creatures who, though blind, have acute hearing and will devour them if located. Our heroes communicate mostly by sign language, or in low whispers when shielded from being heard. But silence is key to their survival.
On the one hand, silence is imposed on this family out of fear. Yet the Abbots have found more than an absence of sound at their Quiet Place. They are especially attentive to each other, in a way that is much harder for those surrounded by noise. The children put each other's interests before their own. There is grace before meals, devoted family life, self-sacrifice, remembrance of the fallen. Though it risks death for the whole family, the mother (played by Emily Blunt) carries a child to birth and the family have no thought but to see that child safe into the world. And in the film's most moving scene, the father (played by Krasinsky himself) is powerless as his children are attacked by the creatures. But as St. Paul tells us (2 Cor 12:7-10), Christians are at their strongest when they are weak. So the father signs to his daughter 'I love you' before screaming aloud to draw the monsters onto himself, giving his life so the children might escape.
Such a story – like the stories, I dare say, of our jubilarians – is a parable to our ephemeral culture that so undervalues marriage and family, life and love, commitment and self-sacrifice. Our film also speaks to a culture of noise about the value of silence. Of course, quiet, as I said at the beginning, can be positive or negative. It can be driven by anger or fear, but when it expresses love and respect it can be like music. I have spoken before of the self-giving devotion, the cross-shaped love of Easter, that is so much more than the self-serving sentimentality, the heart-shaped love of Valentine's Day. But one aspect of Easter love we might note today is its silence. Jesus kneels wordlessly to wash our feet. In the portentous Eucharist that follows there are a few words but it is largely symbolic actions. He goes out into the darkness to pray alone in the garden. He endures the trial and torture, barely raising a word in His own defence. He carries His cross to Golgotha not complaining but forgiving. "Like a lamb to the slaughterhouse," predicted Isaiah, "harshly dealt with, he never opened his mouth." (Isa 54:7) The Word of God becomes the Silence of God, and that silence speaks volumes. He breathes His last, and it is the first breath of the Church. He "gives up the ghost" and so releases for us the Holy Ghost. He goes down into the quiet of the tomb, to liberate all those we have loved and lost.
They say that 'the family that prays together, stays together'. In our Gospel today, Jesus returned to his home town and is immediately identified by His extended family and His presence in the synagogue for prayers (Mk 6:1-6). Spouses, families, every Christian, must have times of words and of quiet together, and times of words and of hush with God. If we seek to silence each other, or sulk and so silence ourselves, we kill the relationship; if we push God to the peripheries of our lives or society, or fail to keep up the conversation that is prayer, we can kill that relationship too. But if talking matters, so does listening. Before Mass, after Holy Communion, immediately after Mass, and at other times too in our lives, we must recover quiet moments of recollection and gratitude. Unless we listen to each other and to God we are like that crowd in Jesus' day, who would not honour the prophet in their hometown, would not hear God in their midst, who crowded Him out with their own noise.
INTRODUCTION TO MASS FOR 14TH SUNDAY ORDINARY TIME YEAR B +
ANNUAL MARRIAGE MASS
St. Mary's Cathedral, Sydney, 8 July 2018
Welcome to St Mary's Cathedral for this morning's Solemn Mass. These are dark times for Christians, when deserved or not we face a media and social environment toxic to faith, and in which the credibility and influence of the Church are much reduced. Yet as if addressing us in his Epistle today (2 Cor 12:7-10) St Paul says that it is to stop us from getting too proud that we are given 'a thorn in the flesh, a devil to beat us up'. And when we pray to God for relief, Paul says His answer is this: 'My grace is enough for you: my power is at its best in your weakness.' We must be content, Paul says, with our 'weaknesses, and with insults, hardships and persecutions… for Christ's sake. For it is when I am weak that I am strong.'
Today we celebrate some ordinary human beings who have experienced the power of God in their own weakness: newlyweds celebrating a mere 50, 55, 60 or 65 years of marriage so far, who have come to join in our annual archdiocesan Marriage Mass and Renewal of Vows. And to all others present, visitors and regulars, a very warm welcome!
WORD OF THANKS AFTER MASS FOR 14TH SUNDAY ORDINARY TIME YEAR B +
ANNUAL MARRIAGE MASS
St. Mary's Cathedral, Sydney, 8 July 2018
My thanks to all those who took part in our annual archdiocesan Marriage Mass and Renewal of Vows. In particular I thank Chris Gordon, Silvana Scarfe and Mary Joseph from the Archdiocesan Life, Marriage and Family Centre. And I acknowledge our newlyweds celebrating the first 50, 55, 60 or 65 years of their and invite them and their families to join me in my house after Mass so I can present them with a token of my appreciation and that of the whole church of Sydney for their fidelity to their vocation.