Vigil Mass of Remembrance for Anzac Centenary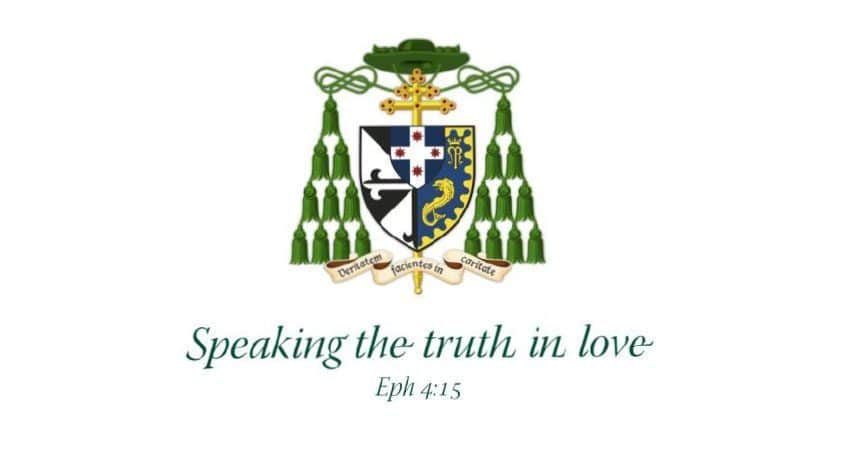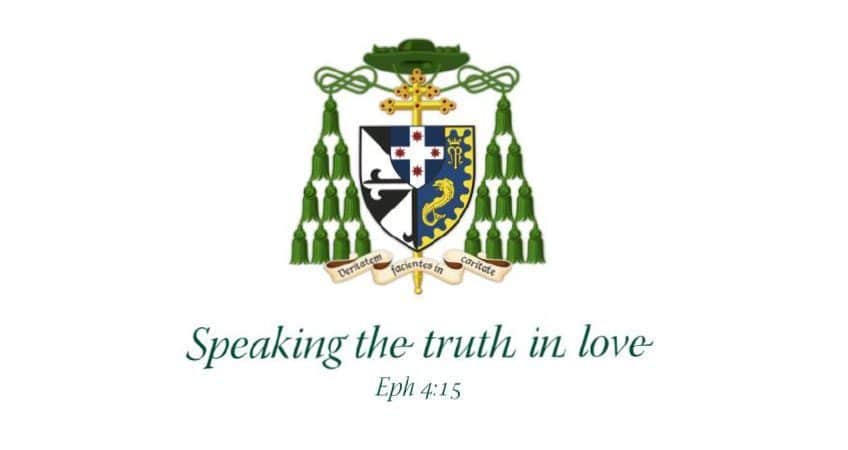 Introduction by Archbishop to Vigil Mass of Remembrance for Anzac Centenary
St Mary's Cathedral, 24 April 2015
Welcome to this Vigil Mass for the centenary of the ANZAC landing at Gallipoli. I echo the Dean's acknowledgement to our distinguished guests from Government, the Defence Force and the consular corps. I salute His Excellency the Governor, Hon. General David Hurley, those representing the federal, state and city governments, and those representing our Defence Forces, especially Rear Admiral Mayer, Commander of the Australian Fleet, Major General Gilmore, Deputy Chief of the Australian Army, and Group Captain Walsh, of the Royal Australian Air Force; those representing returned servicemen and women; and Commissioner Andrew Scipione of the NSW Police.
We are also pleased to have present the Consuls-General of many nations. I especially welcome Mr Abdu Rahman Sahin, representing the Consul-General of Turkey, Mr Mehmet Saral, Director of Bayram Turkish Cultural Association, and Mr Ahmet Polat, Director of the Affinity Intercultural Foundation: the presence of representatives of the Republic of Turkey and of Turkish-Australians tells of the friendship that has developed in the century past.
To the concelebrating clergy and everyone present, a very warm welcome. Tonight we remember, give thanks for, and commend to Almighty God, those who have died for our country and those of all nations who have died in war. We also remember with gratitude those who have suffered or are presently in harm's way for the sake of our freedom. As at every Mass, we pray for peace and reconciliation in our world. And so to prepare for this commemoration, let us acknowledge our own failures to defend truth and freedom or to make peace…  
Homily for Anzac Centenary Vigil Mass of Remembrance
St Mary's Cathedral, 24 April 2015
Fr John Fahey was born in County Tipperary, Ireland, in 1883. Shortly after his ordination at age 24 he was sent out to the Australian mission. Described as "an outdoor priest, teak-tough, a fine sportsman and a good shot" he signed up with the AIF as soon as the 'war to end all wars' broke out, was assigned to the 11th battalion and deployed to Gallipoli. One hundred years ago this evening he was ordered to remain on board when the men disembarked the next day. Convinced that his higher duty was to be at their side, he disregarded that command and was the first chaplain ashore at Anzac Cove, passing unscathed through a hail of bullets while men all around him fell dead. He was soon popular among the men, who knew he would endure any risk for their sake – exhorting the living, consoling the wounded, anointing the dying and burying the dead. There was an air of the miraculous about him, for he was twice shot through his overcoat without breaking his skin, had a book shot out of his hands on one occasion and the jam tin he was eating out of on another, and was buried alive but dug up when his trench was bombarded.
However powerful his guardian angel, Fr Fahey knew full-well the peril to himself and his men: "I don't know if I shall get through this," he wrote, "we live minute to minute." He didn't romanticize battle. "War is abominable," he recorded, "the awful sights and nerve-shaking ordeals" rock the bravest men. Yet he thought the Aussie troops "splendid fellows… Nothing could excel their courage and their cheerfulness in the most trying positions… I loved and admired them… Their bravery has been written in deeds that will live to the end of the world." He withdrew with the troops from Gallipoli in November 1915 and was deployed thereafter in France; by the time he returned to Australia in 1918 he was the longest serving frontline chaplain of any denomination. For "gallantry under fire" he was awarded the Distinguished Service Order and mentioned in dispatches.
Father Fahey was by no means the only priest attending the men at Gallipoli – 457 clergymen served as chaplains with the AIF and many more served in other campaigns. Other nations, too, had their padres: Fr Angelo Roncalli, the future pope and saint John XXIII, served with our Italian allies in that war as a medic and chaplain. Before entering the seminary my predecessor, Cardinal N.T. Gilroy, served at Gallipoli as a junior wireless officer on the transport, the Hessen. He was in Anzac cove this night one hundred years ago and heard the first shots fired the next day. To mention these names is not to lionise Catholic involvement in that war or any other; nor to diminish the contribution of other Christians or those of other faiths to the defence of our nation and its allies; nor to romanticize the First World War or any war before or since. It is only to show the solicitude that God and the Church always have for servicemen and women who sacrifice themselves for us – enduring the horrors of war or seeking to maintain the peace; it is to express the appreciation that people of good will have for the Anzac spirit, manifested at that time and ever since, a spirit that has been foundational for Australian self-understanding.

Tonight we mark one century since those men and boys waited anxiously through the night for their orders. At 4:30am the 3rd Australian Brigade was sent ashore to Ari Burnu point. The rest of the Anzac corps landed throughout the day. Led by the great commander and later President, Mustafa Kemal Atatürk, the Turkish 19th Division counter-attacked and drove 15,000 Anzacs back to the beaches. By the evening of that first day, the Anzacs held a narrow triangle of land roughly 2 kilometres long at its base on the coast and extending a kilometre inland at its widest. More than 1700 casualties had already been evacuated. They fought on bravely for some months in a battle now etched on our national memory, one that symbolizes many of our enduring values. That Australians are being so warmly welcomed in Anzac Cove by Turks tonight and that Turks are an integral part of the Australian community today is testament to the mutual respect and friendship born in the crucible of that tragic battle.
And so we remember them, the men and boys who prepared this night, one century ago, to fight and perhaps to die, the 8709 Australians who did die in that campaign, beside 2701 New Zealanders, 35,000 British and French troops, and similar numbers of Ottomans. We remember also the many thousands more ANZACs, allies and one-time opponents killed or injured in other campaigns and other wars. We honour their self-sacrifice and pray for eternal life for them all. We pray also for the survivors and for the families, for safety for those still in harm's way for our nation, and for peace in our world.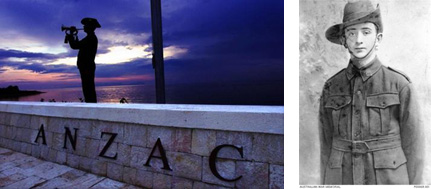 What a waste, some will say… and when we look at the rows of graves, in the case of Jim Martin only fourteen years of age, we can only agree. Yet courage need not be foolhardiness, self-sacrifice pointless, death annihilation; though the logic of altruism – "the language of the cross" as our Scriptures call it (Wis 3:1-9; 1Cor 1:18-25) – is strange to some ears, every nation and every age must ask itself what it is willing to live and to die for; what might be more important than self-preservation and self-satisfaction? Are there values that transcend what serves me getting my own way here and now? Is there a life that transcends the risks, hardships and deaths of this one? If a grain of wheat falls into the earth – apparently dead and forgotten – can it yet yield a rich harvest?
The presence tonight of young people from the Australian Catholic University and the University of Notre Dame signifies a new generation that asks itself these questions, who are determined to learn from the experience of their forefathers, and who will carry forward the high values of the Anzac tradition.
St John Paul II once told military personnel that working to prevent war, to limit war, to fight war justly, to end war comprehensively, is working for peace; the 'logic' of military service is not love of violence but love of freedom, not commitment to self-protection but commitment to others and their flourishing. This is how generals, soldiers, sailors, airmen and women, and service chaplains can serve in those ways without renouncing Christ's solemn charge to be peacemakers: when their strategies, even when of necessity forceful, are genuinely aimed at achieving a just peace, not more war. When St Thomas Aquinas wrote his famous tract on The Just War, he placed it not in his book on justice, as you might expect, but in his book on charity: he believed that a truly just war, fought justly, is an act of love, not hate; its goal is to prevent cruelty not perpetrate it; it seeks in the end friendship with the Turks, not their annihilation.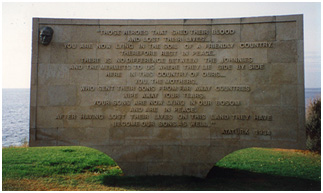 And in the words of reconciliation on the wall at ANZAC Cove, long attributed to General Ataturk: "Those heroes that shed their blood and lost their lives… are now lying in the soil of a friendly country. Therefore rest in peace. There is no difference between the Johnnies and the Mehmets to us where they lie side by side here… You, the mothers, who sent [your] sons from faraway countries, wipe away your tears; your sons are now lying in our bosom and are in peace, after having lost their lives on this land they have become our sons as well."


At one end of this cathedral is a very fine statue of a young man, an unknown ANZAC, who died for his country. At the opposite end, on the front of our main altar, is an image similar in some ways, of another young man who died for His people, for all people. The echo is not accidental. Speaking to his friends, many of them young men too, and aware of the peril before them all, he reassured them as if a padre at Anzac Cove (Jn 12:23-28). He was realistic about death but hopeful too. He knew He was to be that grain that fell into the ground, His death and burial would yield a rich harvest: a way for all humanity to immortality and to communion with God and each other.


http://www.anzac.com/upload/1360871201_war_cemeteries.jpg
By a strange quirk of the calendar, the latest day that Easter can occur in the Western Church – roughly once a century – is 25th April. So Anzac Day always falls in the season of Easter. For all the seeming pointlessness of these young deaths, the white crosses that once marked the Gallipoli hills and the more permanent walled cross now at the beach cemetery are portents of Easter. They promise that life ultimately triumphs over death, that courage beats small-heartedness, that love conquers all. May the One who forgave His enemies even from the cross bring peace to our world. May that same One who rose victorious from the tomb bring Easter to all those who have died in war. This we pray. Lest we forget. We will remember them.
1.http://adb.anu.edu.au/biography/fahey-john-6131; http://jeffkildea.com/wp-content/uploads/2013/02/Irish-Anzacs-2013.pdf
2.See: Tom Johnstone, The Cross of Anzac (Church Archivists Press, 2001); Jeff Kildea, Anzacs and Ireland (UNSW, 2007).
3.http://w2.vatican.va/content/john-paul-ii/it/homilies/1984/documents/hf_jp-ii_hom_19840408_giubileo-militari.html
4.St Thomas Aquinas, Summa theologiae IIa IIae 40.