Mass for 5th Sunday of Lent Year B and Day of the Unborn Child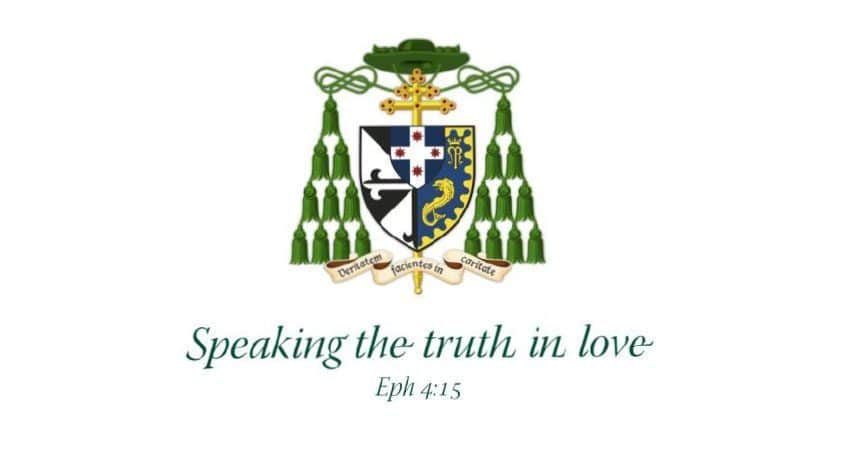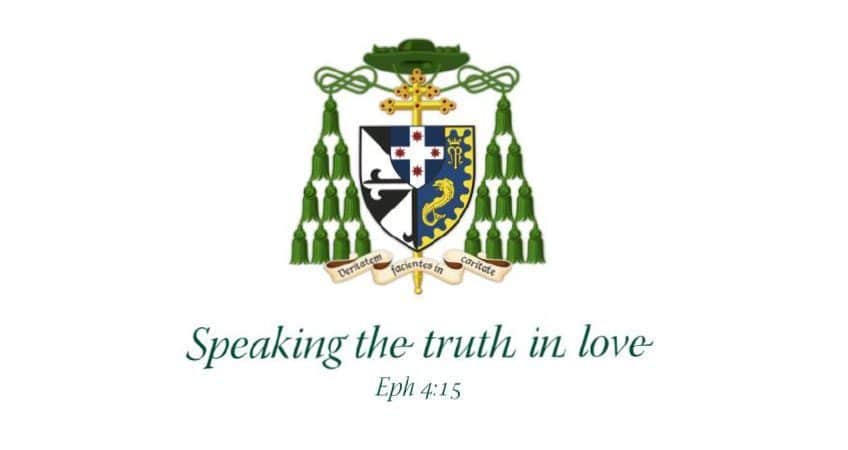 Introduction to Mass for 5th Sunday of Lent Year B and Day of the Unborn Child
St Mary's Cathedral, 22 March 2015
Welcome to St Mary's Cathedral and today's Solemn Mass of the Fifth Sunday of Lent. Today marks the beginning of Passiontide, the final straight before the Sacred Triduum, and so with Christ we turn our gaze to Jerusalem and the Passion.
On this Day so close to the Solemnity of the Annunciation we traditionally celebrate a Day of the Unborn Child, recalling the dignity of every human life, whether young or old, able or disabled, wanted or unwanted, very old or (in the case of the unborn) very young; where we remember those who die unnecessarily in our country each year; and where we are challenged to build a community so reverent towards life and so supportive of pregnant women that abortion becomes unthinkable. I welcome Fr Timothy Johnson from Diocese of Fargo, North Dakota, and Frs Thomas Azzi and Hugh Thomas. My thanks to Family Life International for organising today's event and to all who will join the Angelus and prayerful street procession after this Mass. I acknowledge the presence Mr Greg Smith, Member for Epping, former Attorney General and former President of NSW Right to Life, Dr Simon McCaffrey, President of NSW Right to Life and Mr Paul Hanrahan, Executive Director of Family Life International. And to all our regulars and our visitors, welcome! 
Homily for Mass for 5th Sunday of Lent Year B and Day of the Unborn Child
St Mary's Cathedral, 22 March 2015
Downton Abbey is now in its fifth season on Australian TV. Set a century ago, it follows the lives of Lord Grantham, his wife and daughters and their staff 'below stairs' through social change wrought by war, technology, economy and culture. In the fourth season the unlucky-in-love middle daughter, Lady Edith (played by Laura Carmichael), is first 'left at the altar' by her fiancé and then has a liaison with a journalist who goes missing as she discovers she is pregnant. With no support from the father or her unsuspecting family, she fears scandal and decides to seek an illegal abortion.
One relative, however, Aunt Rosamund (played by Samantha Bond), knows about the liaison and resulting pregnancy. She's aghast at the thought of abortion, knowing the evil involved and the possible effects on Edith. Nevertheless, she accompanies her niece to the seedy clinic of the doctor who is supposed to 'solve the problem'. But when Edith hears the heartfelt cry of a desperate woman in the next room, she comes to her senses and leaves. She subsequently travels to Switzerland under a pretext, bears her child and adopts her out. Thanks to a brave mother and supportive aunt, a little girl survives to see the light of day.
Unhappily, over the past century, as our civilisation moved from clandestine abortions and widespread adoption, to open abortion and closed orphanages, 'termination' rates have spiralled. Of course, there are still courageous Mums like Edith in our tale or like real life Thai woman Pattaramon Janbua, whose story made the news last year. You'll recall that an Australian couple had commissioned her to be surrogate mother to their twins, only to pressure her to have an abortion when one tested 'imperfect'. When she refused because of her Buddhist beliefs, they took the daughter Pipah back to Australia and demanded a refund for the brother, 'baby Gammy'; the Thai surrogate is now raising the abandoned Down Syndrome baby herself. Sadly, such courage and idealism seems to be declining.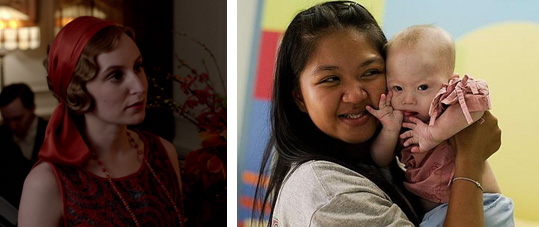 http://downtonabbey.wikia.com/wiki/Edith?file=Downton_edith_3-1-.png; http://resources1.news.com.au/images/2014/08/08/1227018/243201-43d67f34-1dc5-11e4-bf72-fc0acc2f37ad.jpg
We all know and love someone who has had an abortion, whether we realize it or not, because we are talking about one in four Australian women, women in every family, community, workplace, church. They are not necessarily selfish or cruel. Often they lack the internal resources, the aunt or moral community to support them in making a life-affirming choice.
The problem is in large part with the culture. Today's Australian culture tolerates a situation that leaves 80,000 tiny corpses each year, women wounded psychologically or spiritually, and our healthcare and legal professions deeply compromised. Hardly anyone thinks this is a good thing, yet people have been rendered insensitive by the sheer scale and regularity of it, silent for fear of being thought benighted or fanatic. A few years ago a philosopher-friend of mine, who though non-Christian shared many of my ideals, told me he thought Catholics from the pope down didn't believe their own rhetoric about the preciousness of every human life from conception; if they did, he said, they couldn't think signing the occasional petition was enough.
But before we wag fingers of judgment at the women or the bystanders we have to get a handle on what is really at issue here. In his great encyclical, The Gospel of Life, St John Paul II observed that when a society loses its sense of God, it quickly loses its sense of man as well (21); when we lose sight of the transcendent source of human life, we are less likely to take seriously its inviolable dignity. Then, as Pope Francis keeps pointing out, 'throwaway societies' like ours will treat unborn babies – and handicapped people, elderly people, unemployed or refugee or other unwanted people – as disposable. If even those who call themselves Christians live from day to day as 'practical atheists', as if God has no real purchase on their lives, if even we have forgotten God, we can't expect others to remember Him or live His law. So we come back again and agin to be challenged by the Scriptures, absolved in Reconciliation, nourished by the Eucharist and sent out to our neighbours in need.


Only that kind of communion with Christ can sustain a joyful and compassionate Gospelling such as we are called to offer our world. When John Paul called Christians to be people of life and for life, he pulled no punches about the moral evil of abortion; but he had nothing but words of sympathy for the women who'd been through that tragedy, calling them back into the loving embrace of the Church, insisting that no sin is unforgivable, telling them to hope that their little one is safe with God and that they will be reconciled with both. He understood, as Pope Francis does, as loving Christians everywhere do, the pressures people are under, that pregnant women are always vulnerable, often desperate and sometimes under duress. They understood, as we must, that people are only likely to make better choices in the context of a moral community and culture that supports better choices, that reverences every human being as the image of God, that puts the weakest first and support those who are struggling.
Recently the Canadian Jean Vanier, aged 86, was awarded the Templeton Prize, a sort of Nobel Prize for Religion. He has been an untiring advocate for people with disabilities. What began quietly in northern France in 1964, when Vanier invited two intellectually disabled men to come and live with him as friends, has now grown into 147 L'Arche residential communities operating in 35 countries, including Australia, and more than 1,500 Faith and Light support groups. It is a living testament to the message of our readings today: looking forward, as our first reading does, to an all-inclusive brotherhood, in which "the least no less than the greatest" are valued as the Lord's own and in which the divine Law "written on the heart" is observed by all (Jer 31:31-34). It joins our Passiontide Lord in our Epistle today "offering up prayer and entreaty, aloud and in silent tears" on behalf of suffering humanity (Heb 5:7-9). As He approaches that moment when He will be lifted up and will draw all people to Himself (Jn 12:20-33), we witness Him founding a new humanity that will honour and value every member as a unique and irreplaceable child of God.
At the coming Feast of the Annunciation we must join the frightened Virgin in saying fiat-yes to life, to every human life unique and irreplaceable, to divine life creating and redeeming and inspiring, for every person young or old, anxious or ashamed. From the Annunciation through the Passion to Easter we know that if we are to build a civilisation of life and love with Christ we too must play say a Marian fiat-yes to the God who is the author of life and love.
1. See http://www.mercatornet.com/articles/view/downton_abbey_and_abortion_rights
2. Sarah Dean et al. "'I will take care of Gammy on my own': Thai surrogate mother says she will take care of the critically-ill Down's syndrome baby as fundraising for his medical care tops $155,000," Daily Mail, 1 August 2014; Rachel Browne, "David and Wendy Farnell demanded refund for Gammy," Sydney Morning Herald, 11 August 2014.