Introduction to the Funeral Mass for the Repose of the Soul of Fr Ronald Harden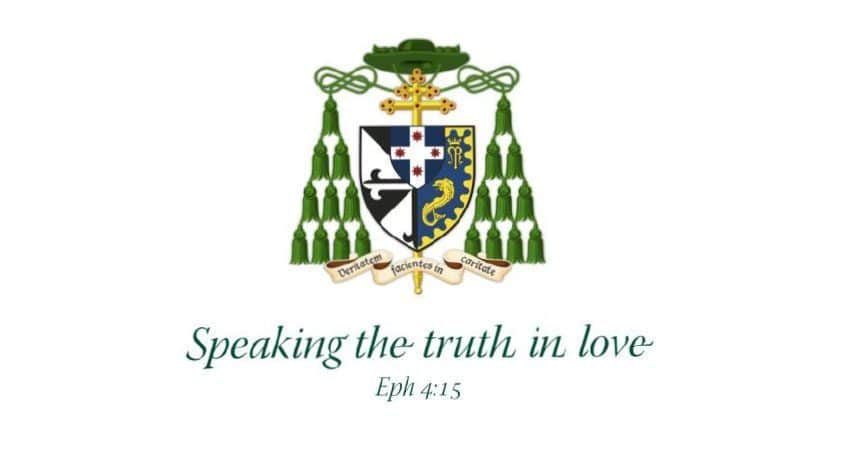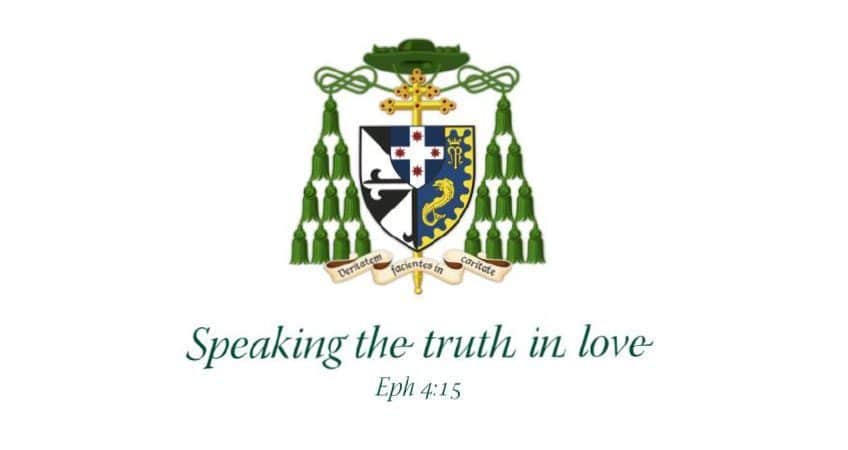 Today, we offer Mass for the repose of the soul of Fr Ronald Walter Burdett Harden. Born on the Ides of March in 1928, on the cusp of the Great Depression, he was to be the only child of Harold and Frances – hence the shortage of relatives today. He attended St Joseph's Rockdale and Marist Brothers' Darlinghurst before entering the seminary in Springwood and Manly. Cardinal Gilroy ordained him to the priesthood at St Mary's Cathedral on 21 July 1951 and perhaps on that occasion he already had thoughts on how the liturgical and musical life of the archdiocese could be smartened up. He was appointed to the Rosebery, Surry Hills and Cathedral Parishes and gave many years to directing the Cathedral Choir. As his reward he was given the care of this parish of St Michael in Hurstville, where he served as administrator for 35 years from 1970 until his retirement in 2005. The presence today of his close friend Bishop David Cremin and many parishioners is tribute to that unstinting service.
Concelebrating with me today are also Bishops Terry Brady, Bede Heather; Fr Janusz Bieniek CSMA, the Parish Priest; and other priests of the Archdiocese and beyond. I acknowledge the presence also of Mr Thomas Wilson and some members of the St Mary's Cathedral Choir.
I welcome Fr Ronnie's friends, including his friend and carer, Therese O'Neill, and her husband Gerard. I also thank the management and staff of Ferndale Gardens Nursing Home for the care they afforded him. And of course I welcome the parishioners of St Michael's who were his extended family for four decades.
I invite all of you to join me in asking Christ the Priest to reward this faithful servant for his years of service of God and his people by including him in the heavenly choir!
 
Homily for the Funeral Mass for the Repose of the Soul of Fr Ronald Harden
St Michael's Church, Hurstville, 10 February 2015
Amongst that vast internet repository of video clips of anything from pop music to comedy, current affairs to ancient history, that is YouTube, there is a recording of a Children's Mass in 1959 with commentary by Fr Don Richardson. It is a fascinating snap-shot of the evolution of the Liturgy just prior to the Vatican Council and the progress made by the Liturgical Movement with respect to the dialogue Mass, vernacular music and the like – as well as Australian pronunciation of Latin in the 1950s! The well-trained choir that accompanies the priest as he offers this Mass is that of St Mary's Cathedral and it is conducted by Rev. Fr Ronald Harden.

https://www.youtube.com/watch?v=p26p3zweAXU
An accomplished musician, Fr Ronnie served on the Archdiocese's Commission for Liturgy, Sacred Music and Art before, during and after the Council, from 1954 to 1974. He was the Music Director of the Cathedral Choir for most of that period. Implementing the Pionine and Vatican II reforms he renewed the choir as a boys' choir that could present the best of the Church's chant and polyphonic tradition, and introduced the growing body of more contemporary vernacular music. Those of us regularly at St Mary's are still beneficiaries of that work, as my spirit is raised every week to God by Australia's most excellent liturgical choir. 
The other particular beneficiaries of Fr Ron's life's work were the parishioners of St Michael's Hurstville who were, as I said at the beginning of Mass, not just his flock but his extended family for four decades, and to whom he was a devoted servant. Fr Ron's life was, then, a story of the marriage of faith and music, of art and priesthood, of generosity, humility and kindness. His friend Bishop Cremin says "I lived with Fr Ron for 32 years and we never had a decent fight… you just couldn't fight with Ron." He recalls the renewal programs, parish missions, concerts and jubilees, buildings and parish Star of David and Ronnies awards, as well as the full round of sacramental, preaching and leading work that is the life of a priest.
Recently the film adaptations of J.R.R. Tolkien's books, Lord of the Rings and its prequel The Hobbit were completed. The prequel to the prequel, The Silmarillion, is yet to be adapted for the screen. In it Eru the Creator sings creation into being and confronts through music the evil that Melkor the Satan-figure introduces. Every time this anti-god introduces a discordant note, Eru weaves it into the music so that it becomes an even more beautiful composition – to Satan's great frustration.
The Christian God of Tolkien and Harden is musical too. From all eternity He sung the Word His Son. Then in time He sung Him as a love song to humanity. St Paul says "Woe to me if I do not preach the gospel" (1Cor 9:16). We might say: Woe to me if I don't sing the love-song of the Gospel. In his first encyclical, Lumen Fidei, and exhortation Evangelii Gaudium, Pope Francis has insisted on the impossibility of selfishly storing up authentic faith: he thinks it is the sort of thing that has to be shouted from the rooftops. It has to be carolled as a love-song. Our life should be like a beautiful new setting of the Gloria, the Credo and the Sanctus.
God sends us forth to sing the song that is His Son to humanity sometimes tone-deaf but actually craving such music. For a priest, especially, Christ's must be the tune and lyrics. An example of Fr Ron's life as a Gloria – a proclamation of Glory to God and peace to people – was in his quiet generosity to God's good people. Typically for a child of the Depression, Fr Ron was abstemious and thrifty: but he was no Scrooge. Indeed, he was mortified when he discovered he had money in his bank account, as he regarded it all as the people's money not his. One parishioner recalls how he intervened in the 1970s with an offer of his own money when her husband was at risk of losing his job and their house. I heard that he recently pre-paid the funeral costs of a woman with no relatives living in housing commission accommodation. He renovated his family home so that the Cathedral seamstresses would have somewhere to live as they aged. No doubt these stories could be multiplied many times.
As I said, for a priest especially, Christ's must be the tune and lyrics. Fr Ron was such a priest. He loved the Mass of Jesus Christ and His Gospel. He continued to offer that Mass daily until he could no longer and to preach that Credo. He visited the homes in his parish most days, recorded whom he'd visited and for whom he'd offered Mass. He thereby inspired others in faith and vocation. He converted an extended Chinese family of 23 people, stimulated priestly and married vocations, and left behind a parish with a higher than normal (for Australia) practising rate.
So this man's life was a Gloria and a Credo. It was also a Sanctus. People were convinced Fr Ron was a holy man. When they encountered him they encountered something of God shining through him. So we offer this Mass and our prayers in the sure and certain hope that a life of such service of God and His people will not go unrewarded. We pray that Fr Ron may now join the heavenly choir – and perhaps have a role there as a conductor!