Men's Breakfast at Bonnyrigg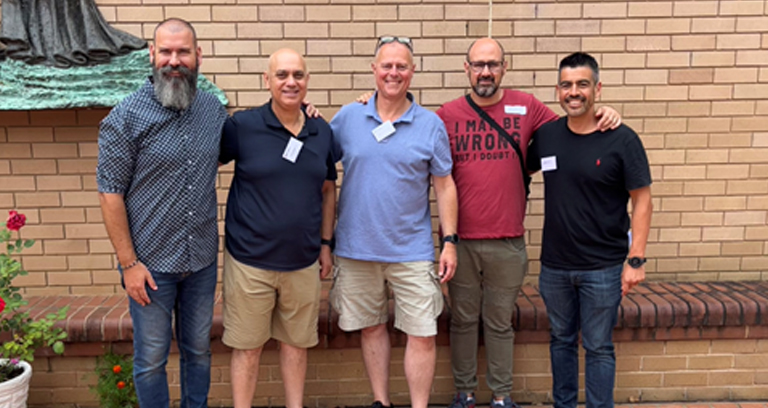 On Saturday February 19 thirty men came together from 9am for Mass with Bishop Terry Brady followed by a hearty breakfast of bacon n eggs, sausages and onions. After breakfast Peter Holmes gave a talk on authentic masculinity where he shared his ongoing journey to do God's will irrespective of what others think of you or what the world may be offering. Peter's presentation which was so raw and authentic in honesty and humility was beneficial for all present and paved the way for great group discussions which followed thereafter. The morning ended with a blessing and small gift from Parish Priest Fr. Dominic.
This men's group meets monthly on the third Friday of each month from 7.30pm and like any good group there is a small team of men who ensure everything runs smoothly. Branko Poljak, Odeh Haddad, Fortunato (Frank) Foti and Daniel Araneda are all passionate about their faith, love their family and parish community. They also recognise the need for men to have a brotherhood where they will not be judged but rather heard, supported and have an opportunity to learn and grow in their faith without judgement by hearing the experiences of other men.
"Men need to be able to speak freely and without the fear of being shut down or shamed" says Odeh Haddad. Fortunato Foti adds, "it allows men to come together and explore their own relationship with God. It allows men to listen and talk about the role of God in their own lives. It is a risk-free time to say what is on their minds and in their hearts. It is a time for men to pray together, it is a time to explore their part in God's plan."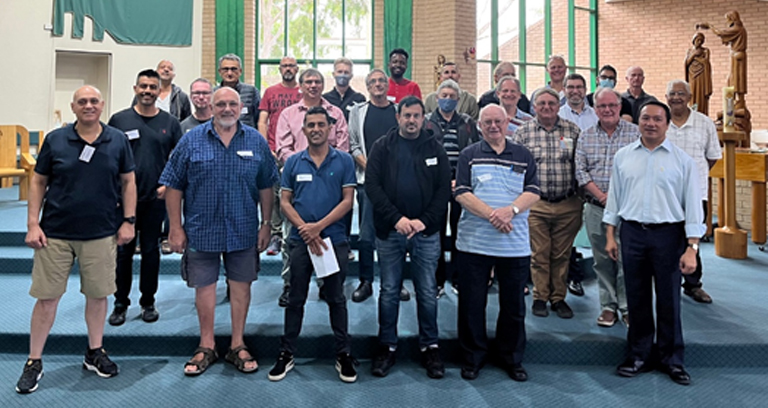 Studies and research on men's health highlight the fact that isolation is a major cause of anxiety, depression and in some cases leads to attempted suicide which unfortunately many are fatal. When our plans fail, we often blame others, or even God. The statistics are not good, seven out nine suicides every day in this country are men.
Brank Poljak reflects and comments, "our group discovered by accident that testimonies are very popular. Guys really love listening to other guys stories. We generally think "there is nothing special about me", but each testimony ends up with so much interest and discussion, and in the end there is a little bit of "Super" in every man but only others see it. Women are naturally more social, but when men start to talk the most common complaint is we didn't have enough time to talk, and that's in a 2 hour meeting!"
This group understands the importance of men's ministries but it is not always easy. There are times they feel like no one cares, question will anyone turn up to an event, they have their own family issues to deal with, busy with work, at times it seems there's a lack of resources or help so perseverance is important. Daniel Araneda agrees and highlights the point that it is important that the organisers are not left isolated because many hands make light work and everyone needs to be supported.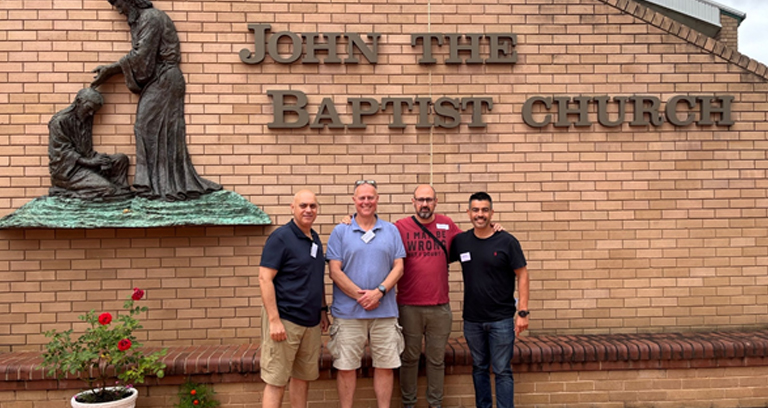 All these men love God and their families and intend to carry on with the important work of men's ministry with a hope to further reach more men from their community and beyond because it is needed. Like all good men they all like to do different things in their spare time from spending time with the family, riding the motorbike, hiking, going to the beach, watching football (soccer) and quite simply, doing 'nothing'!
Their message to all men involved in men's ministry or if you've never been to a men's group is simple, "do not be afraid, peace be with you and may God bless you"!
If you're interested in attending John the Baptist Men's Group at Bonnyrigg Heights you can reach out to these great men – Daniel Araneda on 0411 254 520, Fortunato (Frank) Foti on 0419221947, Odeh Haddad on 0434417628 or Branko Poljak on 0411 281 299.
St John the Baptist, pray for us!