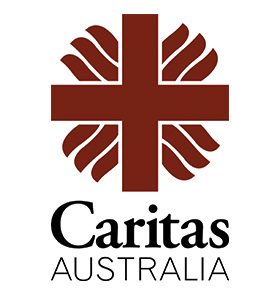 The development and overseas agency of the Catholic Church in Australia. Caritas: Compassion in Action
Mission
Caritas Australia will work towards the creation of a world that God desires to be just and compassionate. Caritas will work for the freedom of those who are oppressed by injustice, bringing 'sight' to both those who are powerless and powerful and proclaiming to the poor the good news of their human dignity. This work will be undertaken principally through the life-giving activities of aid and development.
As God created humanity to be in right relationship, so Caritas Australia will seek to work through right relationships or partnerships to bring freedom to the world's poorest communities today. Caritas Australia will work within Australia by inviting people into a just and compassionate partnership with people who are poor. In all of this, Caritas Australia, as the Catholic Church's agency for aid and development, gives expression to the Gospel imperative to pursue justice and to help those suffering from poverty and disadvantage.
This organisation is a service of the Archdiocese of Sydney.
24-32 O'Riordan St, Alexandria NSW 2015, Australia
32 O'Riordan Street
Alexandria
New South Wales
2015
AU