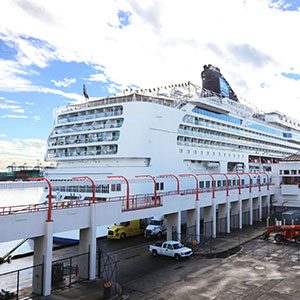 The Apostleship of the Sea is the apostolic work of the Catholic Church caring for the spiritual, social, and material welfare of all Seafarers regardless of colour, race or creed.
Offers:
– Daily visitation of ships at Port Botany, Glebe, Balmain, Darling Harbour
– Communicating with and listening to seafarers
– Advocacy for seafarers suffering abuse onboard
– Provision of telephone onboard for seafarers to keep in touch with family
– Transport ashore for seafarers
– Assisting with food and clothing in times of need
– Facilitation of discussion groups onboard where problems exist
– Providing opportunities for Catholic seafarers to celebrate the sacraments
– Encouraging and facilitating prayer onboard
– Coordinating volunteers and their activities
– Visitation of seafarers in prisons and hospitals
– Communication with families
– Accompanying seafarers to courts, doctors and union offices
– Networking with Stella Maris workers in other Australian and International Ports
24 Hour Help line on the Australian Coast 1800 555 656
The Regional Coordinator :
Sr Mary Leahy
mobile: +61 (0)418 724 713
email: srmaryleahy@gmail.com
This organisation is not a service of the Archdiocese of Sydney. Please direct any query to the organisation directly.
Contact:
Roslyn Rajasingam, National Director
GPO Box 368, Canberra ACT 2601
Theatre Lane
Canberra
Australian Capital Territory
2601
AU