Ferverino for the 18th Annual Carols with the Archbishop and the World Youth Day Orchestra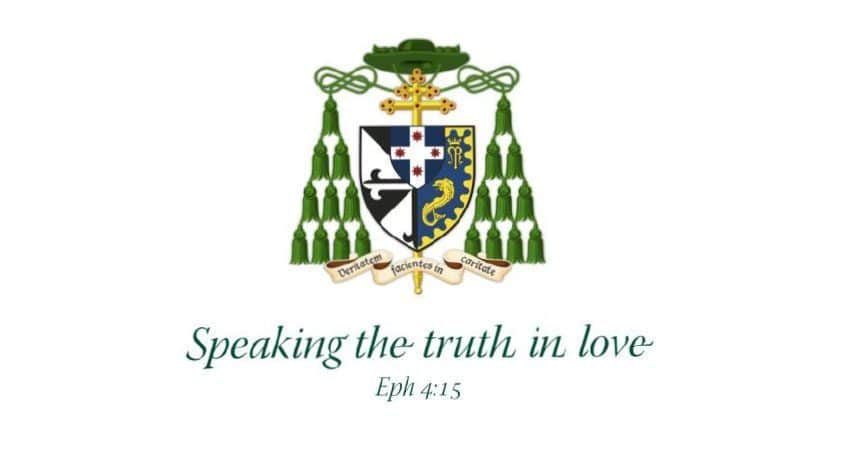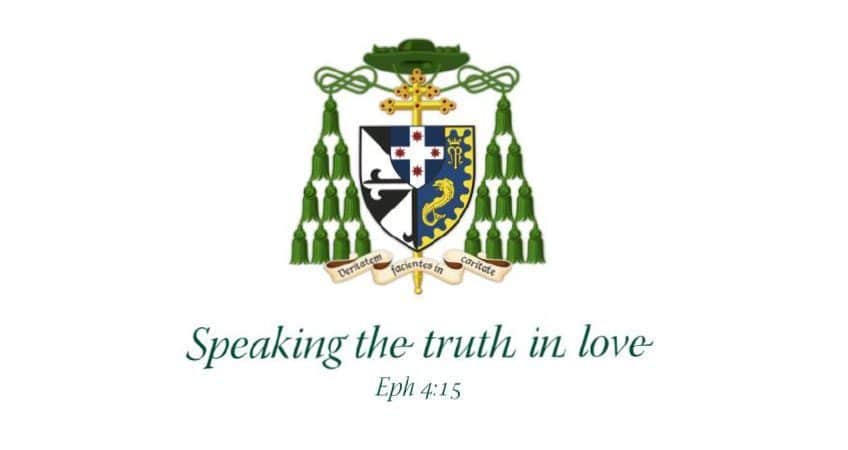 Holy Family Church, Maroubra, 11 December 2022
When St John baptised Our Lord in the Jordan, the Gospels tell us the Spirit of God descended upon Jesus. One might have expected thunder, lightning and quake, a pillar of cloud and of fire, a fearful voice from a burning bush, a vision splendid and stupefying of God upon a lofty throne surrounded by seraphim, as in the theophanies of the Old Testament.[1] Instead, according to all four Gospels, the Holy Spirit descends "in the form of a dove".[2]
Any Jewish hearer of that story would immediately have recalled the incident where Noah released a dove after the Flood in order to find if any land had peeped out from the waters; it came back having plucked an olive frond, a sign of life after the terrible flood, of God bringing Noah, his family and the animals back to land, and of God holding out the olive-branch of peace (Gen 8:11). The more scripturally savvy hearers might also have thought of the Spirit of God hovering over the waters at the genesis of creation (Gen 1:2). What is clear in the epiphany at the Jordan is that far from being warlike and fearsome, the Spirit associated with Jesus (with or without olive branch in its beak) is a symbol of peace. When Jesus later tells His disciples to be innocent as doves (Mt 10:16) this underlines that the dove-shaped God is a gentle God of Peace—as indeed Zechariah and the angels had sung at His birth and we have echoed tonight in our carols (Lk 1:79; 2:15).
After a year of disastrous flood in this state and of terrible war in Ukraine and elsewhere, people might wonder how we can talk of a God who ends floods or brings peace of earth? How do we speak of hope and peace to those who've lost their homes and livelihoods in Mariupol or Eugowra—people who in the words of the psalmist "are crushed and utterly spent" (Ps 38:8)? Can the celebration of Christmas really make a difference, or will it only rub salt into the wounds?
For five gruelling months in 1914, millions of ragged British, French, German, Austro-Hungarian and Russian soldiers fought each other along trench lines in the stalemated Race to the Sea and the indecisive First Battle of Ypres. Separating the opposing forces was the infamous "no man's land," an abyss of horror and death that regularly devoured those brave enough to try to cross it.
On one cold winter morning, however, the roar of artillery and the screams of machine-gun fire were replaced with something altogether different. Beginning softly and then increasing in tone were the sounds of Stille Nacht, Heilige Nacht and The First Noël and soon the soldiers were engaging in a kind of sing-off as each side clapped the other's efforts. During brief unofficial truces soldiers ventured into no man's land to recover the bodies of their dead comrades, to hold Christmas Masses on makeshift altars and joint burial ceremonies, to exchange prisoners, food, cigarettes or souvenirs, to play football and simply be together.
The great 'Christmas Truce' of 24-26 December 1914 up and down the line was a powerful, even miraculous example of the power of faith to restore hope and ignite charity, amidst the worst of human brokenness. If only briefly the soldiers were moved by God's love to see their sworn enemies for who they truly were: men just like them, God's precious children, brothers, other selves.

Much of what drives human conflict is fear. But the Christmas story upends fear by placing trust and hope in the strangest of places: in the cry of a baby. Not as tuneful, I guess, as the angelic choir singing the Gloria that night, or the little drummer boy, or the soldiers in the Weihnachtsfrieden, or this congregation carolling tonight. Yet that baby's cry is arguably the most beautiful sound ever heard.
Not the noise and drama you'd expect of an ancient theophany, or of a conquering power, or of nature's terrible storms. As Pope Benedict XVI noted, God in the form of a helpless child "pits himself against all violence and brings a message that is peace."[3] And so, in place of worldly power and natural fear, love comes wrapped in vulnerability. The Holy Family showed how perfect love casts out fear with their faith in God's promises and hope despite uncertainty and trepidation. And in the shepherds and the magi we see humanity, responding however tentatively, engaging in wonder and adoration, compellingly attracted by the Word made flesh, the Word made a Baby's cry.
At Christmas we can choose, whether to join the inn-keeper with closed heart saying "not welcome here", to join Herod using violence or deceit in self-protection, to join the soldiers just obeying orders whether on the killing fields of Bethlehem or of Bakhmut. Or to join the shepherds responding in wonder to the music and rumours of angels, the magi responding to the wonders of nature and wisdom of the ages, the young couple responding to God's call in their lives and open to going wherever it takes them. Christmas whether the first, or in 1914, or in 2022, shows us human beings at their best under grace, even amidst man and nature at their worst. This year the 7,000 Orthodox churches in Ukraine will join the Catholics in celebrating Christmas on 25th December, rather than on 7th January as they usually do, in a sign that hatred from one direction is driving new friendships in another; and, incredibly, the soldiers and people are talking of Christmas truces and ways of indicating good will in the holy season ahead.
Christmas speaks to that side of the human heart infused by divine grace that refuses to give in to the darkness but sees a great light; that hears the music in a baby's cry, angelic chorus and shepherd boys; that has faith and hope that love will yet break out again on a silent, holy night as it did in Bethlehem two thousand years ago and on La Trêve de Noël. May the God who appears as a dove of peace and an innocent Babe restore that faith, hope and love in you this Christmas.

---
[1] e.g. Ex 3:1-6; 13:21-22; ch. 19; Jud 5:2-31; Job 4:13-16; Isa 6:1; Ezek chs 1,8,10,20; Dan 7:1-10.
[2] Mt 3:16; Mk 1:10; Lk 3:22; Jn 1:32.
[3] Benedict XVI, Homily at Midnight Mass, 24 December 2011.
Word of Thanks for the 18th Annual Carols with the Archbishop and the World Youth Day Orchestra – Holy Family Church, Maroubra, 11 December 2022
It's been a pleasure once again to join you for these wonderful carols. My sincere thanks to Dr Mark Schembri and the Maroubra World Youth Day Orchestra, our excellent soloists, and all those who've yet again worked tirelessly to make this even happen.
I am pleased to acknowledge Hon. Matt Thistlethwaite MP, Assistant (Commonwealth) Minister for Defence and for Veterans' Affairs and Member for Kingsford Smith; Hon. Damien Tudehope MLC, (New South Wales) Minister for Finance and for Employee Relations and Leader of the Government in the Legislative Council, representing the Premier; Mr Michael Daley MP, Shadow (state) Attorney General and Member for Maroubra; Mr Lawrence Buhagiar, Consul General of Malta; John Bennett OAM and Lyndey Milan OAM, representing the Royal Agricultural Society of New South Wales; David Pacey, representing St John's College within the University of Sydney; Josephine and Tony Sukkar, representing Sport Australia and Buildcorp Foundation; Gail O'Brien AO representing the Chris O'Brien Lifehouse; and David Mortimer, former Chair of Opera Australia.
This evening we celebrated the God whose love for us is so strong that He entered history to be with us and call us back to communion with Him and each other. His birth heralds a peace that binds us all together as sons and daughters of God Almighty. In the tender cries of the Christ-child we witness the closeness of our God and tonight we joined the angels, shepherds, kings and parents singing joyfully His praises. We thank our hosts, organisers and performers for beautifully recalling us to this most wonderful of tasks! May God bless you and your loved ones in this holy season.