Be a Light in Lockdown: Family Educators and the New Evangelisation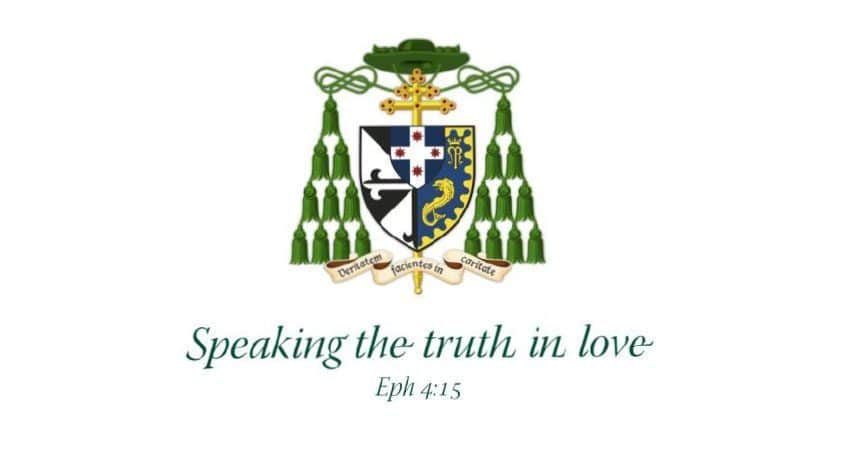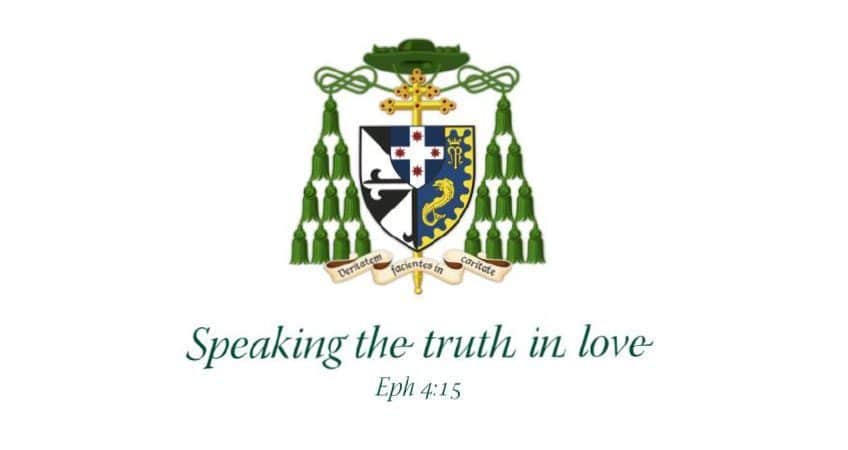 Talk for SCS Family Educators, Livestreamed via Zoom
It's great that despite COVID-19-Δ restrictions we can still meet. I guess by now the Baby Boomers are all now Maybe Zoomers! 6 parts
1. Who is this Archbishop guy anyway?
I was asked to tell you something of my own story, a kind of 'who-dunnit' to find out who is to blame for this Archbishop!
Well, first let me confess that I was once a proper little pagan. I lived for my next drink or other sensory experiences, for the satisfaction of my passions. I cared nothing for other people's needs and never gave a thought to worshipping God or serving humanity. I didn't turn my mind to the great mysteries of Creator, creation and ourselves. I just wanted pleasant experiences and a quick fix to anything unpleasant.
But something happened that put me on a different trajectory. Did God throw me from my horse or 200 horsepower motorbike? Did I hear His voice calling from heaven through my iPod? When did I accept Jesus as my personal saviour? It happened, in fact, in a moment…
It was late in the morning of the 3rd of April 1960, at St Thérèse Church, Lakemba, when Fr Cyril Hatton poured water over my head and said "Anthony Colin Joseph, ego te Baptizo in nomine Patris, et Filii, et Spiritus Sancti." In a flash the pagan me with no faith in Jesus Christ was made a Christian, filled with the enormous spiritual potential of faith, hope and love. The unrepaired victim of original sin was washed clean and entered into the life, death and resurrection of Christ, His identity, mission and destiny. An outsider to the Church was made a part of Christ's Mystical Body, the communion of saints on earth, destined for the communion of saints in heaven.
By a stroke of that divine pen we call amazing grace, Anthony the little pagan was totally transformed, by water and words, into a child of God the Father, a brother of God the Son, a temple of God the Holy Spirit. As Catholics we know that God has a plan for us from our Baptism day, when we were all called to be priests, prophets and kings. Priests in the sense of people of prayer, sacrifice, worship, penance; prophets in the sense of people who always seek to know and tell and live by God's truth; and kings, that is, people who lead, especially by the example of their lives, giving witness to Christ in a world that needs that kind of servant-leadership more than ever today.
Baby Anthony received his vocation when he was three weeks old!
As I grew up there were many other experiences, influences, and graces. For one thing, I attended four different Catholic schools: St Thérèse Lakemba, St Michael's Lane Cove, Holy Cross Ryde, and St Ignatius Riverview. We didn't have family educators in those days, but my mother was very involved with the Parents and Friends Group and the parish-and-school relationship was stronger than it is today. My family wasn't hyper-religious, but we did go to Mass and I got the message loud and clear that God comes first. By the time I was 15 the possibility that I should be a priest was nagging at my soul. I pushed it away, studied and practised law, travelled and had a pretty good social life until, aged nearly 25, I gave in and joined a religious Order, the Dominicans, who celebrated the octo-centenary of the founder's death this very week. Though most of my formation was elsewhere I spent my last year and a half before priestly ordination working here in Sydney and was ordained a priest at Wahroonga in 1991; I was sent to Oxford to begin my doctorate in bioethics a week later. I thought at the time that it was all fairly clear what my life would be as an academic, priest and friar… and then out of the blue 18 years ago I was appointed auxiliary bishop of Sydney! Since then I've had three different appointments as Bishop, including as Archbishop of Sydney these 6½ years past.
I've had a lot of connections with Catholic schools and parishes. As an ACU lecturer I taught future and already Catholic school-teachers. As an auxiliary bishop I visited every Catholic school and parish in my Eastern region, many of them more than once. I was Chair of the SACS board (the predecessor of the SCS Board) and then of the Parramatta equivalent. I was Chair of the CECNSW (the predecessor of Catholic Schools NSW) and I'm now Chair of the Bishops' Commission for Catholic Education. I'm a member of the National Catholic Education Commission. So the schools are never far from my mind! And the parishes are, of course, the larger part of my day job…
I suppose my story tells you two things, at least: one is that you never quite know where God will lead you; the other, that if you abandon yourself to His will He will certainly take you to some interesting places! But in a very important sense my baptism day was really my vocation day, the day I got the call, so to speak – as did each one of you and each young Christian person, family member and school staffer with whom you connect. And if my vocation story continues every day as Archbishop, I must keep an open heart and mind, pray and listen to what God is calling me to be and do today – as must each one of you.
2. Mission
A mission statement, according to Wikipedia, is a short statement of why an organisation exists, what kind of product or service it provides, its primary customers or market, its region of operation. It may include a short statement of the organization's values or philosophy, its competitive advantages or desired future state, its 'vision'. It includes four things: aims; target audience; what it offers those stakeholders; and, the bottom line, core purpose. Though the idea came from the Church, the corporate world has taken it up and run with it big time.
Starbucks, for instance, says its mission is "to inspire and nurture the human spirit – one person, one cup and one neighbourhood at a time." The company insists that this "is more than words on a piece of paper – it's the philosophy that guides how we do business every day." So their coffee is ethically sourced, to improve the lives of growers. It's prepared by people who embrace diversity and treat each other with dignity. They only set up shop where they're welcome. And they want to "connect with, laugh with and uplift the lives" of their customers – or so they say. Indeed, they sound more like an evangelical church than a chain of for-profit coffee shops.
At the beginning of his early ministry Jesus went to the synagogue in Nazareth "as his custom was, on the sabbath day." And having stood up and been given the scroll of the Prophet Isaiah to read, he went straight to chapter 61, and read:
"The Spirit of the Lord is upon me,
because he has anointed me
to preach good news to the poor.
He has sent me to proclaim release to captives
and recovery of sight to the blind,
to let the oppressed go free,
to proclaim the year of the Lord's favour." (Isa 61:1-3)
He then closed the scroll, gave it back to the attendant, and sat down; and all eyes in the synagogue were fixed on him. And he began to preach to them, "Today this scripture has been fulfilled in your hearing." (Lk 4:14-22)
And at the end of His public ministry He gave this parting co-mission to His apostles: "Go and make disciples of all nations, baptizing them in the name of the Father and of the Son and of the Holy Spirit, and teaching them to observe all that I have commanded you." (Mt 28:16-20)
Well, if Wiki tells us the first reason for a mission statement is an expression of purpose, of what the show is all about, then Jesus is clear. The Church is:
for evangelisation – preaching the good news Gospel, proclaiming release, making disciples
for sacraments – making disciples by baptism and catechesis
for healing – not just from but bodily ailments, but those of mind and soul also
for teaching – all the doctrine He had taught us, including about the Blessed Trinity, and the morals, His commandments for living well
for liberation – not just physically but in every sense
for vindication – for the underdogs are not only freed but favoured by God
for blessing – that God's favour is experienced by all.
As God the Father had big plans for Jesus, so Jesus had for his disciples. Rather different plans to those of a corporation seeking a profit and seeking to maximise financial returns to its shareholders.
Secondly, who's this mission aimed at? The unevangelised, the sick or blind, the poor and oppressed. Not just those wanting a caffeine hit, but every human being in any kind of need. It's those who've had bad news who hunger for good. So His 'targets' are the financially, emotionally and spiritually poor, those short of resources, opportunities, inspiration, friendship or hope. His 'stakeholders' are the captive, not just to prison bars but to addictions, compulsions, depression and vice. His 'market' are the blind – not just of sight but of insight, the lost and confused – and the powerless – the victims of exploitation, prejudice, injustice and unlove.
Thirdly, Wiki asks, what's the product on offer? Insight, growth, favour, salvation: Jesus raises up every person, not just with a temporary pick-me-up, but with a whole change of course, a new joy, a promise of eternity. He really will laugh with those who laugh and weep with those who are weeping. Indeed the Son of Man will go down even to the grave to be with human beings wherever they are and redeem them there.
Finally, why? The whole of the Christian story is an answer to that question: Cur deus homo, why did God become man? For now He says: I've been sent. Sent, in Latin missio, is where we get our word mission from. And here we see a difference from Starbucks and the rest. You choose a job or a career or a coffee shop, but a calling, a sending, a vocation chooses you. Even Jesus is directed by the Father and driven by the Spirit. The disciples are in turn anointed like He was, and sent.
All of which you might take as a sort of vocational job description and for a periodic examination of conscience, as Baptised Christians but also as family educators. Am I filled with the Holy Spirit? Am I good news for others? Do I proclaim the Gospel to them? Am I an occasion of forgiveness, healing and liberation? Am I a person of prayer, sacrifice, worship, penance? A person who always seeks to know and tell and live by God's truth? Someone who leads by example, giving witness to Christ?
3. The New Evangelisation
To bring the Gospel to all: this was the primary mission of our Saviour and the mandate given to His Church.[1] To evangelise is to proclaim the Good News of Jesus Christ by word and testimony of life[2] and so bring people to faith through a personal encounter with Him – a task logically and chronologically prior to worship, to catechesis and to action for justice and compassion. There will be no Catholic education unless people are inspired to serve Christ and as Paul asked: "How are people to call upon Christ if they don't believe in Him? And how are they to believe in Him if they've never heard of Him? And how are they to hear of Him without a preacher?"[3] Yet as Paul discovered, once the preacher has drawn people to Christ, the job is still incomplete.
Catechesis comes next, filling out what we believe in a systematic way and helping the hearers apply it to their lives.[4] But even then, re-evangelization will be required: once is generally not enough for the proclamation and hearing of the Gospel, nor is one presenter, mode or rhetoric of articulation.[5] The Gospel must be proclaimed to every human being, institution and culture and, once Christian, they need periodic re-evangelization and re-catechizing.[6] The new evangelisation is thus a perennial task for the Church, a constant need for the faithful, and as relevant in the world of 21st-century family educators, as it was in the ancient churches of Asia Minor, or in medieval university towns, or in the so-called 'missions' to South America, Asia, Africa and the Pacific in recent centuries.
Long after our founding fathers and mothers made Catholic education the Church's principal response to Australian secularisation, St John Paul II declared that the educational sector occupies a place of honour in the new evangelisation.[1] His successor agreed that Catholic schools are an essential resource for the new evangelisation, at least when they maintain "their distinctive identity in fidelity to their founding ideals and the Church's mission in service of the Gospel". Providing young people with a sound faith education was, in Benedict XVI's view, the most urgent internal challenge faced by the Church today.[2] Pope Francis has echoed this, saying education is "key, key, key" to evangelization.[3] "Catholic schools, which always strive to join their work of education with the explicit proclamation of the Gospel, are a most valuable resource for the evangelization of culture," the Holy Father said, "even in those countries where hostile situations challenge us to greater creativity in our search for suitable methods."[4]
4. The Secular Challenge
The Holy Father may well have had communist or Muslim-majority cultures in mind, but contemporary secular culture is in some ways as inhospitable to Catholic faith as these or even more so, and thus every bit as much in need of evangelical creativity. Indeed secularisation tends to immunise children against faith and ideals, in a way that these alternative religions do not. For the first 150 years or so Catholic education in Australia was self-consciously a response to secularisation. But there are many secularities.[7] In some parts of the world it's said with respect to church and state that "ne'er the twain shall meet": religion must be kept out of the public square. In other places religious institutions dictate terms to government and society, even to non-believers. Some countries, such as the USA, mix both extremes. The Australian take on these things has been to distinguish church and state, recognize that each has its own sphere of activity, goals, methods and actors, and seek as far as possible to 'live and let live'. This disinclines Australians to radical ideological divides and allows that God and Caesar need not be enemies: mostly they leave each other well enough alone; where they intersect, they may sometimes be rivals for people's loyalty but will often find ways to collaborate to their mutual advantage.
This Australian live-and-let-live, cooperate-when-you-can version of church-state relations has underpinned Catholic schooling in recent decades: the Catholic community puts in most of the cost of land and buildings, the Commonwealth contributes the salaries, and the parents and states put in the rest. Church schools teach the same curriculum as other schools, if sometimes with a particular accent, as well as their own spiritual curriculum and pastoral experiences with which the state does not interfere. It mostly seems to work well, even if every generation must make the case for the Catholic school and funding anew and the relationship necessarily evolves over time.
Yet if for the first 150 years or so Catholic education in Australia was self-consciously an antidote to secularisation, in the subsequent 50 years it was probably as often infected by secularisation as converting or preventing it. That is why the Popes of that very era were so insistent about the need for a new evangelisation. And I think the family educators might be seen as one of Sydney's particular very 'new' or creative contributions to this, using new strategies, new thinking, new rhetoric to connect people to God and the Church – people who in theory should already be well-connected but who may in fact be far from the Church in their everyday lives. It is an example of applying greater intentionality to the challenge of evangelisation of those in some sense "within the fold" than we ever did in the past.
Probably the greatest contemporary authority on the secular is the Canadian philosopher, Charles Taylor, and his magnum opus, A Secular Age. On his account religion has been retreating from the public square on-and-off for centuries now, and belief and unbelief have become rival accounts of reason, nature, community and happiness. Whereas in the 'enchanted' world of pre-modernity people's self-concepts, communities and cosmologies assumed God's active presence, belief in God has become difficult for many in the progressively disenchanted scientific age.[8] In modernity we encounter a godless humanism, he says, that disembeds individuals from society, society from the cosmos, and the cosmos from God – an ideology that has spread from elites to whole populations.
5. The Newer Evangelisation: Response to Corrosive Secularisation
Here in Australia we have certainly experienced the social and cultural shifts identified by Taylor and others. Added to continuing secularisation, the child sexual abuse crisis helped magnify disillusionment with institutional religion and accelerate disaffiliation and disconnection. Various ideologies and interests now coincide to marginalise Christians: we might consider the recent NSW abortion laws that left very little room for health workers to object to participating in abortions right up to birth on conscientious grounds; or the attempts of the same government to exclude faith providers from cemeteries and 'nationalise' the Catholic Cemeteries Trust; or the periodic attempts to impose radical gender fluidity 'education' on all schools; or moves to defund Catholic schools; or the Bill soon to come before the parliament requiring Catholic facilities that do not provide 'voluntary assisted dying services' to allow others to come into their premises to perform euthanasia upon their patients! For all its talk of tolerance, post-liberal secularism is all-encompassing, and ultimately intolerant both of religion and liberalism also. Its influence upon the unsuspecting has left many in a kind of 'spiritual desert' with no moral compass and no-one to accompany them through their struggles.
The corrosive effects of secularisation upon the Catholic DNA are evident in our institutions: many RE teachers no longer practice the religion themselves and are unacquainted with or out of sorts with substantial parts of the doctrine and morals they are charged with teaching, while other staff members may be even more distant from the Church; an increasing proportion of students and their families are not even nominally Catholic or Christian but so-called 'nones';[9] others, though officially 'Catholic', have so little connection with Church outside school that when we draw them to Mass they are in unfamiliar territory, unsure of how to comport themselves, respond, or participate in treasured prayers and hymns.
Recent years have seen the drying up or poisoning of the three main wells of evangelical energy of the Church in Australia: the family, the parish, and the school. This has made us much more vulnerable to hostile forces ranged against us. Of course, these three institutions have proven over the centuries to be remarkably resilient, not least because they depend not just on public support and the efforts of the faithful, but like loaves and fishes are multiplied by divine grace beyond anything we could achieve on our own. And when it comes to ideologies such as secularism, that compete with or infect our families, parishes and schools, we are not in the business of fighting ideology with ideology. Jesus responded to ignorance and spin – with truth; to hurt – with compassion and forgiveness; to ideology – with graced humanity and humanized divinity.
So, as workers in Christ's vineyard, we must never lose sight of the main game, the wiki 'what it's all for': proclaiming Jesus Christ, the same yesterday, today and forever; evangelizing by word and witness, catechising, re-evangelizing and more; proposing our vision of the human person, relationships and morality under grace; praying and worshipping God in ways that are worthy and welcoming; reaching out to and caring for those on the margins; promoting, forming and supporting good marital, priestly and religious vocations; renewing and resourcing struggling parishes to respond with evangelical creativity to all these challenges; and strengthening the Catholic identity and mission of our schools and other key agencies. And so we pray for "grace and peace from God our Father and the Lord Jesus Christ",[10] we contemplate with this divine wisdom, we act with this divine love, as we renew the three wells of our evangelical energy. And if ever there was an example of someone placed at the cusp of those three sources of encounter with Christ – family, parish and school – it is the family educator! And as Charles Taylor insists, religious institutions and practices can be renewed, and he points to examples of Christians adapting to modernity, responding to and even rivalling unbelief. We are, he suggests, "just at the beginning of a new age of religious searching, whose outcome no one can foresee."[11] I think you Family Educators are examples of that adaptation, response, rivalling unbelief.
6. The Newest Evangelisation
In service of the school-family-parish triad, you Family Educators are tasked to:
strengthen the relationships between the school, families and parish
promote Catholic mission and identity in all three places
assist families in the spiritual, social and educational development of their children
promote a welcoming, vibrant faith community in both school and parish and connect families to it, and thereby
strengthen the faith of the whole family and help renew the parish, all for the sake of our children's better Catholic education.[12]
All of which, I know, is no small task! Yet you have embraced it as the priests, prophets and kings your baptism calls you to be, and the intentional, missionary disciples that the Church of the last several decades has called you to be. Over the last 11 years the Family Educator Programme has grown from a pilot project by Meredith Lemos at St Patrick's Sutherland, then at five additional pilot schools in Drummoyne, Engadine, Kingsgrove, Marrickville and Randwick, to a presence nowadays in nearly every Catholic primary school – a truly impressive achievement! As I have visited schools during parish visitations, I been delighted to hear from some of you personally, or from the leaders of school and parish, of your very helpful work encouraging families to engage with their faith through Mass and in various other ways. I've learnt of prayer groups, toddlers tales, wellbeing opportunities for families, prayer packs for HSC students, lots of coffee for drop-off-and-collect parents, pilgrimages to the shrines of St Mary Help of Christians and St Mary Mackillop, and more.
This has been a great service to the Church in Sydney, a service more demanding under the COVID-forced open-again, shut-again for schools and churches, but also more appreciated – certainly by me. Your focus on the domestic church is more important than ever under COVID, as the Church and school that begins in the home has now returned to the home for the time being. Your current programme, Be A Light In Lockdown, responds to this situation, providing different ways for families to connect with their school, parish and neighbours in a COVID-safe way. It has called forth from you creativity and ingenuity, as different projects have been undertaken in different localities and in response to different gifts and needs. I've heard talk of families receiving a weekly phone-call to see how they are going; of people checking in with school staff, parish clergy, and fellow parishioners, as well as those in our residential neighbourhoods; of on-line sacramental programmes and P.D. for parents; and more. I understand there will be a night of gratitude where all families will be asked to light candles and join with others via zoom for prayer and reflection, song and thanksgiving. This is truly the newest evangelisation!
Amidst all these examples of the new, newer and now newest evangelisation, you never lose sight of the mission! As you engage in that mission, you must make of your lives a kind of 'lived Gospel' or homily, where people may read of Jesus Christ and His teachings. I thank you for your generous contribution to this great project. And as Jesus said after giving His apostles, His disciples ever since, His family educators their great commission "And remember, I am with you always, to the very end of time."
---
[1] St John Paul II, Ecclesia in America (1999), 71, and elsewhere.
[2] Pope Benedict XVI, Address to the U.S. Bishops (Regions X-XIII) on their Ad Limina, 5 May 2012.
[3] Antonio Spadaro, 'Wake up the world! Conversation with Pope Francis about the religious life', La Civiltà Cattolica, January 2014, I, 3-17.
[4] EG 134.
---
[1] Mk 16:15-16; Mt 9:37-38; 10:7-14; 28:16-20; Acts 1:8; 2:38; Rom 10:10-17; 1Pet 3:15; Vatican II, Lumen gentium: Constitution on the Church 5, 12, 13, 17, 23, 24, 25, 35; Vatican Council II, Ad gentes: Decree on the Missionary Activity of the Church 5; St Paul VI, Evangelii Nuntiandi: Apostolic Exhortation on Evangelization in the Modern World (1975) 13-16; St John Paul II, Redemptoris missio: Encyclical on the Permanent Validity of the Church's Missionary Mandate (1990); Catechism of the Catholic Church §1072; Pope Francis, Evangelii Gaudium: Apostolic Exhortation on the Proclamation of the Gospel in Today's World (2013).
[2] Catechism of the Catholic Church §905.
[3] Rom 10:14.
[4] Catechism of the Catholic Church §5.
[5] John Paul II, Address to the Bishops of CELAM(Port-au-Prince, Haiti, 9 Match 1983) spoke of the need for a commitment "new in its ardour, methods and expression". Benedict XVI, Homily for the Solemnity of SS. Peter and Paul (June 28, 2010) referred to an evangelization "new in its inner thrust… new in ways…suited to the times and situations; new because of being necessary even in countries that have already received the proclamation of the Gospel."
[6] On the history and meaning of 'New Evangelization': S. Boguslawski and R. Martin (eds), The New Evangelization: Overcoming the Obstacles (New York: Paulist, 2008); P. Cahall, "The nucleus of the new evangelization," Nova et Vetera (Eng) 11(1) (2013), 39-56; A. Dulles, Evangelization for the Third Millennium (New York: Paulist, 2009); R. Fisichella, The New Evangelization: Responding to the Challenge of Indifference (Gracewing, 2012); R. Martin and P. Williamson (eds), John Paul II and the New Evangelization (Cincinnati: Servant Books, 2006); R. Martin, Will Many be Saved? What Vatican II Actually Teaches and its Implications for the New Evangelization (Eerdmans, 2012); D. Wuerl, New Evangelization: Passing on the Catholic Faith Today (Our Sunday Visitor, 2013).
[7] See James Arthur, "Secularisation, secularism and Catholic education: understanding the challenges," International Studies in Catholic Education 1(2) (2009) 228-239.
[8] Charles Taylor, The Secular Age (Harvard University Press, 2007), Introduction. Beyond Taylor there is a whole literature on secularity and secularism: e.g. Hunter Baker, The End of Secularism (Crossway, 2009); Joseph Baker and Buster Smith, American Secularism: Cultural Contours of Nonreligious Belief Systems (NYU Press, 2015); Craig Calhoun, Mark Juergensmeyer and Jonathan Van Antwerpen (eds), Rethinking Secularism (OUP, 2011); Andrew Copson, Secularism: Politics, Religion and Freedom (OUP Very Short Introductions, 2017); Terence Cuneo (ed), Religion in the Liberal Polity (University of Notre Dame Press, 2005); Michael Gillespie, The Theological Origins of Modernity (University of Chicago Press, 2008); Collin Hansen, Our Secular Age: Ten Years of Reading and Applying Charles Taylor (Gospel Coalition, 2017); Thomas Howard, Chance of Dance? A Critique of Modern Secularism (2nd edn., Ignatius, 2018); Peter Kurti, The Tyranny of Tolerance: Threats to Religious Liberty in Australia (Connor Court, 2017); Pierre Manent and Ralph Hancock, Beyond Radical Secularism: How France and the Christian West Should Respond to the Islamic Challenge (St Augustine's Press, 2016); David Martin, On Secularization: Towards a Revised General Theory (Ashgate, 2005); Graeme Smith, A Short History of Secularism (London: Tauris, 2008); James Smith, How (Not) to Be Secular: Reading Charles Taylor (Eerdmans, 2014); and Michael Warner and Jonathan Van Antwerpen (eds), Varieties of Secularism in a Secular Age (Harvard University Press, 2013). In The Secular Conscience: Why Belief Belongs in Public Life (Prometheus Books, 2008) Austin Dacey, a self-confessed secularist, laments the marginalisation of religion in contemporary social discourse because of its crucial role in underpinning the secular liberal tradition as well as being its foil. Unbelievers like himself, he argues, benefit from encountering beliefs different from their own and are inspired by the Christian determination to secure a rationally informed and compassionate conscience.
[9] Pallavi Singhal, "Religion in decline in Australian schools," Sydney Morning Herald 12 August 2018 https://www.smh.com.au/education/religion-in-decline-in-australian-schools-20180806-p4zvtb.html
[10] Phil 1:2.
[11] Taylor, The Secular Age, p. 535.
[12] https://sydcatholicschools.nsw.edu.au/catholic-identity/family-and-faith