The Ministry of Health and Aged Care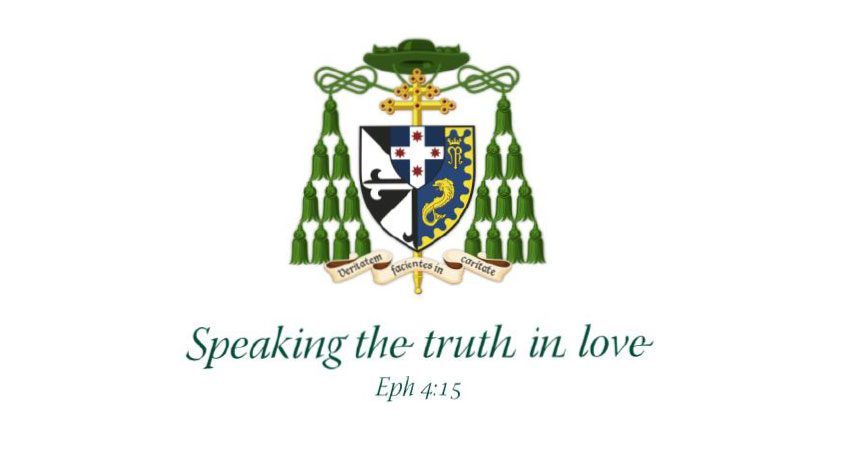 The Ministry of Health and Aged Care: A Vital Role for the Church Catholic Health Australia Governance Conference, Effective Governance and Leadership for Mission, Crowne Plaza, Coogee Beach, 30 March 2015
My thanks to Catholic Health Australia for inviting me to offer some brief remarks this morning on "The Ministry of Health and Aged Care: A Vital Role for the Church." I'm very pleased also to acknowledge the presence of Church leaders and leaders of the Health and Aged Care apostolate of the Church in Australia.
    
Earlier this month, I was in Rome for the annual meeting of the Pontifical Academy for Life. Just prior to my visit, a homeless man was buried in the Vatican graveyard. It would have been unremarkable in the early days of the Church – the reason St Peter's bones are where they are is that the Vatican Hill was a cemetery in the less desirable, marshy part of town, with a circus in which Christians were martyred as public entertainment. But in recent centuries the 'Teutonic' cemetery was reserved for North European nobility, as well as a sprinkling of cardinals, artists and benefactors. What made the headlines was that the Pope had directed that a street-person, whose corpse had been in the morgue awaiting identification since he died in December, would be buried there.(*1)
Willy Herteleer was well known around St Peter's. The 80-year-old Belgian lived in the "small town" of the Borgo adjacent to the Vatican. Swiss Guards, shop-keepers and clergy would feed him and pay for his morning cappuccino. He attended the 7am Mass daily at Sant' Anna for 25 years, saying Holy Communion was his "medicine".
A canon of St Peter's, Monsignor Americo Ciani, knew him well, presided at his funeral and has painted his portrait. He described how Willy engaged people in conversation as they passed to and from St Peter's, not just begging money from them but encouraging them to go to Confession and Holy Communion! Whatever was behind his destitution, it had not shaken his piety and missionary drive. Though Willy preached from a position of social "inferiority", he was a new evangelist, a representative of a Church of the poor, for the poor and with the poor. Pope Francis' direction that a street person be buried in the Vatican was a very clear signal of his determination in this respect. 
Of course as the Pope himself has made clear on many occasions, there are many kinds of poverty. Willy may have been financially poor but he was rich in faith. Other people may have all the world's resources at their fingertips but be sick emotionally or physically, lonely, depressed, in pain with some chronic unrelievable condition, or gradually failing and facing death. They might be spiritually poor, find their life lacks meaning, be uncertain whether there is anything more to hope for or aspire to. Leaders in the provision of Catholic health and aged care must ask themselves again and again who is our mission to and for, how does a preferential option for the poor (broadly understood) inform our ministry, what is distinctively Christian and Catholic about what we do, how do we extend our reach beyond the clientele, places and works which have become entrenched? Can our 'Teutonic cemeteries' reach beyond the nobility, the artists and the benefactors of our day?
The Catholic Difference
The Catholic Church is the oldest and largest provider of health and aged care in the world. From the time the apostles healed a paralytic at the Beautiful Gate in Jerusalem (Acts 3:1-10) Christians have cared for the sick as part of hospitality. Today, the CHA website reports that we provide 19,000 residential aged care places, 6,000 retirement places, 14,000 CACP and HACC packages in aged and home care, 9,500 beds in 75 hospitals including 21 public and 7 teaching hospitals, 8 dedicated hospice and palliative care services, expanding day centres and respite centres, with approximately 35,000 workers.(*2)
So we are big: but how are we different? A lot of the Catholic drive to save, heal and care for the sick and injured, the frail elderly and the vulnerable, stems from Christ's own example of how we might witness to God's power and compassion in the world. Jesus was Himself a healer, a Physician of Bodies and Souls, who laid down His life for others and in the process mended and saved. He charged His disciples to do likewise and, at their best, they have consistently reached out to the sick and otherwise needy for 2,000 years since.
Pope Francis' vision for Catholic health and aged care
I mentioned that I was recently at a meeting of the Pontifical Academy for Life. Conscious that only last week marked twenty years since the pioneering encyclical on bioethics, Evangelium vitæ, this year's theme was "Assistance to the elderly and palliative care". In his address to us Pope Francis suggested that the care we give those who are ageing, suffering or dying is a powerful testimony to the preciousness of the human person. No matter how diminished, indeed because of how diminished they are, people in such situations merit our reverence, love and care. Honouring mother and father and indeed all our elders is at the heart of Catholic health and aged care.(*3)
The Pope went on to explore this pietas or grateful reverence towards our elders, which he thought was at the heart of the transmission of knowledge, life skills and wisdom from one generation to the next. The Bible reserves a severe admonition for those who disregard or mistreat their parents and elders (cf. Ex 21:17; Lev 20:9) and the Pope thought this Biblical injunction and condemnation all the more relevant in the contemporary world where a utilitarian logic all too often trumps "solidarity and gratuitousness, even within the family" and where, as a consequence, older people are marginalized, neglected, abandoned. Critiquing health and aged care that is governed solely by concerns for efficiency, compliance or margin, the Holy Father exhorted us to open our hearts to the apparent 'inefficiency' of caring for the elderly with chronic pain or progressive deterioration, and for those dying of cancer or other diseases. In addition to the best of health and palliative care, we all need human accompaniment; abandonment can be the most serious "illness" of the elderly and the greatest injustice they suffer. Catholic health and aged care, Pope Francis insisted, must maintain "the spirit of service" and the highest ethics, even as it applies the best of medical and nursing skill. He repeated the clarion call of St John Paul II in Evangelium vitæ (5): "respect, protect, love and serve life, every human life! Only in this direction will you find justice, development, true freedom, peace and happiness!"(*4)
Pope Francis thinks this is not just a matter of do-gooding, or obeying a divine command of piety: it is also part of how Christians "go forth from ourselves toward our brothers and sisters" and so preach. Charity such as healthcare expresses the Church's missionary nature.(*5)  And this makes all those engaged in health and aged care preachers whether they realize it or not.(*6)  The words of this Jesuit are music to a Dominican's ears!
Conclusion
So leaders and administrators in Catholic health and aged care are called by the Church today to be reverent to elders, protective of life and have a passion for transmitting the Gospel. This sort of missionary discipleship is not just for deepest and darkest Africa, but for contemporary Canberra and Subiaco and Fortitude Valley.(*7)  The institutions you lead are the Church demonstrating that the Willy Herteleers of this world matter to God and so to us. God bless the ministry of the members of Catholic Health Australia!
   1. E.g. http://www.telegraph.co.uk/news/worldnews/europe/vaticancityandholysee/11435074/Homeless-man-to-be-buried-inside-the-Vatican-for-the-first-time-in-Holy-See-history.html; http://www.cbsnews.com/news/vatican-rome-homeless-man-willy-herteleer-teutonic-cemetery/; http://www.theage.com.au/world/homeless-willy-herteleer-buried-in-the-vatican-with-the-popes-blessing-20150226-13p1va.html?skin=text-only 
   2. http://www.cha.org.au/about.html
   3. Pope Francis, Address to the Pontifical Academy for Life, 5 March 2015.
   4. St John Paul II, Evangelium vitæ: Encyclical on the Value and Inviolability of Human Life (1995), 5.
   5. Pope Francis, Evangelii Gaudium: Apostolic Exhortation on the Proclamation of the Gospel in Today's World, 179.
   6. Pope Francis, Message for the 23rd World Day of the Sick: http://w2.vatican.va/content/francesco/en/messages/sick/documents/papa-francesco_20141203_giornata-malato.html
   7. See also Anthony Fisher OP, Catholic Bioethics for a New Millennium (Cambridge: Cambridge University Press, 2012), 285-6 etc.