St Antoninus and the New Evangelisation in the World of Business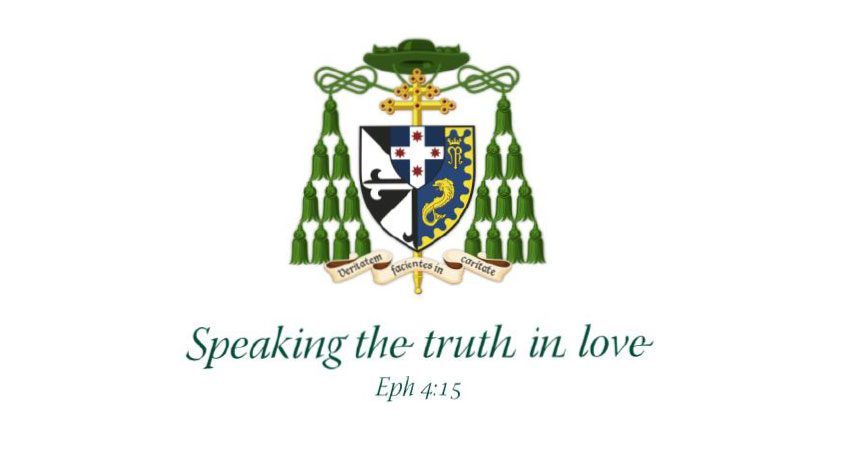 St Antoninus and the New Evangelisation in the World of Business
Address at the Sydney
Catholic Business
Network Luncheon, 13 March 2015
Thank you Nerida. I'm pleased to address the esteemed members and
guests of the Sydney Catholic Business Network at its first event for the year. The Network is one of the many
wonderful legacies of Cardinal Pell and I pray it will long continue to bring together Church, business, government
and community leaders in fruitful conversation. I am pleased to acknowledge the presence of Senator Hon. Concetta
Fierravanti-Wells, representing Hon. Tony Abbott MP, Prime Minister of Australia. I welcome Professor Hayden Ramsay,
Senior Deputy Vice Chancellor of the University of Notre Dame, Australia, and thank the University for sponsoring
today's lunch. I am likewise grateful to Michael Digges, Emma McDonald and the Planning Team for organising it.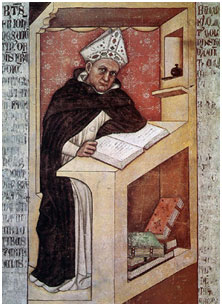 http://www.wf-f.org/WFFResource/StAlbertGreat.jpg
Antoninus: a saint for this Network
For my installation as
Bishop of Parramatta in 2010, I commissioned a prayer card with St Albert the Great on the front. He was a Dominican
and a bishop like me, and I was hoping for some inspiration and intercession from him. A thirteenth century
Dominican, Albert is the Patron Saint of scientists who published on an incredible range of topics and taught some
clever people including St Thomas Aquinas, the greatest theologian of all time. On the night of my installation as
Archbishop I recalled how when Albert was appointed Bishop of Regensburg, the chief Dominican, Humbert of Romans,
wrote: "I would rather you were dead than a bishop� Why ruin your reputation and that of the Order by letting
yourself be taken away from poverty and preaching? However troublesome you find the brethren, don't imagine things
will be better once you have secular clergy and powers to deal with� Better to lie in a coffin than sit in a
bishop's chair!" What I didn't mention on my installation night was that St Albert only gave episcopal ministry two
or three years: after that he'd had enough, retired (with the Pope's permission) and returned to his convent, lab
and classroom.
Whether for good or ill, I didn't follow Albert into early retirement! After responding to Pope
Benedict's direction to "Go West young man" to Parramatta, I returned to the City of Sydney at Pope Francis'
injunction. Despite increased workload, I can report that I'm settling-in and enjoying the opportunity to lead the
priests and serve the people of Sydney. In doing so, I've taken on another Dominican as intercessor and inspirer,
this time an archbishop, St Antoninus of Florence. Some of you might have received a prayer-card with his image on
it at my Installation as Archbishop. The original painting, in the Dominican Church of Santi Giovanni e Paolo in
Venice, was made by Lorenzo Lotto in 1542 and stands over 3m high. Putti draw back a scarlet curtain to reveal a
scene at once sacred and rich in 'profane' social and economic content. The viewer joins the bottom half of the
scene in which a throng of poor people hold out open hands or petitions to those who bear the Archbishop's mitre,
crozier and books. The crowd are desperate and the ministers receive their petitions and providing much-need alms.
The confusion of infinite and indiscriminate need meets the discriminating order of ecclesial and social assistance.
The sainted Archbishop, known in his day as "The friend of the poor",  presides serenely from the upper half of
the painting, directing this late mediaeval Project Compassion, with angels either side whispering holy inspirations
into his ears. I only hope that I will listen to and act on such guidance myself!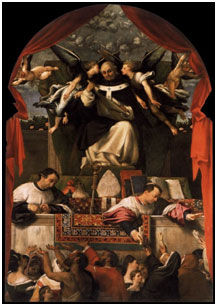 http://www.wga.hu/html_m/l/lotto/6/01antoni.html

Most of you will already have a great personal devotion to St Antoninus of Florence and be well-acquainted with his story, but let me remind you: Little Anthony was born in 1389 and when he applied to enter the Dominican Order he was thought to be too frail for such an ascetical order and too dumb for such an intellectual one. He proved his mettle by memorizing the entire canon law and so they let him in. He rose to being Prior of the new Observant Dominican Priory of San Marco in Florence, where he directed Fra Angelico's extraordinary project of frescoes for the priory and preached to the city from the church. When Angelico went to the Vatican as painter for the papal court, it seems he lobbied on his Prior's behalf and Antoninus soon found himself Archbishop of Florence (1446). Though as horrified by this appointment as was Humbert at St Albert's, he immediately set to work as a diligent bishop. He was determined that his clergy be more godly than worldly, even if Christians must be both, and so when on visitation he cut one priest's long hair, removed another's unseemly make-up, checked that they were saying their prayers and told several to reduce their level of comfort and give to the poor.  Happily my Sydney priests don't need such intervention from me! He gave them the example of his own life: to the horror of his Business Manager he set about building hospitals and soup-kitchens for the poor, and giving away the silver plate and furnishings from the cathedral presbytery!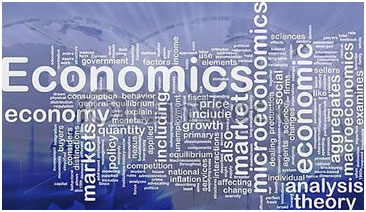 An Antonine vision of
economics
I mentioned that, like me, St Antoninus was a Dominican and an archbishop; like me, he
was also a moral theologian – hence the books alongside the mitre in Lotto's painting.  Of particular interest
today was that he was one of the first to reflect upon the Christian ethics of trade, wages and banking. 
Renaissance Florence was the heartland of emerging capitalism; under the Medici it became the banking, cloth,
artistic and trading capital of Europe and the richest city in the world. Antoninus, following long Catholic
tradition, was an inveterate foe of usury, the sin of exploiting people by oppressive interest or other terms on
loans, making money not out of doing anything productive but out of people's desperation for credit. Pulling no
punches, he compared pawnbrokers with prostitutes. Yet he introduced "an evolving sophistication" into economics and
helped develop the Church's moral tradition and apply it to modern dilemmas. He reflected an length on the question
of whether one could be good at business or a profession and still have a social conscience. He was the first to
recognise, for instance, the legitimacy of some innovative financial instruments and of interest-taking sufficient
to ensure a return similar to other investments and to cover risk. 
In his massive four folio 1000
page-long Summa moralis Antoninus provided a moral and ultimately eschatological vision of commercial life. He
devoted 330 pages of part II of his Summa to the Florentine's favourite sin – avarice – and the third and most
original part of his work to a systematic discussion of the various vocations in life, including bankers and
businessmen. His starting point was that what we do in this world, including our commercial activities, has eternal
significance for us and others. We only have one life-time of contribution to make. Since "riches are not intended
as an end in themselves, but as a means to an end",  we must use them well, along with our intelligence and
labour, for our good and that of our neighbours. So while profit-making is legitimate, even desirable, its purpose
must be to enable people to live rich and virtuous lives and thereby attain "everlasting glory".  Where
economic development had long been constrained by the view that profit-taking in trade and interest-taking on loans
were immoral, Antoninus taught that profit sought, not as an ultimate end but as a reasonable wage for genuine
effort, and effort applied, not pointlessly or avariciously but for providing people with the wherewithal for a
satisfying life, were not to be condemned; while fraud, luxury (especially when others are disadvantaged) and
exploitation of the desperate were sinful, moderate profits and insuring for risk were legitimate.  Christian
banking was, indeed, possible; Christian industry and trade were, indeed, honourable; permission was granted for a
whole new economy to evolve. 
And evolve it did. In my painting of The Charity of Antoninus a rich
carpet tells of Florentine wealth built on the rag trade and banking. The presence of spiritual ideals above and
needy individuals below suggests an economy that was of God and for people. A follower of St Albert's protégé,
Thomas Aquinas, Antoninus knew that people, unlike money, are ends in themselves, and made for communion – with
others and ultimately with God. Thus by the time of the Catechism of the Catholic Church and the writings of the
last three popes Catholics could take it for granted that interest and profit taking are permitted, indeed the
drivers of a great deal of useful human industry.  Pope Francis has said that business is a "noble vocation"
when business people have a bigger picture of the meaning of life, and when they work to increase the volume and
accessibility of this world's goods and opportunities.  In such an understanding of economic activity, business
works alongside government, Church and community in serving the common good. The value of this Network is precisely
to foster that kind of mutual reflection, cooperation and restocking of our social capital.
An Antonine vision for Sydney
I've been asked repeatedly what my
vision is for the Archdiocese of Sydney and beyond. When I confess that I haven't come with marching orders from the
Vatican or grand plans of my own – apart from the Gospel – people think I've got a hidden agenda. So on the night of
my Installation I tried to put it in these terms: my hope is for "a Church in which the Gospel is preached with joy,
the wisdom of our tradition mined with fidelity, the sacraments celebrated with dignity and welcome, and the
seminaries, convents and youth groups teeming with new life; a Church in which our parishes, chaplaincies and
educational institutions are true centres of the new evangelisation, our laity theologically literate and
spiritually well-formed, our outreach to the needy effective and growing, and God glorified above all."
St
John XXIII was pope when I started my Christian journey and the single theme that best unites the six popes under
whom I've lived is surely "the new evangelisation". Pope Francis keeps calling and sending Catholics out afresh to
evangelise, to offer people Good News. We are not to stand on our institutional reputation but rather 'go out to the
peripheries' and propose the encounter with Christ and His Gospel to a culture and individuals who were once or
should be Christian. So when I said that I wanted all Church institutions to be "true centres of the new
evangelisation" I wasn't just pushing a private barrow. Nor was I when I said I wanted laity theologically literate
and spiritually well-formed, and ministries to the needy even more effective and growing. St Antoninus and his
angels were whispering in my ear�
As I was preparing this speech, news was emerging of more atrocities in
the Middle-East: a man burned alive in a cage; Coptic martyrs in Libya; Islamic State abducting many more and
burning their churches.  Amid talk of global conflict, endless cycles of recrimination, threats to peace and
prosperity, budgetary tribulations and social fracturing, only renewed efforts at evangelisation, formation and
outreach can help us renew our social capital. For peaceful democracies, affluent economies and cohesive societies
don't just happen: they depend upon a complex of ideals, practices and institutions. Ours are largely a
Judeo-Christian inheritance, however under-appreciated that often is. There is much to be done in this area, not
just the sacred hierarchy but by lay leaders and ministers of charity in business, professions and government. And
in response to the challenges of our world and our own spiritual lives, Pope Francis has called all Catholics to 24
hours of prayer to the God rich in mercy rather than money. In response Eucharistic Adoration and Confession will
occur in our cathedral and many churches in Sydney and all around the world from midday today: I invite you all to
take part.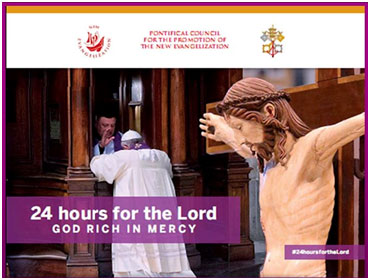 The New Evangelisation and Business

I must confess that I am not especially maths or business savvy. To the horror of my Business Manager my idea of
"value-adding" to a cost proposal is to add a zero. I put not my trust in budgets but rather in the Gospel!
Nonetheless, my mentor Antoninus showed the emerging economy of Europe how the two may be compatible. Rather than
fearing money, labour and ingenuity as if these were inevitably corrupting, we must see them as opportunities for
serving the common good and that is as true in the 21st century globalised economy as in 15th century mercantile
one. At the beginning of the modern era of Catholic social teaching – a tradition that, as St Antoninus illustrates,
goes back to the Old Testament through the New, the early Church Fathers and the mediaeval scholastics – Pope Leo
XIII warned the wealthy not to treat their workers as objects, as human 'resources', but to treat them with the
respect and dignity due children of God.  Pope Benedict XVI observed that the free market can only do what it
is supposed if underpinned by "internal forms of solidarity and mutual trust".  Imagine our economy without
trust, and so without partnerships and promises; without commitment, and so without planning and follow-through of
plans; without hope, and so without imagination and innovation; without proper pride, and so without an eye to
quality, achievement, healthy rivalry; without friendship, and so suspicious, hypercautious, always going it alone.
Our economy, like so much else in our culture, law, education, arts and sciences, leisure and family, simply could
not function without such fundamental aspirations and virtues. Our evangelisation, formation and outreach can help
rebuild and strengthen solidarity and mutual trust centred on the transcendent dignity of the person – a solidarity
and trust radically at odds with the GFC-causing greed of sub-prime capitalism or the death-dealing anarchy of
Islamist terrorism. That new evangelisation, formation and outreach must be applied not just to talks at Business
lunches but to the structures and activities of everyday life.
So we need you latter-day Antoninuses to be
thinking through how the world of business can be run creatively and competitively without losing sight of its
proper end and methods, without losing sight of the little people at the bottom of the painting. Others have no
doubt addressed you in the past or will in the future Catholic social doctrine and its crucial principles such as
solidarity and subsidiarity, the universal destination of goods and the uses of private property, the rights and
responsibilities of employers, owners and customers, the empowerment and nurturing of employees, a proper balance
between work and the rest of life. The appalling recent offer by Apple and Facebook to pay for their female
employees to freeze their ova so they can delay child-bearing and keep working,  shows how much we need such
reflection. But my thought for you today is a prior one: that it is, indeed, possible to be a businessperson and a
saint, an entrepreneur and a saint, a politician and a saint, a banker and a saint. That will require an
eschatological sense, a sense of what comes next, comes after, what it is all for. It will require vision and
discipline and, above all, divine grace. God bless you in that endeavour. St Antoninus of Florence, pray for us!
1 See Ann Carmichael, Plague and the Poor in Renaissance Florence (Cambridge University Press,
2014).
2 http://songnewa.blogspot.com.au/2008_10_01_archive.html;
http://www.ewtn.com/library/BUSINESS/ANTONINU.htm.
See also Sr Mary Jean Dorcy OP, St Dominic's Family (Rockford: Tan Books, 1983), 205-207 and Michael Walsh, ed.,
Butler's Lives of the Saints Concise Edition (Blackburn: Burnes & Oates in association with Dove Communications,
1985), 140-141.
4 Stephen Epstein, An Economic and Social History of Late Medieval Europe (Cambridge University
Press, 2009), 143-44.
5 The most important commentary on Antoninus' contribution to economics is the now
century-old work of Bede Jarrett OP, St. Antonino and Medieval Economics (London: Manresa Press, 1914), esp. ch.
VII, happily available at https://archive.org/details/santoninomediaev00jarr).
More recent commentators include: Benedict Ashley OP, The Dominicans (Collegeville: The Liturgical Press, 1990),
100; John T. Noonan, The Scholastic Analysis of Usury (Cambridge, Mass., Harvard University Press, 1957), 79 and A
Church That Can and Cannot Change: Development of Catholic Moral Teaching (Notre Dame: Notre Dame Press, 2005), 137;
Jack Cashill, Popes and Bankers: A Cultural History of Credit and Debt from Aristotle to AIG (Nashville: Thomas
Nelson, 2010), 46.
6 http://www.ewtn.com/library/BUSINESS/ANTONINU.htm

7 Summa moralis I, 1, 3, ii.
8 Summa moralis II.I, 16, ii.
9 A useful collection of magisterial statements
in this area is Andrew Abela and Joseph Capizzi (eds), A Catechism for Business: Tough Ethical Questions and
Insights from Catholic Teaching (Washington dc: Catholic University of America Press, 2014).
10 Pope Francis,
Evangelii Gaudium: Apostolic Exhortation on the Proclamation of the Gospel in Today's World, 203.
11 http://www.thetablet.co.uk/news/1790/0/islamic-state-abducts-more-than-90-christians-from-north-east-syria–