Leadership for Mission – Address at "Mission: one heart many voices 2015" Catholic Mission Conference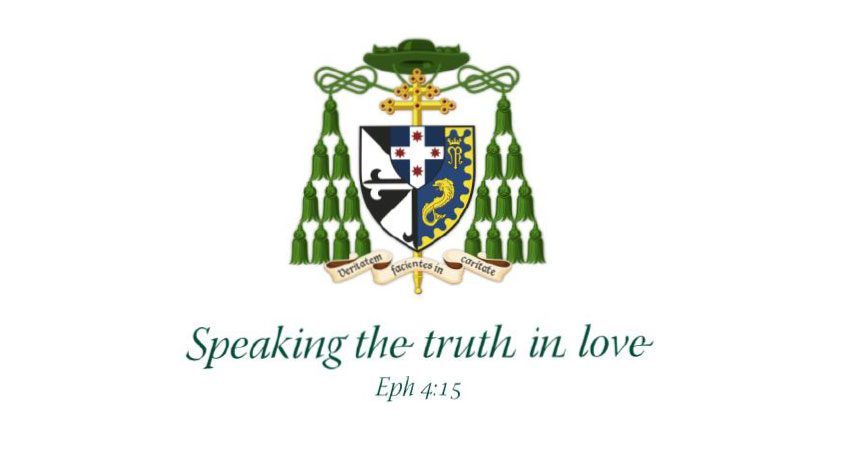 Street missionaries
Thanks to Catholic Mission Australia and Catholic Religious Australia for inviting me to speak this morning. As the local bishop it is my privilege to welcome you all to Sydney: organizers, speakers, sponsors and participants. I am especially pleased to acknowledge His Excellency, Archbishop Protase Rugambwa, President of the Pontifical Mission Societies, Archbishop Julian Porteous of Hobart, Bishop Peter Ingham of Wollongong, and leaders and staff of Church agencies.
Earlier this year I attended the annual meeting of the Pontifical Academy for Life in Rome. Just prior to my visit, a homeless man was buried in the Vatican graveyard. It would have been unremarkable in the early days of the Church – the reason St Peter's bones are where they are is that the Vatican Hill was a cemetery in the less desirable, marshy part of town, with a circus in which Christians were martyred as public entertainment. But in recent centuries the 'Teutonic' cemetery was reserved for North European nobility, as well as a sprinkling of cardinals, artists and benefactors. What made the headlines was that the Pope had directed that a street-person, whose corpse had been in the morgue awaiting identification since he died in December, be buried there.(1)
Willy Herteleer was well known around St Peter's. The 80-year-old Belgian lived in the "small town" of the Borgo adjacent to the Vatican. Swiss Guards, shop-keepers and clergy would feed him and pay for his morning cappuccino. He attended the 7am Mass daily at Sant' Anna for 25 years, saying Holy Communion was his "medicine". A canon of St Peter's, Monsignor Americo Ciani, knew him well, presided at his funeral and painted his portrait. He described how Willy engaged people in conversation as they passed to and from St Peter's, not just begging money from them but encouraging them to go to Confession and Holy Communion! Whatever was behind his destitution, it had not shaken his piety and missionary drive. Though Willy preached from a position of social inferiority, from 'the periphery' as it were, he was a representative of a Church of, for and with the poor and he was an agent of what recent popes have called the new evangelization. Pope Francis' direction that a street person be buried in the Vatican was a very clear signal of his own determination in this respect.
Of course, as the Pope himself has made clear on many occasions, there are many kinds of poverty and many kinds of 'existential peripheries'. Willy may have been financially poor but was rich in faith and in self-confidence. Others have all the world's resources at their fingertips but are lacking in internal physical, emotional, moral or spiritual resources or in eternal support of one kind or another. It might be that they feel their life lacks meaning; they are unsure whether there is anything more to hope for or aspire to. They might sell themselves short in what level of happiness of unhappiness they settle for or indeed what they accept as happiness. Leaders of mission must ask themselves, again and again, what the Church's mission is and what our part in that is, who it is to and for, who should be its principal protagonists, what the message and the medium should be.
Now, the Church's mission, its sending by God, is Christ's mission, for it is the body of Christ the Head, the branches of Christ the true vine, the ones who He promised would do his works and more, the ones he charged with going out to all the world with His Good News. To evangelize is to proclaim the Good News of Jesus Christ and bring people to faith through a personal encounter with Him – a task logically and chronologically prior to worship, to action for justice and mercy, to institutions and Church administration and the rest. There will be no Catholic dioceses and parishes, schools and hospitals, congregations and agencies, unless people are inspired to serve Christ and extend His service to humanity.
As Paul asked: "How are people to call upon Christ if they don't believe in Him? How are they to believe in Him if they've never even heard of Him? And how are they to hear of Him without a preacher?" (Rom 10:14) But as Paul discovered, once the preacher has drawn people to Christ, the job is still incomplete. There is a very real risk that Catholic individuals and agencies have an inertia that keeps them going long after they have been hollowed out and forgotten what it is all for. Re-evangelization will be required: once is not enough for the proclamation and hearing of the Gospel, nor is one presenter, mode or rhetoric of articulation. The Gospel must be proclaimed to every human being, institution and culture and, once Christian, they need periodic re-inspiring, re-evangelization, re-catechizing. And of course they also need leadership, worship and pastoral care.
From Ad gentes to Evangelii Gaudium
Not long before I was born the then Holy Father, John XXIII, surprised the world with his announcement that he was to convoke a Council of the Church. One of the golden threads that unites him with his five successors so far is the emphasis each has given to the new evangelization, none more passionately or repeatedly than Pope Francis. Fifty years ago this year, the Council issued its decree on mission, Ad Gentes, in which it taught that the pilgrim Church is missionary by nature, because it originates in the missions of the Son and the Holy Spirit according to the Father's plan.(2) This divine mission of the Church is to be "sent to the nations" as the "universal sacrament of salvation" so that God's word may "run" and be "glorified", "the kingdom of God proclaimed and established throughout the whole world".(3)
This missionary impulse has been prominent in the magisterium of the post-Conciliar popes. Drawing on the work of Bld Paul VI in Evangelii nuntiandi, the classic of post-conciliar reflection on the subject, St John Paul II made the 'new evangelisation' a catchphrase of his pontificate. In his encyclical Redemptoris Missio: On the Permanent Validity of the Church's Missionary Mandate, he identified three particular mission fields:
preaching to the unconverted: that is, anywhere and to anyone that has not yet received the primary proclamation of the Gospel or not yet established communities of faith
preaching to the converted: that is, to those who already believe, through faith education, pastoral support and community building aimed at deepening Christian faith and action
preaching to the diverted: that is, to formerly Christian individuals, communities and cultures that have lost their sense of faith and now live a life "far removed from Christ and His Gospel".(4)
"The moment has come," that Pope said, "to commit all of the Church's energies to a new evangelization… No believer in Christ, no institution of the Church, can avoid this supreme duty: to proclaim Christ to all peoples."(5)
Pope Benedict continued his predecessor's call for a new evangelisation holding a Synod on the subject and dedicating a new Pontifical Council to it.(6) But he was realistic about how contemporary ideologies such as nihilism, individualism, relativism and secularism can block receptivity to the Gospel and communion with God and the Church,(7) and suggested that the efficacy of evangelisation largely depends on the unity of faith.(8)
Next in line, Pope Francis, devoted his first apostolic exhortation, Evangelii Gaudium to the topic of The Proclamation of the Gospel in Today's World. Fr Bevans has drawn our attention to the dream and challenge. "Missionary activity still represents the greatest challenge for the Church," the Holy Father says, and that the mission field is not deepest darkest Africa but on the edges of our cities, parishes, chaplaincies, homes, workplaces, schools and so on. "I dream," says the Pope, "of a missionary option, that is, a missionary impulse capable of transforming everything, so that the Church's customs, ways of doing things, times and schedules, language and structures, can [all] be suitably channelled for the evangelization of today's world rather than her self-preservation." "I prefer a Church that is bruised, hurting and dirty because it has been out on the streets, to a Church which is [pallid and] unhealthy from being confined [indoors] and from clinging to its own security."(9)
To be a missionary, on-the-streets Church requires that our proclamation be always faithful to the Tradition we have received but our language contemporary and accessible;(10) that our preaching and catechesis begin with the very basics of our faith(11) and lead to a "solid, profound, secure, meaningful and wisdom-filled" formation;(12) and that it be fed in that interior space that is prayer and so give Christian meaning and direction to all our busy activity.(13) We are called to be not merely maintenance-men and women in our dioceses, parishes, chaplaincies and agencies but "missionary disciples".(14) And Church leaders must model, exhort, encourage, coordinate this kind of missionary discipleship.
In his recent Bull of Indiction convoking the Year of Mercy Pope Francis quoted St John XXIII's words to the Second Vatican Council that the Church is "a loving mother to all; patient, kind, moved by compassion and goodness toward her children" however separated from her they sometimes may be.(15) So he wants an arms-wide-open kind of Church. Mercy and evangelization have been the twin leitmotifs of his papacy so far and Francis clearly regards them inextricably connected: having experienced the mercy of God "we may become a more effective sign of the Father's action in our lives";(16) having contemplated the mercy of God, we are able to share it with others.
Evangelization Leadership
So leaders in mission are today called to commit to an authentic, joyful, merciful sharing of the Good News. This is a heavy responsibility, but it is so much more inspiring than just achieving KPIs, growth targets or administrative goals. It will of course require courage and self-sacrifice: the Gospel asks nothing less than that we leave all behind and follow, that we follow all the way to the cross, that we take up that cross ourselves, that we let ourselves be led where we'd rather not go. It requires that our entire mindset (faith) and life-style (morals) and choices (justice) and relationships (mercy) be remade after the heart of Christ. That requires conversion, formation, encouragement – and heroic leadership.
Recently the Pope sent a message to the Patriarch of the Ethiopian Orthodox Church, Abuna Matthias, after the brutal beheading of Ethiopian Christians for an internet audience by members of the vile I.S. organisation.(17) This followed similar massacres of Christians in Kenya, Somalia, Libya, Iraq and Syria in recent weeks. The Pope said the blood of persecuted Christians is crying out to anyone who can still distinguish good from evil. Our hearts break when we think of the 219 mostly Christian schoolgirls kidnapped last year by Boko Haram in Nigeria and not seen since, presumably buried in shallow graves or converted at gunpoint and now enslaved to so-called husbands. Or of the Taliban blowing up a Catholic church and a Protestant church in the Punjab filled with Sunday worshipers just before Easter. Or the black-clad al-Shabab militants bursting onto the campus of Garissa University College on Holy Thursday, and taunting the young Christians they identified with "Happy Easter" before shooting them in the head. Pope Francis has pointed out that the global media, international organisations and many national governments have engaged in "complicit silence" about the persecution of Christians for several years now, standing "mute and inert before such unacceptable crimes" and the continued erosion of the most elementary human rights.
Leadership for Mission today includes a willingness to speak out about such things and an ability to prepare those we lead for the challenges of witnessing to Christ in contexts not always as welcoming as we might like. Yet it is precisely on such "existential peripheries" that the Pope thinks we "will find life by giving life, hope by giving hope, love by giving love".(18) I pray that the leaders of our Church and her agencies will have the life, hope, love – and courage – to recover the missionary impulse that our golden jubilee Council and the popes ever since hoped to inspire in our Church, and to demonstrate a Christ-like mercy to all, even those who do not welcome us at first. God bless you all.