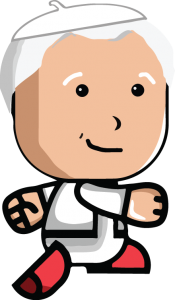 Introducing The Adventures of Saint John Paul the Great video game created by Xt3.com in collaboration with game developer, Regine Caramancion.
The 2D platform video game follows the incredible life of Saint John Paul the Great. Adventure through five stages of his life, from being a young Polish man named Karol Wojtyla, to becoming a priest during Nazi occupation of his homeland, and eventually becoming the Pope.
The game was launched at the Australian Catholic Youth Festival 2017 in Sydney, and is now available to play on PC and Mac computers for home or educational use.
WINNER OF 'BEST USE OF ELECTRONIC MEDIA' 2018 ACPA AWARD
WHO IS SAINT JOHN PAUL
THE GREAT?
St John Paul the Great, widely known as Pope John Paul II, served as Pope from 1978 to 2005, and was the second longest serving pope in modern history. A Polish native, John Paul II is recognised as helping to end Communist rule in Poland and eventually all of Europe.
Born Karol Jozef Wotjyla in the small town of Wadowice, as a young boy and even as a priest, Karol was athletic and enjoyed hiking in the mountains. Once called to be a priest, he had to enter an underground seminary established to avoid Nazi surveillance in Poland. He went onto become Archbishop of Krakow, then Cardinal and eventually Pope. During his papacy, he survived two assassination attempts, one of which resulted in serious injury. He is also known as one of the most travelled world leaders in history, visiting 129 countries during his pontificate.