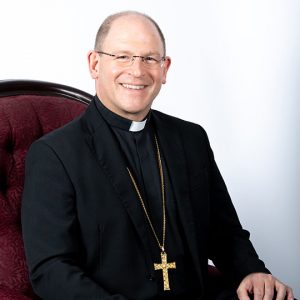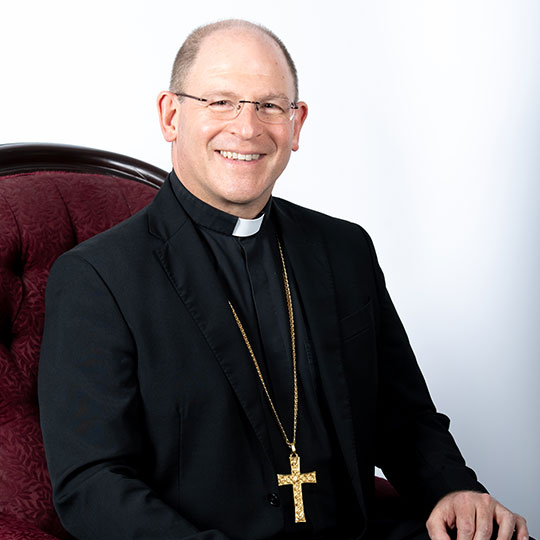 Most Rev Bishop Anthony (Tony) Randazzo was born in 1966 in Sydney the son of Colin Randazzo from Sydney and his wife Caterina Di Losa from Lipari, Italy. The Bishop's parents were married at Saint Joseph's Church Enfield in 1960. They worked as fruiterers in their family business at Bankstown until relocating to the Gold Coast in 1967. The Bishop is the third of four children. He has three sisters, one nephew and two nieces. He was educated at Saint Augustine's School Coolangatta, Guardian Angels School Southport and Aquinas College Southport.
Before entering the seminary, Bishop Tony worked in the hospitality industry and taught music in a Catholic primary school.
In 1985, he commenced his formation for priesthood at Pius XII Seminary for the Archdiocese of Brisbane. Asked about how he knew he was called to the priesthood, Bishop Tony says: "The same way that I know that I am still called. I listen to God and I speak to him in prayer. I also find myself constantly being called into the community of faith. That is where my vocation is most clear to me. It is Incarnational = God among us. That is the model, and that is where I first heard God call me."
Bishop Tony was ordained priest on 29 November 1991 at the Cathedral of Saint Stephen. From 1992-1994, he was a curate at Saint Mary's Parish Ipswich, an appointment which he says helped shape his priestly life. Bishop Tony recalls early on in his priesthood a 96-year-old woman in the parish died: "I was able to sit with her children, grandchildren, great-grandchildren, great-great grandchildren and great-great-great grandchildren. Five generations of family and faith. That is rare and memorable."
From 1995-1997, Bishop Tony served as Master of Ceremonies at the Cathedral in Brisbane for then- Archbishop John Bathersby.
In 1998, the Bishop was sent to Rome where he studied Canon Law at the Pontifical Gregorian University. Upon his return to Brisbane in 2001 he was appointed Pastor of Regina Caeli Parish Coorparoo Heights, his first and only parish as Pastor. "The people were generous to a fault," Bishop Tony said. "Nothing was too hard for the parishioners … I was particularly inspired by a parishioner named Wally. He and his wife lived next door to the church and offered hospitality to Archbishop Duhig when he laid the foundation stone for the parish church in the 1950's. Wally was a man of mighty faith."
During this time, Bishop Tony also served as Associate Judicial Vicar at the Regional Tribunal and Director of Vocations for the Archdiocese of Brisbane.
In 2004 he was called to Rome where he worked in the Congregation for the Doctrine of the Faith for five years and was there for the final year of St John Paul II's pontificate, and the first years of the papacy of Pope Benedict XVI.
Following the passing of St John Paul II, he prayed alongside the Pope's body and for the funeral. "I believe that Saint John Paul's first miracle was performed on the day of the funeral," he said. "As I looked up and saw world leaders from nearly every country sitting peacefully together, I commented to a priest colleague that this is a miracle. Only John Paul II could have managed that, and I believe that he did so from heaven."
Describing the election of Pope Benedict XVI, Bishop Tony says:
"I was standing in Saint Peter's Square when the white smoke went up and the bells began to ring announcing the election of Pope Benedict XVI. It is a day that I will remember until I die.  Only a couple of days before, we had farewelled Cardinal Ratzinger from the offices of the CDF.  I have a photo of him walking out of the room dressed as a Cardinal and a few days later I have a photo of him walking back into the same room, this time as Pope.
"He is the most gentle person that I have ever met. He is intelligent, kind and thoughtful. He left a lasting impression on me, both as Cardinal and as Pope."
Bishop Tony returned to Australia and from 2009-2015 he was Rector of the Holy Spirit Seminary of Queensland. Bishop Tony says that it is a delight for him to see young men responding to God's call in their life.
He advises anyone considering their vocation to ask the question: "What does God want me to do with my life?" and then to listen. "God will speak in all kinds of ways, in all kinds of circumstances, and through all kinds of people. Most importantly, God will speak to you in the silence of your own heart," he says.
In the first semester 2016 the Bishop was given sabbatical leave for studies in Sacred Scripture in Jerusalem and in August that year consecrated as a Bishop in St Mary's Cathedral, Sydney, by Archbishop Anthony Fisher OP, alongside Bishop Richard Umbers. Present at the ordination was his mother and father, three sisters, nieces and nephew, uncles and aunts, cousins and friends, some of whom had travelled from the USA, Italy and Spain.
As Auxiliary Bishop, he has charge of the western region of the Archdiocese, and spends as much time as possible visiting the people and priests of that region. Asked what that means for his day-to-day role in Sydney, Bishop Tony jokes: "I seem to spend a lot of time in Sydney traffic."
He is also the episcopal vicar for formation, with a particular focus on the formation of seminarians, young clergy and the ongoing formation of priests. In addition he is chair of the Board of Sydney Catholic Schools and a member of the Bishop's Commission for the Plenary Council.
In July 2018, Bishop Tony ordained John Jang, William Chow and Ronnie Maree to the diaconate; his first ordinations as a Bishop. "To see their families there and the joy in their family's faces as they were offering their sons to the Church, it was one of those moments I don't think I'll ever forget," he says.
Bishop Tony is an avid reader of topics ranging from the history of Sydney to studies in Sacred Scripture. He is also a lover of architecture and is a supporter of the Canterbury Bulldogs.
Bishop Tony  has given a number of talks and reflections, covering topics ranging from the Holy Spirit to the life if Eileen O'Connor.