Solemn Reception of the Body of His Eminence Edward Bede Cardinal Clancy AC at St Mary's Cathedral
Catholic Communications, Sydney Archdiocese,
7 Aug 2014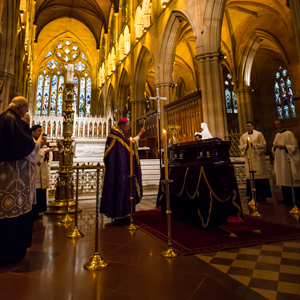 Auxiliary Bishop of the Archdiocese of Sydney, Most Rev Terry Brady, the Dean of St Mary's Cathedral, Fr Paul Hilder and priests of the Archdiocese were present for the Rite of Reception of the Body of Cardinal Clancy at St Mary's Cathedral where he will lie in State until the Mass of Christian Burial on Saturday.
The coffin was carried in procession into the Cathedral and placed at the foot of the sanctuary.
Bishop Brady sprinkled the coffin with holy water before the Cardinal's red berretta was placed at the foot of the coffin and the Christian symbols of his mitre, the Book of Gospels, a crucifix and stole was placed on the top of the coffin.
Members of Cardinal Clancy's family were present including his brother, Br Kenneth Clancy MSC as well as a number of religious sisters and members of the public.
Following the concluding prayer a portrait of Cardinal Clancy was displayed near the coffin beside a Book of Remembrance for people to sign.
On Friday evening all are welcome to attend Prayer and Rosary at 7.00pm to be followed a Vigil Mass.
On Saturday the Mass of Christian Burial will begin at 10.00am to which all are welcome.
Cardinal Clancy will be buried in the Crypt of St Mary's Cathedral.
The Mass will be webcast live on Saturday on http://www.xt3.com/clancyfuneral/