Mass of Christian Burial for His Eminence, Edward Bede Cardinal Clancy AC
Catholic Communications, Sydney Archdiocese,
5 Aug 2014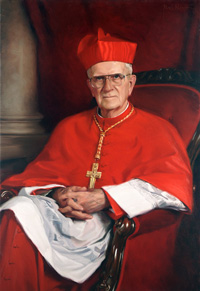 On Saturday 9 August at 10.00am there will be a Mass of Christian Burial for Cardinal Edward Clancy AC, Archbishop Emeritus of Sydney who passed away last Sunday aged 90.
The Mass will be at St Mary's Cathedral and attended by the Papal Nuncio for Australia, Archbishop Gallagher, the Apostolic Administrator for the Archdiocese of Sydney, Bishop Peter Comensoli and bishops, priests and religious from right around Australia.
The public are very welcome.
On Thursday at 2.00pm there will be a Solemn Reception of Cardinal Clancy into the Cathedral where he will lie in State until his Requiem Mass and on Friday evening at 7.00pm thee will be Evening Prayer and Rosary before the Vigil Mass for the repose of Cardinal Clancy's soul.
Following the Mass of Christian Burial on Saturday and final commendation, the body will be laid to rest in the Crypt of St Mary's Cathedral.
During the week many numerous tributes and memories of the seventh Archbishop of Sydney revealed a prayerful, dedicated man with a total commitment to his faith and a great gift for friendship.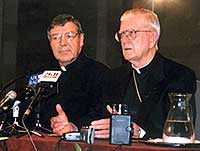 Pope Francis spoke of his "wide pastoral leadership" , his support for Catholic education and his broad ecumenical and civic mission.
From Rome Cardinal George Pell said the man who preceded him as Archbishop of Sydney provided security and stability and he was "a safe pair of hands".
He said; "He was always available to me for a chat and was happy to provide advice when asked. He was a model retired bishop and never interfered."
Cardinal Pell said that under Cardinal Clancy's leadership there was steady progress in the Archdiocese of Sydney (more from Cardinal Pell and others on the tribute page).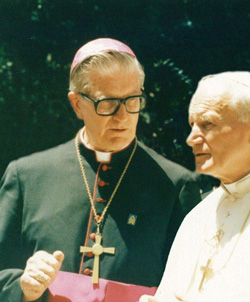 Born in Lithgow in December 1923, Edward Clancy was ordained a priest at St Mary's Cathedral on 23 July 1949. He served as an assistant priest at Belmore until leaving to study in Rome in 1951. This was one of a number of study trips to Rome before being appointed Auxiliary Bishop of Sydney in 1973. Five years later he was appointed Bishop to the Archdiocese if Canberra and Goulburn. The on 22 February 1983, the then Pope John Paul 11 announced Archbishop Clancy's appointment as seventh Archbishop of Sydney. He was made a Member of the Order of Australia (OAM) in January 1984 and Officer of the Order of Australia (AC) in 1992.
He was elevated to the Sacred College of Cardinals in 1988.
As Archbishop of Sydney from 1983 until 2001, His Eminence oversaw the creation of the Diocese of Parramatta and the Diocese of Broken Bay as well as the completion of the spires of St Mary's Cathedral which had been part of the original design by architect William Wardell, the construction of the new Cathedral House and St Mary's Cathedral College High School. During his tenure Cardinal Clancy also oversaw the closure of St Patrick's Seminary at Manly, the opening of the Seminary of the Good Shepherd at Homebush together with the Catholic Institute of Sydney and the Veech Library at Strathfield as well as the formation of the Australian Catholic University.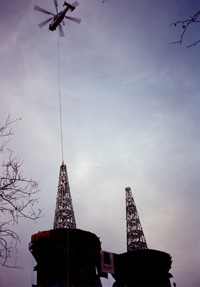 He also played a significant and important role in the Beatification of St Mary of the Cross MacKillop and proved to be well ahead of his time when in 1996 during his tenure as President of the Australian Catholic Bishops Conference, he launched the Bishops' Research Project on the Participation of Women in the Catholic Church of Australia and summarised its findings at the National Press Club in Canberra.
For this important project, more than 4,500 questionnaires had been sent to 28 dioceses for one of the most comprehensive samplings of regular church attendance undertaken in Australia. Further questions explored the participation of women in the Church. In addition to the questionnaire, more than 2500 submissions were received and 32 public hearings held in capital cities and regional centres.
As a result of this comprehensive survey, it was discovered women played a significantly greater role in the Australian Church than that of lay men but that their voices were not being heard and they were being excluded from decision-making roles.
Among the recommendations made by Cardinal Clancy included increasing leadership and decision- making roles for women; revisit attitudes and practices concerning gender and racial equality and opportunity and urged further dialogue between the Church and Indigenous leaders about the Research Project.