Three Aboriginal Elders Honoured
Catholic Communications, Sydney Archdiocese,
8 Jul 2014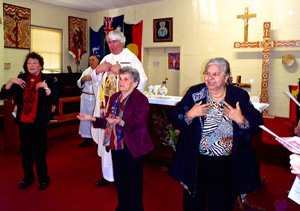 Three outstanding Aboriginal Elders and members of the Archdiocese of Sydney's Aboriginal Catholic Ministry were honoured by the Church of Reconciliation at La Perouse on Aboriginal and Torres Strait Islander Sunday which marked the start of NAIDOC week.
Dr Elsie Heiss, Sue Bryant and Gloria Martin have all played significant roles in the founding of Sydney's Aboriginal Catholic Ministry and in the establishment of the Church of Reconciliation. In recognition of their efforts and tireless dedication over many years to the Catholic Church and to their people, they have been chosen as the foundation members of the Church of Reconciliation's Hall of Fame.
"We wanted to find a way to honour people like Elsie, Sue and Gloria and setting up our own special Hall of Fame seemed a wonderful way to acknowledge their contributions," says Cate Wallace of ACM.
Framed photographs of the three elders will be hung inside the Church of Reconciliation with the Hall of Fame expected to grow each year with more much loved faces added of those who have also made significant contributions to the Church, to ACM and to Sydney's Indigenous Catholic community.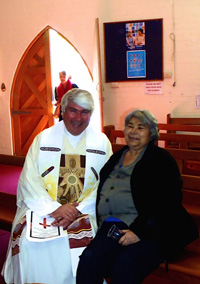 "Elsie and Sue were very much involved with the early years of ACM and Gloria not only grew up and went to school in La Perouse but this is where she also took her first communion," Cate says.
Father Frank Brennan SJ celebrated Mass at the Church of Reconciliation to mark Aboriginal and Torres Strait Island Sunday.
More than 150 Indigenous and non-Indigenous people crowded into the tiny Church.
Warren Mundine, who was appointed by Prime Minister Tony Abbott in October last year to chair the Federal Government's Aboriginal Advisory Council also attended the Mass. Also there was one of the nation's most outstanding champions of Aboriginal people, public servant and Aboriginal Administrator, Kaye Mundine. A former Commissioner with the Catholic Commission for Justice and Peace and regional Councillor with the Aboriginal and Torres Strait Islander Commission, Kaye Mundine is remembered by many as the person who escorted St John Paul down the Dreaming Track at Alice Springs in 1986.
In his homily Fr Frank Brennan spoke of that day in Alice and how St John Paul had told the thousands who had gathered to hear him that "the Church herself in Australia will not be fully the Church that Jesus wants her to be until you have made your contribution to her life and until that contribution has been joyfully received for others."
After paying tribute to the spectacular Stations of the Cross paintings on the Church's walls by acclaimed Aboriginal artist, Richard Campbell which is now complemented by the artist's superb Reconciliation Cross, Fr Brennan reflected on the life and contribution of the late much-loved Father Frank Fletcher MSC who died earlier this year.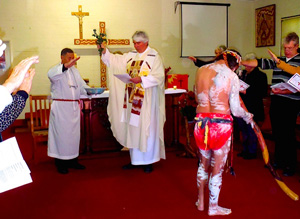 "Frank worked in close solidarity with Elsie Heiss to ensure that this Reconciliation Church could be established as a home for the Aboriginal Catholic Ministry of the Sydney Archdiocese. Frank always appeared slightly gangly and sounded slightly diffident even though he was always focussed, straight directed and purposeful," Fr Brennan said and reflected how Fr Frank's memory evinced Zechariah.
"The learned and clever who exercise power in our society are those who ride on chariots from Ephraim and on horses from Jerusalem. None of that for Frank Fletcher. Proclaiming peace for the nations and justice for this Great South Land, he was more like the King who came humble and riding on a donkey, on a colt, the foal of a donkey," he said.
The theme for this year's Aboriginal and Torres Strait Islander Sunday was "Praise to the Lord of Heaven and Earth" with the Mass a celebration of tradition and Aboriginal spirituality.
Each year the liturgy together with many of the hymns and prayers are specially created by the National Aboriginal and Torres Strait Islander Catholic Council (NATSICC) with celebration Masses across Australia also including the didgeridoo and customs such as the placing of an Aboriginal stole over the shoulders of the celebrant.
Glenn Doyle, one of Sydney's leading didgeridoo musicians played the didgeridoo at Sunday's Mass at the Church of Reconciliation. After the Mass a barbecue get-together was held in the Church's small garden.
"Many then headed for Bare Island at La Perouse for the Black Markets which helped launch this week's NAIDOC celebrations," says Cate.
Established last year, the Black Markets are held on the first Sunday of every month. For the NAIDOC festivities which celebrate the history, culture and achievements of Australia's first peoples, there were Aboriginal designed clothes, artworks, paintings, bush-tucker, catch'n'cook fishing tours for kids, workshops on Aboriginal shellwork as well as Aboriginal dance instruction and a wide range of stalls and nature tours of La Perouse's Kamay Botany Bay National Park.
While NAIDOC officially began Monday, 7 July with celebrations across the nation including a festival in Sydney's Hyde Park, Aboriginal Catholics begin their celebrations on Aboriginal and Torres Strait Islander Sunday in order to give thanks to the Lord for the gifts of their culture, history and achievements and for "this great South land."
The 2014 NAIDOC Festival runs through to13 July. It's theme this year, which is also the 100th anniversary year since the start of World War One, honours all Aboriginal and Torres Strait Islander men and women who served with honour and pride in Australia's military conflicts and engagements across the globe.
To find out about NAIDOC festivities in your area log on to www.naidoc.org.au