After 27 Years Verbum Dei Missionary Priest Returns Home
Catholic Communications, Sydney Archdiocese,
14 Mar 2014
Energetic, full of vitality and warmth, Sydney-born Verbum Dei Missionary priest, Father Gregory Morgan FMVD's has spent the past 27 years spreading God's Word in countries across the world. For more than quarter of a century his theological studies and his mission have seen him living for periods of six months to several years in Columbia, Venezuela, Spain, the Philippines, Ireland, Germany, US and Italy.
Now on the eve of his 50th birthday, Fr Greg is back home.
Since December last year, the missionary priest has taken on a new role as Administrator of St Joseph's Catholic Parish, Rosebery. Appointed by the Archdiocese of Sydney just before Christmas, he loves his work as a parish priest and describes this new role as immensely "fulfilling and rewarding."
"I like being back and I like being a parish priest," he says simply.
However he also adds that as Administrator of St Joseph's Catholic Parish at Rosebery he is very aware that he has "very big shoes to fill."
"Father Chris Sheehy will not be an easy act to follow," he says, paying tribute to St Joseph's former parish priest who died suddenly and unexpectedly of a heart attack in August 2011.
Fr Greg says Fr Chris was not only much loved but is still very much missed by all who knew him.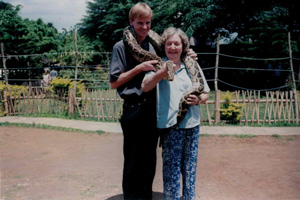 Although Fr Greg never had the privilege of knowing Fr Chris for very long, there was nevertheless a strong bond between the two, for it was Fr Chris who gave Sydney's Verbum Dei Missionary Community a new home at St Joseph's Parish after the Community's house in Kensington was destroyed by Sydney's devastating hailstorm of April 1999.
Not only is the Community still in the house arranged by Fr Chris but the old St Joseph's parish school has since been restored and converted and now contains a beautiful chapel for the Verbum Dei Missionary community and an adjacent dormitory sized room for those on retreat.
For Fr Greg who was the first Australian to discern a priestly vocation as a member of the Verbum Dei Missionary Fraternity, having the community in the parish where he is now Administrator is has made his return to Sydney even more special.
Having his family nearby and within driving distance is also special.
He also admits that after so many years of travel and living in foreign countries that it feels good to be home and feel "settled."
But that does not mean Fr Greg will not answer God's call in the future no matter where or what the Lord calls on him to do.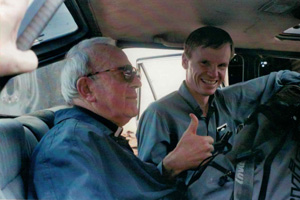 "Everybody is called, and if we are faithful in the little things, we will be faithful in the big things. God gives us little calls all along the way, and if we hear and heed these, we'll be ready when the big call comes. But if you don't listen and are not open, you may never understand what God has called you for," he says.
The youngest of six brothers and one sister in what he calls "a typical large Catholic family," Fr Greg grew up in Carramar, attending Sacred Heart Primary School at Villawood and later Patrician Brothers College, Fairfield.
"I always figured God had something in store for me but I didn't know what," he says. All this changed on Mother's Day 1986 in what he calls a watershed moment, one that 28 years later is still v vivid in his memory and unforgettable.
At the time Fr Greg was 22 and having been awarded a cadetship by Price Waterhouse, was in studying for a commerce and accountancy degree at the University of NSW.
"Running late for a class at UNSW I rushed to catch the train into the city from Villawood. In the compartment of the train where I was sitting was an Asian man. I can't explain it, but a voice inside me urged me to go over and talk to him. The voice was so clear but it wasn't outside of me, it was inside. But even though I wanted to talk to him, I felt embarrassed to approaching a complete stranger. I didn't even know if he could speak English."
So Fr Greg says he simply stayed where he was and at Chester Hill Station when an Asian couple and their two children got on, he tried speaking to them. But it wasn't the same thing and he felt even more embarrassed about going over and talking to the Asian man.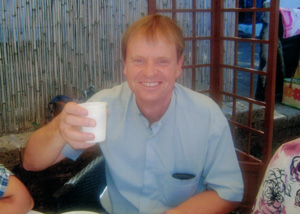 "When the train pulled in to Lidcombe station, he got off and I thought well, that's the end of that," Fr Greg says. But by the time the train reached Ashfield, he realised in his own rush to get the train he'd forgotten some important UNSW library books.
"So I got off the train and went up the stairs to the other side of the platform to catch a train back to Villawood. I caught the first train back but had to change at Lidcombe Station. Waiting for the connecting train I bought some carnations for my mother for Mother's day from the platform kiosk. As I came out of the kiosk, there standing under the Indicator Board was the Asian man."
Fr Greg says his heart leapt for joy.
"I said thank you Lord for giving me a second chance and walked up to him. The man, whose name I learned was Teo Pham, and although he didn't seem to speak much English, we managed to exchange addresses."
The following day, Mother's Day, Fr Greg went to the address he had been given in Villawood. Teo Pham was there as were other young Vietnamese and Laotian men, and he discovered through the big gentle Asian man who seemed to be in charge that this was a half-way house for refugees of the Vietnam War with disabilities.
For Father Greg this was his watershed moment. And he knew what God had called him to do.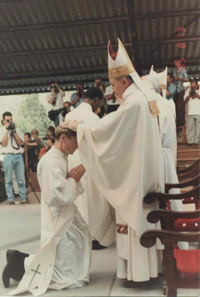 "Most of the men were extremely traumatised and for the next six months I'd come by each week to teach them English. During this time I had also met the three sisters who had arrived in Australia to establish a Verbum Dei Missionary Community here," he says.
But as he prepared to leave to join the community in the Philippines, having bought a ticket, quit his job with Price Waterhouse and having decided not to finish his degree, he remained concerned about the men he'd been teaching who were still far from fluent in English and scarred by the war, having difficulty adjusting.
"Then I found out Teo Pham had been taken to Liverpool Hospital. Traumatised he had become violent. When I went to visit him, I discovered the hospital thought he was Chinese and thought he understood no English. His face lit up when he saw me. As always, he didn't speak but I started to write questions for him in English and to my amazement he wrote back in perfect English. He did understand but whatever happened to him during the war had traumatised him and he seemed to prefer not to speak," Fr Greg recalls.
The nurse who had taken him to see Teo Pham then learned about Fr Greg's efforts to teach English to Teo Pham and the other refugees and offered to get involved with them and do what she could to help.
"I felt like God was saying to me: 'I've got everything covered here, so now you go where I am heading you,'" he says.
A few weeks later Fr Greg headed not to the Philippines as he had originally planned but to Spain where the Verbum Dei Missionary Community was first founded and where later he would begin his theological studies.
"I planned to be away for three months and I stayed six and a half years with a couple of years formation in Valencia followed by two years formation philosophy in Madrid, and six months missionary work in Columbia in Medelin, the home of Pablo Escobar and six months in Venezuela," he says. Escobar was the head of a large and violent drug cartel.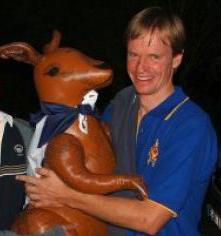 Fr Greg did a further two years theological study at the Milltown Theological Institute in Dublin, and then it was back to Spain to complete his final two years of study. Then on on 13 August 1995 he was ordained a priest.
In 2000 he studied at the Pontifical Urbaniana University of Rome for his Licentiate of Misseology and for the following eight years remained in Rome after being elected Vice Superior of the Male Branch of Verbum Dei. For seven he these years he was also Administrator General for the entire Fraternity.
In 2009 after two years of further study in Germany he became parish priest to a small parish 65 km outside of Rome and two and a half years later, the Sisters of the Sydney Verbum Dei Community asked him if he could return to Australia.
There was vacancy at the Roseberry Parish where the Sisters lived and the Archdiocese of Sydney inv invited him to put his name forward.
"As my mother always said, nothing ventured nothing gained," he says and admits the past few months have been some of the happiest times of his life, and look like continuing this way as he gets to know more and more of his parishioners and of the richly diverse inner city parish.
"Throughout my life as a priest I have been very lucky, very fortunate," he says and urges every person of faith to listen to God and to heed his call.