Hundreds Head for Canberra for Missionaries of God's Love Official Inauguration Mass
Catholic Communications, Sydney Archdiocese,
7 Feb 2014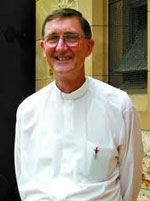 Hundreds of friends, fellow Catholics and families are flying in from overseas as well as from cities and towns across Australia for the official recognition by the Vatican of the Missionaries of God's Love (MGL) as a religious institution.
With the Archbishop of Canberra and Goulburn, the Most Rev Christopher Prowse presiding, it will be standing room only at the Inauguration Mass to be held at St Christopher's Cathedral, Canberra at 11 am on Saturday, 8 February.
During the Mass, the founder and Moderator of MGL, Father Ken Barker who was ordained at St Christopher's Cathedral in 1974, will make his vows public before Archbishop Prowse. This will then be followed by MGL's 19 ordained priests, an ordained deacon, a deacon who is about to be ordained and a consecrated brother making their perpetual vows public before their founder, Fr Ken.
A further 19 MGL seminarians will then renew their initial vows.
Archbishop Prowse said he believes the Missionaries of God's Love is a sign of one of the great fruits of the charismatic and new ecclesial movements in the church today.
"They bring great hope and joy to not only our diocese but Australia and beyond," Archbishop Prowse said. "We certainly wish them well and thank them for the good example they bring and the impulse of grace they show and we hope to see more vocations to the priesthood and religious life as a result of their apostolate."

"There will be a huge crowd on Saturday," says Tim Kirk, Coordinator of the International Council of the Disciples of Jesus Covenant Community who describes the Vatican's recognition of MGL as an official religious institute not only historic but "a very big deal."
The Disciples of Jesus Covenant Community played a significant role in the creation of the MGL and members of the now international community will be at the Cathedral on Saturday to celebrate one of only a tiny handful of congregations established by Australians to obtain formal recognition by the Church.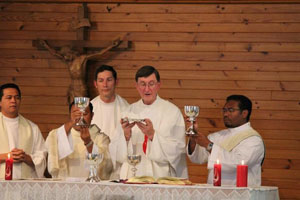 The first and probably best-known of these is St Mary MacKillop's Order of the Sisters of St Joseph of the Sacred Heart which was founded by Australia's first saint and Father Julian Tenison-Woods in 1866, and approved and recognised by the Vatican in 1874.
"I believe there may have been one or two other religious congregations for men established in Australia and officially recognised, but which died out," says Fr Ken.
The establishment of MGL evolved after Fr Ken's return to Australia from the US where he had been sent by the Archdiocese of Canberra-Goulburn to study at the Catholic University of America in Washington DC. Graduating with a Ph.D in Theology in the early 1980s, Fr Ken was home in Canberra again when visiting old friends, he came into contact with Australia's emerging charismatic covenant communities.
"I was impacted by the way this charismatic renewal and commitment was being lived out in people's lives, whether they were single, married or consecrated. After hearing a testimony from a priest who spoke of how his own life had changed, I realised this was the way I wanted to be involved in the Church and with God," Fr Ken recalls.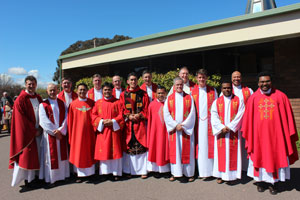 But it wasn't until three young men from the Disciples of Christ Covenant Community approached Fr Ken, telling him that while they wanted to become priests they wanted to remain members of the community.
Fr Ken was unsure how to answer this request and decided that for the next 12 months, he and the three would-be priests would pray communally as well as individually, seeking direction from the Lord and His plans for them. Through prayer and in particular through communal prayer Fr Ken says it gradually became clear that the Lord wanted them to form a Brotherhood to evangelise young people, preach the Gospel with passion and joy, and to help and live among the poor.
A MGL fraternity house was found in a Canberra suburb where the brotherhood sought to live the Gospel in a radical manner by imitating Jesus in his poverty and developing a strong life of prayer.
During these early days, Tim Kirk also joined the three young fellow members of the Disciples of Jesus Covenant Community in their studies of Scripture, Theology and Catholic doctrine at what was then known as the Mother of God Pastoral Institute.
"I joined the Disciples of Jesus five days after my 18th birthday, and while I did not have a vocation for the priesthood, I studied with the other three that first year and it benefited me enormously," says Tim.
Tim went on to study Theology at Canberra's St Mark's Theological College where he also studied Greek in order to read the Scriptures in their original language. After graduation he moved to Melbourne where he taught Religious Education and Biblical studies at Victoria's well known Jesuit School, Xavier's College.
But in 1990, while on a religious retreat Tim's life took on a whole new direction.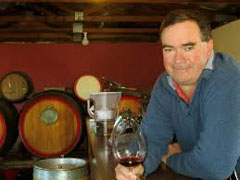 "Every time I started to pray I'd find myself thinking about winemaking and my father's vineyard and about fermentation and shiraz," he says explaining that when he told a Jesuit priest the difficulty he was having, the priest replied "why do you assume it's a distraction."
Those words changed Tim's life and he has since become one of Australia's most respected and admired winemakers. As winemaker and second generation head of Clonakilla Wines at Murrumbateman, half an hour out of Canberra, Tim continues to win countless awards and in September last year was named Gourmet Magazine's 2013 Winemaker of the Year.
His joy and involvement with the Disciples of Jesus Community has continued as has his friendship with Fr Ken and his admiration and respect for Missionaries of Love and the Congregation's priests, seminarians and religious sisters.
Tomorrow, on the eve of the MGL's Inauguration Mass at Canberra's Cathedral, Tim and other leaders from the Disciples of Jesus will meet with MGL representatives, including Fr Ken to discuss the Community's vision and mission.
Saturday's Mass will be followed by a series of events for members of MGL, the Disciples of Jesus and all those who travelled to Canberra from across Australia as well as overseas for this important and historic event.
"I am not confirming or denying but I suspect a lot of very good wine will be drunk," says winemaker Tim.
On Sunday, 9 February there will be an MGL Mission Mass at St Benedict's Narrabundah Eucharistic Centre which will focus on the mission of MGL to serve and contribute to the life of the Church through works of mercy and evangelisation.