Messages of support for Archbishop Anthony Fisher OP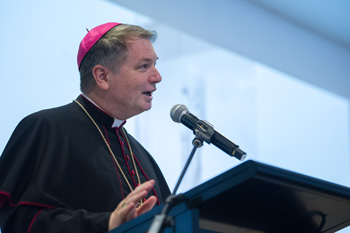 The Archbishop of Sydney, Most Reverend Anthony Fisher OP is recovering in hospital after being diagnosed with Guillain-Barré syndrome.

The Archbishop took ill just prior to Christmas and was admitted to St Vincent's Hospital following an infection which was complicated by an immune-related pathology. Symptoms include varying degrees of muscle weakness, and while its onset is sudden and unexpected, the great majority of people make a full recovery.

The Archbishop has responded well to medical treatment. He is grateful for the messages of support he has received and for the prayers offered for him and is looking forward to making a full recovery.

Please continue to pray for the Archbishop's recovery.
O God, shepherd and ruler of all the faithful,
look favourably on your servant,
whom you have set at the head of your Church in Sydney as her shepherd;

grant, we pray, that by word and example
he may be of service to those over whom he presides,
so that, together with the flock entrusted to his care, he may come to everlasting life.

Through our Lord Jesus Christ your Son,
who lives and reigns with you in the unity of the Holy Spirit,
one God, for ever and ever.
Amen.

(Prayer for the Most Reverend Archbishop Anthony Fisher OP on the occasion of the Investiture of the Pallium as the Ninth Archbishop of Sydney, 25 July 2015.)
To leave a message of support on Archbishop Fisher's Facebook page, click here.

Otherwise, you can submit a message below.