School Blessed on MacKillop Feast Day
Catholic Communications, Sydney Archdiocese,
9 Aug 2018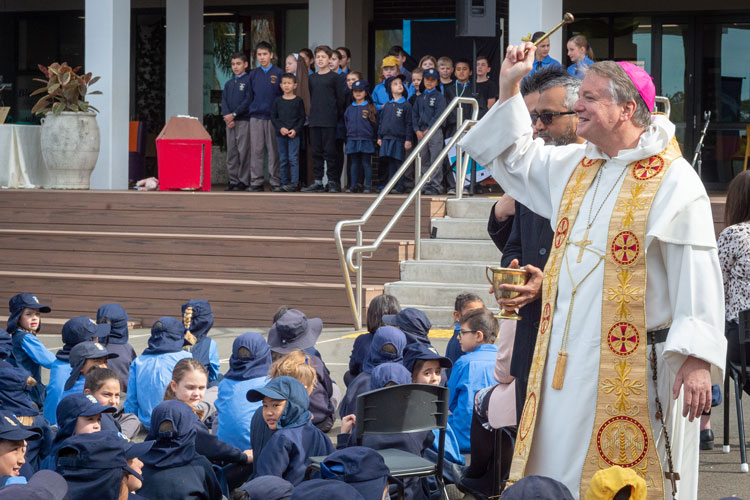 Sydney Archbishop Anthony Fisher OP yesterday asked the intercession of St Mary MacKillop for Australia's Catholic school system as it seeks a fairer Federal funding model.
"Family, parish, school and society, all have a part to play in bringing children up from ignorance to knowledge and preparing them for citizenship," he said.
"St Mary MacKillop is our local advocate and exemplar, and we turn to her in these challenging times to intercede on behalf of our whole system of Catholic schools."
The archbishop was at St Christopher's Primary School Panania on the Saints feast day to bless and officially open a new library and learning spaces at the Josephite-founded school.
He wished students, staff and parents along with visiting dignitaries a happy solemnity of St Mary MacKillop, "patron of education in Australia and a favourite of this school".
"With her inspiration we will keep building on our heritage in beautiful facilities, keep building on our faith and ideas, as we do here at St Christopher's."
The students presented the archbishop with a sports cap with its emblem on the front and his name embroidered on the back.
"We know you love to play tennis and we think this will help you with your game," said principal Jamie Wahab, handing it to the archbishop who promptly put it on back to front to the delight of the students.
Mr Wahab said the occasion was not only a celebration of the new buildings, but a moment to recognise that "along with our amazing teachers and staff you will grow into students and adults who will, as Pope Francis has said, be passionate about giving to others, not only material things but also sharing something of yourself - your own time, your friendship and your God-given abilities".
Both men thanked the Federal Government for it's $1.6 billion contribution towards the capital works projects, and Sydney Catholic Schools which provided the bulk of the funding.