Archbishop awards Dempsey Medals
Catholic Communications, Sydney Archdiocese,
30 Jul 2018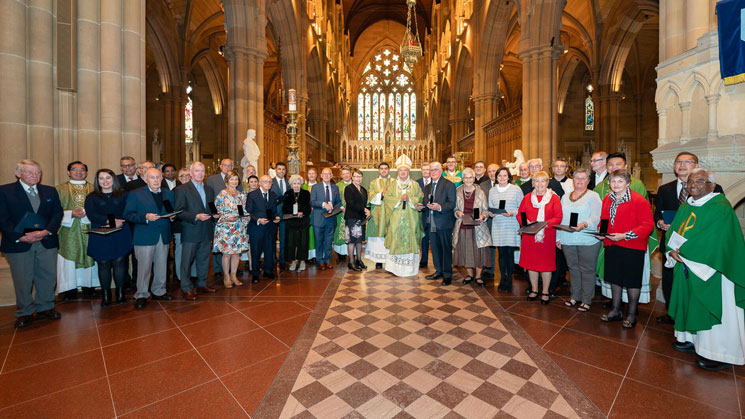 Archbishop of Sydney Anthony Fisher OP yesterday presented 29 Sydneysiders with the Dempsey Medal for outstanding service to the archdiocese.
Amongst them was 97-year-old Bill Morris and 23-year-old Jessica Manganaro.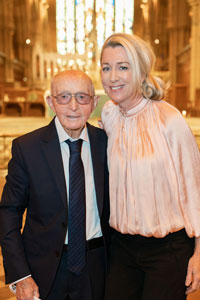 Mr Morris has served his St Patrick's Sutherland parish over many years as a church warden and cleaner, and regularly visited the sick in his area.
Ms Manganaro is an enthusiastic catechist, parish group leader at St Vincent's Ashfield, who has launched and fostered a group of young adults.
Archbishop Fisher presented the medals during a Solemn Mass at St Mary's Cathedral.
He said it was a joy to present the recipients with their awards.
"The Church in Sydney is indeed blessed with so many people who are willing to be the hands and feet of Christ in our city," he said.
Mr Morris said he was "quite surprised" but happy to hear he would receive a special award from Archbishop Fisher.
"I just do what a lot of people do in other parishes," he said.
"You can find the same sort of person in every parish, mostly older people."
The recipients were a varied group of lay people from across the city, with most of them honoured for service within their parish communities, schools or the archdiocese in a host of ministries including liturgical service, prayer groups, RCIA, social justice groups, apologetics or bible courses, St Vincent de Paul Society, Antioch, fundraising and building maintenance.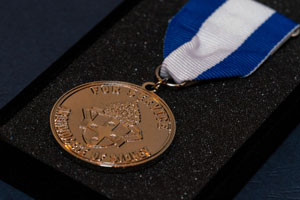 The archbishop instituted the Dempsey Medal last year in honour of James Dempsey, an Irish Catholic convict who was transported to Sydney in 1802 and later pardoned.
A stonemason, he oversaw the building of Sydney's first bridge, barracks and hospital.
The Dempsey home was a pivotal gathering place for Catholics of the early colony during the years when there was no priest.
When Fr John Joseph Therry arrived in Sydney in 1820, Dempsey assisted him by helping plan, fundraise for and build the first St Mary's Cathedral.