Cardinal Pell Committal Begins
Catholic Communications, Sydney Archdiocese,
5 Mar 2018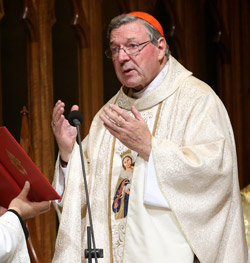 The committal hearing for Cardinal George Pell has commenced today in the Melbourne Magistrates' Court.
The hearing, which is expected to last four weeks, will determine whether there is sufficient evidence to proceed to a trial for historical sexual assault offences.
The Cardinal returned to Sydney from Rome last July after Victoria Police confirmed that they had laid charges against him.
He appeared in court on 26 July 2017 for a procedural hearing. While not required to enter a plea at that time, Cardinal Pell's barrister, Robert Richter QC, indicated that the Cardinal will plead not guilty to all charges against him.
It has been reported that up to 50 witnesses will be called during this month's committal hearing. It is expected the court will be closed to both the public and the media when hearing from complainants.
At a short hearing last Friday, crown prosecutor Mark Gibson SC, told the court that prosecutors were withdrawing one of the charges.
Cardinal Pell has always maintained his innocence of the charges.
In a statement made after the charges were laid, the Cardinal said: "I repeat that I am innocent of these charges. They are false. The whole idea of sexual abuse is abhorrent to me."