Composer Awarded Dempsey Medal
Catholic Communications, Sydney Archdiocese,
1 Mar 2018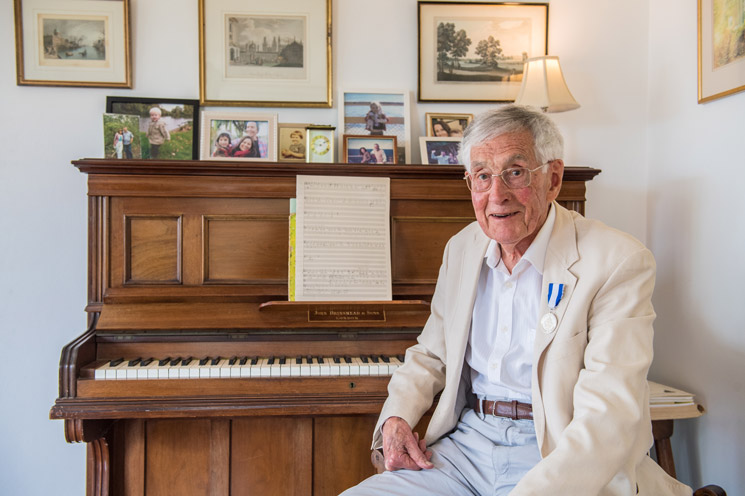 People will always sing worship to God, says composer Richard Connolly, and writing some of Australia's most-loved hymns is the "finest work" he has ever done.
This month Archbishop Fisher presented the Manly parishioner with the Dempsey Medal for outstanding service to sacred music and liturgy.
Dr Connolly formed half of the McAuley-Connolly duo which, during the 1950s, created 30 hymns including 'Help of Christians, Guard this Land', 'By Your Kingly Power' and 'By Faith and Hope and Love' among others.
These are still sung in Christian churches world-wide and he has been celebrated as the most prominent composer the Catholic Church in Australia has produced.
He told The Catholic Weekly he felt "very honoured" to receive his award and paid tribute to his old friend and collaborator.
"I believe James McAuley was this country's finest poet," he said.
"His talent was the greater, mine the lesser. I was a tunesmith with talent and his words just lifted me up into another world.
"The music seemed almost to spring directly from them, with minimal contribution on my part.
"When he died only 59 years old it was such a loss.
"Apart from my family the best thing I've done in my life is my work on those Connolly-McAuley hymns."
Dr Connolly's sacred and secular compositions enjoyed international success.
He spent much of his working life at the ABC, first in its education department and later as the head of its drama and features department.
He composed and originally sang the The Bear in There, the iconic theme for the long-running children's program Playschool. He also composed music for the visit of Pope Paul VI at Randwick and St Mary's Cathedral.
"The role of music in sacred liturgy is essential," he says.
"From pagan times, even before Judaism and Christianity, there has always been song in worship of the gods, or of God.
"And it's essential that we bring to God the best music we can, which can mean among other things, the most beautiful that we can make to praise and worship God.
"That is why we're here."
Thomas Wilson, director of music at St Mary's Cathedral says, "the hymnody of Richard Connolly and James McAuley is part of the living fabric of Australian Catholic worship".
"Richard Connolly possesses a unique gift for melody, and an extraordinary empathy for the style and aims of Catholic liturgy.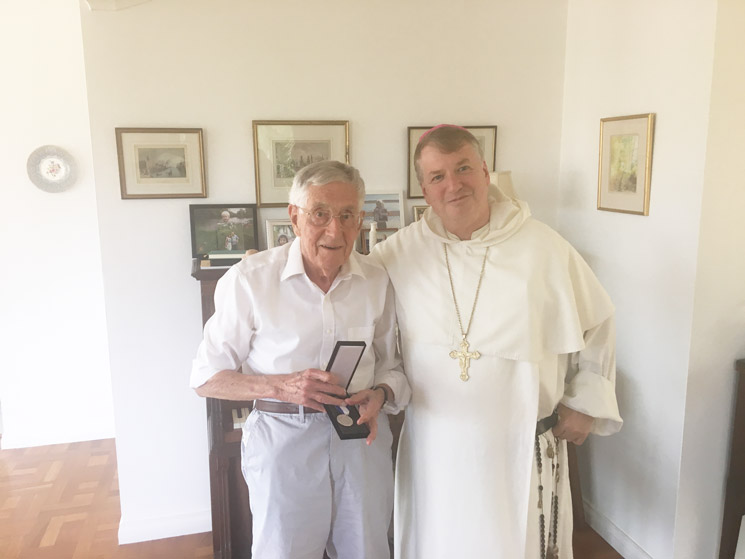 "His music remains fresh, whilst being rooted in and inspired by the great tradition of Catholic liturgical music.
"Any strong community should be known by its songs. Australian Catholics should be very proud of the legacy left to us by Richard Connolly and James McAuley."
Dr Connolly, a proud father of nine children and grandfather of nine, credits his religious sensitivity to early years of seminary training in Australia and Rome and later, as a husband and father and frequent attendance at Mass at the Benedictine Abbey of Downside in England.
He lived at the Holy Spirit parish at North Ryde when Fr Ted Kennedy introduced him to James McAuley in 1955.
Fr Kennedy asked Richard to set to music McAuley's poem Help of Christians.
Their subsequent compositions were released in a collection titled Hymns for the Year of Grace in 1963.
In 1960 Connolly's work also featured in the Living Parish hymnbook, edited by Tony Newman, which sold one million copies over 10 years. All the Connolly-McAuley hymns are now available from Willow Publishing under the title Year of Grace.
Dr Connolly dislikes the style of hymns which became popular throughout the West in the 1970s and is still ubiquitous in parishes today.
"Hymns are prayers of praise and petition; they are expressions of worship from us to God.
"But the Americans found it was much easier to just take quotes from Jesus in the New Testament, and we end up singing God's words about ourselves."
He greatly admires the work of his contemporary, Scottish hymn writer Fr James Quinn SJ.
The Dempsey Medal is an annual award named in memory of James Dempsey, an Irish Catholic convict who was transported to Sydney in 1802 and later pardoned.
As a stonemason, he oversaw the building of Sydney's first bridge, barracks and hospital, near the site of St Mary's Cathedral, and was a central figure of the fledgling Catholic community in the absence of clergy.