Prayers and Protests Expected at Day of the Unborn Child
Catholic Communications, Sydney Archdiocese,
12 Mar 2018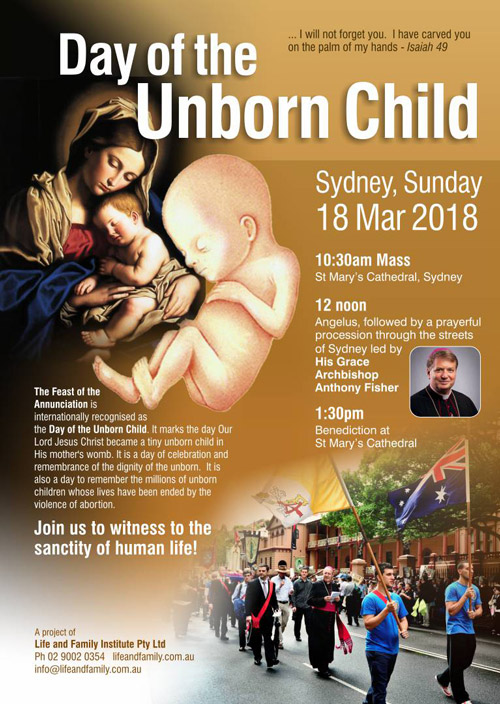 The Archbishop of Sydney, Most Rev. Anthony Fisher OP, will preside over the Mass for the Day of the Unborn Child, and lead the prayerful procession to Parliament House this Sunday, 18 March.
The Day of the Unborn Child will begin with 10.30am Mass celebrated in St Mary's Cathedral, followed by the praying of the Angelus, a procession to Parliament House and a return to the Cathedral for Benediction at 1.30pm.
An annual event, the Day of the Unborn Child is usually celebrated on the nearest Sunday to the Feast of the Annunciation, which is usually celebrated on 25 March. However, given that 25 March falls during Holy Week this year, the feast is moved until after the Easter Octave. The Feast of the Annunciation will be celebrated this year on Monday, 9 April.
The Feast of the Annunciation, which commemorates the Incarnation of Christ as a tiny, unborn child in His mother's womb, is seen as an appropriate day to pray for unborn children, including the estimated 80,000 children who die of abortion in Australia each year, and their parents. It is also a day to pray for lawmakers charged with the protection of human life, and for the conversion of and mercy for those who conduct or otherwise participate in abortions.
In previous years, Archbishop Fisher has spoken words of compassion for the 1 in 4 Australian women who has undergone an abortion and exhorted those gathered and the community more broadly to provide real alternatives for women facing an unwanted pregnancy; to never make her feel like abortion is the only possible choice for her.
It is expected that, in addition to attracting thousands of Sydneysiders to pray for the unborn, the Day of the Unborn Child will also be met by protesters who seek to silence the Church on the issue of abortion. In previous years, these protesters have sought to disrupt the Mass and also to obstruct the procession leaving from the Cathedral. Last year, the procession had to be diverted along a different route due to police advice around the planned protests.
The event is organised by the Life and Family Institute.