Refugee Family Proud to Call Sydney Home
Catholic Communications, Sydney Archdiocese,
15 Feb 2018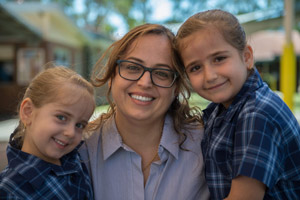 Little seven year-old Alan Ismael is now known for always having a big smile on her face.
And 12 months on from her arrival in Australia, when she and her family fled persecution under ISIS in Iraq, Alan has plenty to smile about. She says the best thing about her new life here in Sydney is her school - Our Lady of the Rosary Catholic Primary School in Fairfield.
When she first started at the school Alan couldn't speak a word of English. Now in Year 2, she is proficient in the language.
She says her favourite thing about school is her teacher, Mrs Moritz, because she is "nice" and "kind." Her little sister, Elin aged four, has also just started in kindergarten at the school this year.
Our Lady of the Rosary has taken in 73 refugee students, mostly from the Middle East, over the past 18 months.
Principal Br Nicholas Harsas FSP says some children are severely traumatised when they arrive but the school provides social workers and counsellors to help them.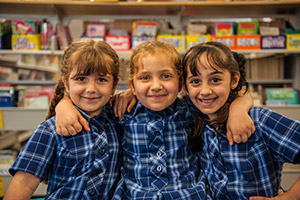 "Alan is a prime example of how successful the children who come to Our Lady of the Rosary are, how quickly they settle, how quickly they become part of the school community," Br Nicholas said.
"Some children come with trauma and we make sure we have social workers and staff and a counsellor helping them. We look at each individual and do all we can do to support them."
Alan's mother, Mrs Lina Al Ramo, says she and her husband - Mr Firas Ibrahim - are grateful to be able to give their children a new life in Australia, and to have them attend a school like Our Lady of the Rosary.
"It's the worst being a Christian in Iraq," Mrs Al Ramo said. "We had a very hard time there.
"I'm just happy that they're not experiencing and seeing what I saw. I just want them to love this country and take this country as their own."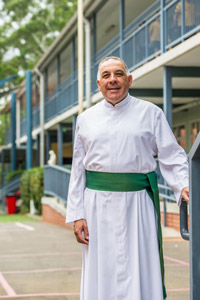 The family lived in Mosul, where ISIS occupied the houses of many locals, including the parents of Mrs Al Ramo. She said her parents were told their lives would be in danger if they tried to return to their house. Her parents are currently in Jordan and have applied to come to Australia.
Mrs Al Ramo has noticed a big difference in her children since they've been in Australia, and especially in Alan since she started at Our Lady of the Rosary.
"They're more independent," she said. "Not afraid like before. They'll speak their mind about anything.
"Initially it was hard for Alan because of the language but now they love to come to school. They're like 'Come on Mum, we've got to go!' They get up early, they don't want to be late. They're very excited to come to school."
Alan's favourite subject at school is religion - much to the delight of Br Nicholas - and she enjoys 'drawing a cross and writing about Jesus and God'.
Br Nicholas says the success of Alan and Elin has been replicated many times in his school.
"It's the pastoral care we provide in a good Christian environment," he said.
"From day one Alan always had a big smile on her face, even though she might not have known what we were saying or doing.
"We knew she was happy from day one and she's grown enormously.