Fr Kevin Muldoon Passes Away
Catholic Communications, Sydney Archdiocese,
3 Jan 2018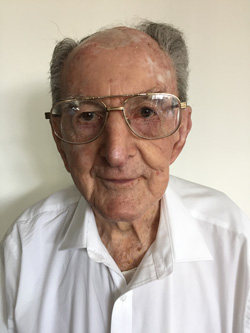 Fr Kevin Muldoon, who recently celebrated 65 years of priesthood and who had been residing at St Vincent's Residential Living at Bronte, has passed away. He was 92.
Fr Kevin was born in country NSW in Young to John and Anne Muldoon. He was educated at St Mel's, Campsie, and by the Sisters of Mercy at Cobar. He was then educated by the Christian Brothers at both Young and Chatswood.
Fr Kevin entered the Seminary attending both St Columba's, Springwood, and St Patrick's College, Manly. He was ordained at St Aloysius Gonzaga, Cronulla on the 19 September 1952.
He recently celebrated 65 years of priesthood and was honoured by His Holiness Pope Francis with the Papal Award of Croce pro Ecclesia et Pontifice.
In 1977 Fr Kevin was appointed the Chaplain of St Michael's College, a role that he continued until his retirement at the end of 2007. Fr Kevin also served as the Chaplain to the Dental Guild of St Apollonia from 1987 until his retirement.
Funeral details for Fr Kevin will be advised as soon as arrangements are complete.
May the soul of Fr Kevin Muldoon rest in peace.