Champion of the Church Passes Away
Catholic Communications, Sydney Archdiocese,
12 Jan 2018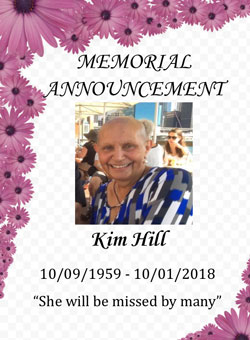 The Archdiocese of Sydney and the indigenous community is mourning the loss of Kim Hill, executive officer of the Aboriginal Catholic Ministry of Sydney and influential Aboriginal elder who passed away after a long battle with cancer.
Kim was a talented Indigenous artist and had strong connections to the Shoalhaven arts scene, where she founded the Black Cockatoo Arts corporation which has fostered a flourishing Indigenous arts community.
She was a champion of the Church in Indigenous education and the livelihood of the Aboriginal community which gathered at the Reconciliation Church in La Perouse.
Kim's talent was featured at the recent Australian Catholic Youth Festival where her artwork dominated with incorporations of Indigenous art aesthetics with Christian imagery; a truly unique phenomenon in the Australian Church.
Kim was, in her time, also a lecturer at the University of Sydney, Macquarie University and the Australian Catholic University.
Kelly Wyld, coordinator at the Aboriginal Catholic Ministry expressed the special place Kim had in the hearts of many in the community.
"She was a shining light in so many of our lives and her spirit will always be with us," she said.
"She was dearly loved and will be missed immensely, may she rest in peace with those that have gone before us."
The Sydney Catholic Archdiocese is deeply saddened and through the prayers of the faithful sends condolences to her family and the indigenous community