How ACYF has Changed My Life
Catholic Communications, Sydney Archdiocese,
27 Sep 2017
By: Debra Vermeer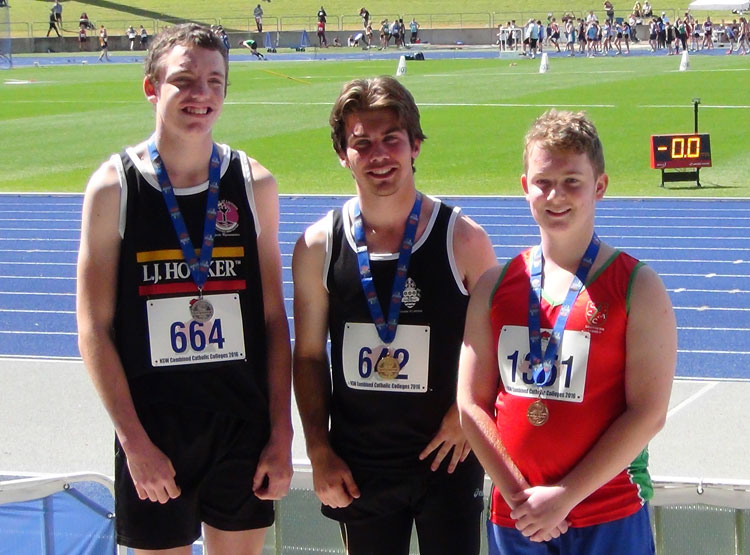 James Bertalli is a young man who likes to aim high, and two of his biggest goals are to compete in the Paralympics and to encourage lots of young people from the country to travel to Sydney for the Australian Catholic Youth Festival (ACYF) in December.
James, 19, is an ACYF Ambassador and his two immediate goals give an insight into the twin pillars of his life - sport and faith.
Born in Mildura, Victoria, James's family moved to Grafton, NSW, when he was young. Living with Cerebral Palsy, which affects the left side of his body, has never slowed James down.
"I've been able to accomplish a lot of things," he says. "At the moment, I'm aiming for the 2020 Paralympics and I'm also on a long list for the Commonwealth Games (in 2018)," he says.
"I've been doing Shot Put and Discus since I got into athletics in Year 5 at primary school. My sports coordinator at primary school came to me one day and started me in athletics and told me that through the para-athlete system you can go right through to the Paralympics.
"When I first started out with it, I wasn't looking to be a future Olympian or Paralympian. I just did it for a bit of fun. But once I realised I was quite good at it, I really started to put the effort in."
That effort paid off, with James now holding two Australian Under 18 records in Shot Put and Discus.
While sport plays a big role in James' life, so too does his Catholic faith, nurtured by his family and strengthened by his attendance at previous Australian Catholic Youth Festivals.
"Growing up, Mum made it her duty to take us to Church every Sunday," he says.
"When I was younger, I wasn't really into it. I didn't understand why we did that stuff. But in high school, I really gravitated towards my faith, to keep me grounded.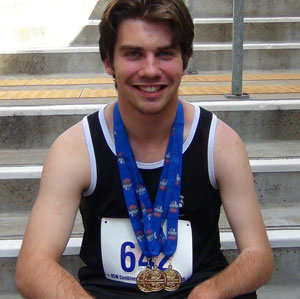 "Academically I found high school hard, so I gravitated towards sport and faith."
James says it really helped that during that period, his mum, Margaret, was the Religious Education Coordinator at his school, McAuley Catholic College, Grafton.
"Mum opened up a lot of doors of faith for me. She played a big part in my faith development. Without her, I'd not have as strong a faith as I do."
One of the doors that Margaret opened for him, was an invitation to attend the first Australian Catholic Youth Festival in Melbourne when he was in Year 9. It was a big step for a boy from country NSW.
"I wasn't quite sure what it was all about and I was quite uncomfortable about going because I'd never done anything like this before. It was the thought of the unknown which made me anxious and uncomfortable," he says.
"But before long, I'd met some people from my own diocese who were there and I went to a lot of the rallies and talks and I really enjoyed it.
"If I hadn't gone to that, I wouldn't be where I am now with my faith."
Following on from the Melbourne experience, James attended the Ignite Conference for youth in Brisbane.
"Again, it was just this overwhelming sight of all these people worshipping together. And it was when I realised that all these people were interested in the same thing I was, that it made it a lot more comfortable and enjoyable."
Since then, James has gone on to grow and develop in faith and when a relative from Sydney pointed out that the organisers of the ACYF were looking for Youth Ambassadors to promote the big event, to be held at Sydney Olympic Park from December 7-9, he jumped at the chance.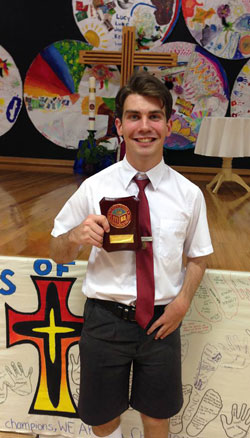 "I thought I'd put in and see what happens, not even expecting to get a look-in, coming from the country," he says.
"So it was a shock when they did ask me to become an Ambassador and I really needed it at that point in time."
James says the first year out of school had brought unexpected challenges to his faith life. He is working as a teachers' aid at St Joseph's Primary School, South Grafton, completing a Certificate 3 and 4 in education support, and concentrating hard on his athletics.
"This year outside of school, I felt my faith was being tested a lot more," he says. "You're doing it more on your own and I found that quite hard in the first few months, so this role as Ambassador was a great way of anchoring myself in my faith again."
James says that as an Ambassador he promotes the ACYF in his local area and beyond, by distributing posters, information cards and even making appearances on local radio.
"It's about sharing the news about the Festival and trying to get as many people as possible to know about it and attend," he says.
Remembering his own tentative foray to his first ACYF, James encourages other young people, particularly those from country areas to take the leap and sign up.
"It's a great opportunity to meet new people, to strengthen your own faith and to have once in a lifetime memories of hearing inspirational speakers who've gone through their own life's journey, and will open your eyes to new aspects of our faith," he says.
Asked if he thought many young people from the country would make the trip to Sydney for the ACYF, James says that his own Lismore Diocese is bringing its biggest group ever, with about 400 signed up so far.
To register for ACYF visit: www.acyf.org.au
Full day registrations $280