Spring into Justice at the Indian Bazaar Fair
Catholic Communications, Sydney Archdiocese,
28 Aug 2017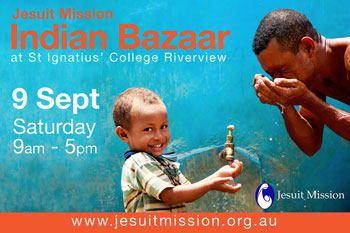 This year's Jesuit Mission Indian Bazaar is set for Saturday, 9 September at St Ignatius' College, Riverview.
More than 5,000 people of all ages will flock to the event for a day of activities, bargains, rides, music, shows, raffles, prizes, food, spruiking and all out fun. Although the event is sure to be a crowd pleaser, it is about much more than just entertainment and enjoyment on the day.
Now in its 66th year, all funds raised from the annual event go to support Jesuit Mission's community development work in over ten countries across Asia and Africa.
Helen Forde, CEO of Jesuit Mission, says:
"The Bazaar is our major fundraising event of the year. The money raised on the day funds a substantial portion of our work. For example, the funds raised from the event last year could cover our projects in four countries in Africa.
"This year, Jesuit Mission is supporting over 30 projects which enable children, women and men to improve their lives and build better futures. Our projects prioritise the most vulnerable such as Indigenous and Tribal groups; people who are refugees, seeking asylum, displaced or imprisoned; people living with disabilities; families who face inequality and live in poverty; and other minority groups living on the margins.
"However, the work of Jesuit Mission is only made possible through the dedication and support of the Jesuit community of supporters here in Australia. The Indian Bazaar sees individuals generously contributing their time, skills and talent to raise funds for our brothers and sisters who live on the margins. It is an expression of faith in action."
Although the event is held at one school (St Ignatius Riverview), the Bazaar is very much a part of the entire Sydney Jesuit community. Jesuit Mission Community Engagement Coordinator, Meg Morrison explains: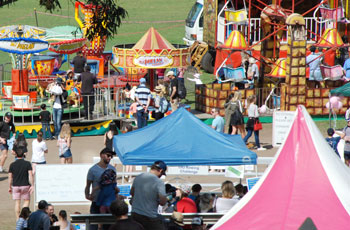 "The Indian Bazaar is a whole of Jesuit community event in Sydney, with students, teachers, parents, parishioners, clubs, small businesses and volunteers working for months in the lead up to the day planning the stalls and preparing the goods. Hundreds of volunteers spring into action to ensure the day is a success."
Some of the stalls - and, in fact, the stall holders themselves - have been there since the very first Indian Bazaar itself or soon after.
"This year there's a wide array of rides, food, a wine auction, fresh produce stalls, some fabulous entertainment with bands and a Rugby 7's competition," Ms Morrison says.
The Indian Bazaar is a tradition for many families across Sydney.
"The Bazaar unites our Jesuit community of supporters, deepens their connections with people who live on the margins, and is a demonstration of faith than does justice. Supporters on the day all contribute toward empowering women, men and children to lead full and free lives," says Ms Forde.
The Jesuit Mission Indian Bazaar will be held on Saturday 9 September from 9am - 5pm at St Ignatius College Riverview, 1 Tamborine Bay Rd, Lane Cove.
For more information about Jesuit Mission see www.jesuitmission.org.au.