New Catholic Women's Mentoring Program Launches in Sydney
Catholic Communications, Sydney Archdiocese,
7 Jun 2017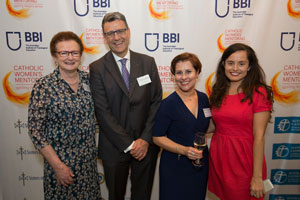 On Saturday May 20, 2017, the new Catholic Women's Mentoring initiative was launched at Mary MacKillop Place in North Sydney. Catholic Women's Mentoring is a national program aimed at building the skills, confidence and networks of Australian Catholic women and encouraging them in their faith.
Attended by almost 200 people, the launch commenced with a Mass in Mary Mackillop Chapel, celebrated by Father Greg Bourke. In the auditorium, guests then heard inspirational words from Senator Deborah O'Neill, Shadow Assistant Minister for Innovation and Shadow Assistant Minister for Mental Health, who affirmed the unique gifts Catholic women have to offer the Church and Australian society.
Senator O'Neill highlighted that the Catholic faith is a radical choice in our time and Catholics can bring a strong sense of hope to our world. She also referenced Australia's first Saint, Mary MacKillop, who urged us never to see a need without doing something about it, pointing out that programs like this can empower women to respond to these needs.
Dr Gerard Goldman, from BBI - The Australian Institute of Theological Education, the program's inaugural annual partner, also shared his excitement at the new program, noting the very significant and long-lasting impact that women have had in his own life and faith journey.
One of the program's coordinators, Christine Pace, then shared her vision for the program with those gathered, saying that there was a wide consensus that mentoring is an effective means by which to empower women: "Its flexible and relationship based structure helps develop your potential in a safe and supportive environment. The right mentor can redefine the way you view yourself."
"This program is different to professional development and corporate programs; it sees mentoring as a tool of empowerment which can help us to become what God created us to be. I firmly believe that Catholic women who are strong and affirmed in their faith and their capabilities can do amazing things to transform society. Faith-filled women, on fire with the Holy Spirit, can be the hands and feet of God through their lives. To do this, we need solid formation, spiritual nourishment and encouragement from others in our faith."
There were five launch event partners who were thanked for supporting the event: WN Bull Funerals, the
University of Notre Dame Australia, Caritas Australia, the Sisters of Saint Joseph and Catholic Superannuation and Retirement Fund.
Catholic women from all over Australia are invited to visit the website to sign up to the program as mentors and mentees.
Website: www.catholicwomensmentoring.org.au
Twitter: https://twitter.com/cwmentoring
Facebook: https://www.facebook.com/CatholicWomensMentoring/