Australian Catholic Youth Festival Close to Reaching Initial Target of 15,000 Registrations
Catholic Communications, Sydney Archdiocese,
7 Jun 2017
ACYF17 which takes place from 7-9 December and is being hosted by the Archdiocese of Sydney has reached a milestone of 10,000 registrations as of the 1st of June. This means the Festival is on track to reach initial target of 15,000 attendees that the organising team had hoped for.
Host Diocese Festival Coordinator, Kathy Campbell, explained:
"There was a marvellous spike in registrations on the 31st May due to a group deal where if a group of 10 or more people registered to attend the Festival they received a complimentary ticket. This incentive saw many schools and youth groups take up the offer, causing registrations to tick over the 10,000 mark. We are now at a total of 11,128 registrations which is a great sign that we will reach our initial goal which was 15,000 attendees."
To celebrate the milestone www.Xt3.com has created a registration barometer within an electronic countdown clock that has been embedded on several Catholic websites. The barometer will update each morning until the Festival reaches the 15,000 goal.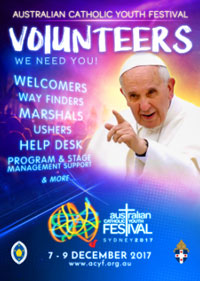 Earlier in the month International Catholic mega star, Matt Maher was confirmed as one of the musicians to attend the Festival causing a social media storm of fans registering to attend.
Other popular performer's and artists confirmed for the Festival include Fr Rob Galea, Steve Angrisano, Sr Mary Rachel, Genevieve Bryant and Fr Chris Ryan, with more to be announced in the upcoming weeks.

On Wednesday 31st of June there was a launch for ACYF volunteers with a front page announcement in the Catholic Weekly. The Festival will need at least 800 volunteers to assist as welcomers, wayfinders, marshals, ushers and more.

The Festival will be a wonderful opportunity for the youth in Australia to deepen their relationship with Jesus and be empowered to be disciples and ACYF17 will be the largest gathering of Catholic youth in Australia since World Youth Day 2008!
For this new generation the Festival will be a great example of the vitality of the Church in Australia.
To register, volunteer or find out more about the Festival visit: www.acyf.org.au