Movie Tells the Story of St Francis' Encounter with an Islamic Sultan
Catholic Communications, Sydney Archdiocese,
5 Jun 2017
A new docudrama from Unity Productions Foundation in the USA presents the historic meeting nearly 800 years ago between St Francis of Assisi and the Sultan of Egypt, Malik Al-Kamil, in the midst of the conflict of the Fifth Crusade.
It will premiere in Sydney on Saturday, 29 July 2017 from 7pm at Western Sydney University, Parramatta South Campus and tickets are currently on sale.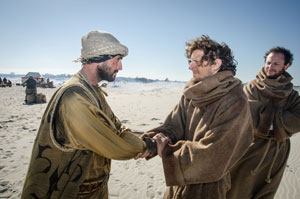 At Damietta in Egypt, at the height of the war, St Francis and his companion crossed no man's land between the two opposing armies from the Christian camp to the Sultan's camp and spent some days there meeting and discussing with the Sultan and his court.
This remarkable encounter - and the commitment to peace of the two people involved - changed the relationship between Muslims and Christians for the better.
Journalist Hugh Riminton will be the MC for the premiere. Following the screening, there will be a formal response from a Muslim theologian, Assoc Professor Mehmet Ozalp, and a Franciscan Friar, Br Matthew Beckmann OFM. Audience discussion will continue over refreshments.
The screening is being co-hosted by Affinity Intercultural Foundation, Catholic Diocese of Broken Bay, Columban Centre for Christian-Muslim Relations, Diocese of Parramatta, Franciscan Provincial Office Australia, Islamic Sciences and Research Academy(ISRA), Uniting Church in Australia, and Western Sydney University.
Assoc Professor Mehmet Ozalp said The Sultan and the Saint is a captivating dramatisation of the encounter between St Francis of Assisi and Sultan Al-Kamil, grandson of Saladin. "The film echoes an amazing display of humanity and a message that sincere faith in God can transcend conflict in a way that can grow one's commitment to peace and love of God. We need to hear this message at a time when the world is dominated by tensions."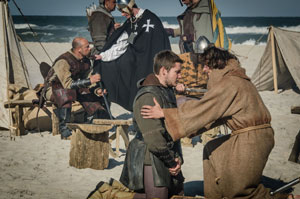 Rev Dr Patrick McInerney SSC, Coordinator of the Columban Centre for Christian-Muslim Relations, said the film's message is very relevant to our times. "In our present time of Islamophobia, suspicion, fear and hostility towards Islam and Muslims, this is a wonderful example of Christian-Muslim dialogue, of Christians and Muslims meeting face-to-face, of promoting peace."
General admission tickets are only $10.
Book at https://sultansaintsydney.eventbrite.com.au by Monday 24 July.
For more information about the film, visit: SultanandTheSaintFilm.com