Bishops Urge Action on East Africa Food Crisis
Catholic Communications, Sydney Archdiocese,
1 Jun 2017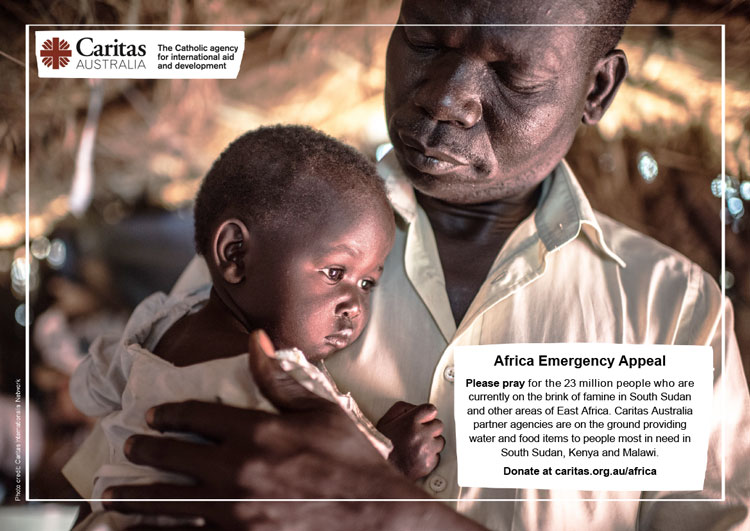 The President of the Australian Catholic Bishops Conference, Archbishop Denis Hart, has urged Catholics to do what they can to help alleviate the food crisis in East Africa, including by donating to the Caritas Australia appeal.
23 million people are currently on the brink of famine in South Sudan and other areas of East Africa. Caritas Australia and their partners are delivering life-saving food and water to countries most in need including South Sudan, Kenya and Malawi.
This major crisis has been driven by large scale droughts, compounded by climate change, inflation and the ongoing conflict in some countries. Urgent assistance is required to respond to those experiencing severe drought and food insecurity.
To have four countries simultaneously on the brink of famine is unprecedented.
The global Caritas network is providing emergency assistance to the people who are the most affected. Local and international Caritas partner agencies are on the ground providing water and food items such as beans, sugar, salt, oil and maize flour. The support of Australian Catholics will help Caritas reach out to thousands of people.
Archbishop Denis Hart spoke this week about the crisis. "I am shocked to learn of the harrowing plight facing millions of people in a number of countries in East Africa," he said.

"Sadly, there has been little coverage in Australia of this emerging tragedy. Today, I am lending my voice and that of the Catholic Church in Australia to urge you to help if possible.

"Prolonged drought is causing widespread hunger across East African countries. Somalia, South Sudan and parts of Ethiopia and Kenya are the worst affected. The United Nations estimates that 23 million people are now on the brink of famine in South Sudan and other areas of East Africa and Yemen where 1.4 million children could die, in what could be the worst famine in decades.

"In South Sudan alone, 40 per cent of the population is in urgent need of food, with more than 270,000 children now severely malnourished and 100,000 people facing starvation. I urge you to put your faith into action to assist those in need." Archbishop Hart said.
Caritas Australia, the Catholic Church's international aid and development agency, through its international network, is working to support over 250,000 in the affected region.
You can donate online www.caritas.org.au/africa or phoning 1800 024 413