Sydney Shines as Lights of Christmas Turn On
Catholic Communications, Sydney Archdiocese,
7 Dec 2017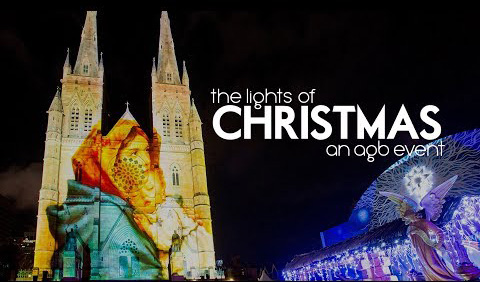 Around 5,000 Sydneysiders turned out for the official launch of the Lights of Christmas, with Sydney's iconic free animated light and sound show returning to St Mary's Cathedral.
Hosted by Channel 10's Sandra Sully, young and old alike turned out to see the Cathedral light up with the magical eye-catching show and kicking off the festive season for people of all ages.
Archbishop Anthony Fisher OP officially opened the event, now in its eighth season, which has become Sydney's most visited Christmas tourist attraction, drawing over a million people annually.
Among the special guests was Australian businesswoman, philanthropist and wife of the Prime Minister, Lucy Turnbull, who enjoyed the event with her grandchildren.
Fr Rob Galea and band entertained the crowd, treating them to a new rendition of the beloved Christmas carol Silent Night.
The show - which will run nightly until December 25 - starts with a choir performance at 7,30 followed by the light and sound spectacular commencing at 8.30pm.
Capturing the imagination of children and adults alike, this year's show will be split into three themed segments, each taking viewers on a visual journey.
The first will be a visual feast of decorative patterns inspired by St Mary's stained glass windows and terrazzo mosaics celebrating the beauty and craftsmanship inside.
The illumination of the images create multi-chromatic kaleidoscopes across the façade.
The second segment titled "The Gift of Time", focuses on the theme of being present and paying attention to the people around you at Christmas.
The animated story follows a character called Griffin, demonstrating the importance of putting down technology devices and taking time to appreciate your surroundings, your family and friends.
The final segment of the show will be a series of Madonna and Child artworks featuring three old masters' paintings and other masterpieces.
This will also include images used in past years, which have been showcased on Australia Posts' 2017 Christmas stamps.
This segment honours the elegance of the relationship between woman and child against the sacredness of St Mary's Cathedral.
AGB's Principal and Creative Director Anthony Bastic, said "The Lights of Christmas has continued to grow over the years, and has become a staple of Sydney's Christmas family events."
The free event is the perfect way to light up everyone's festive season with a night filled with light, song and colour.
The event will also be streamed at Xt3.com