Archbishop Fisher Congratulates Inspirational Australians
Catholic Communications, Sydney Archdiocese,
27 Jan 2017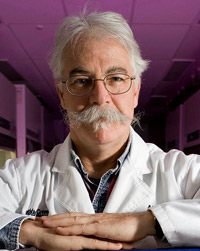 Archbishop Anthony Fisher OP gave his warm congratulations to several of the Australia Day recipients of honours, including the Australian of the Year Professor Alan Mackay-Sim and Senior Australian of the Year Sister Anne Gardiner OLSH.
"Congratulations to Australian of the Year, Alan Mackay-Sim, who was one of the first to receive a stem-cell research grant from the Archdiocese of Sydney" said Archbishop Fisher. "His ground-breaking research on nasal adult stem-cells has proven that wonderful medicine is possible without unethical experiments on embryos."
The Catholic Archdiocese of Sydney since 2003 has offered a grant to Australian based researchers to support and foster research on the therapeutic potential of adult stem cells. The grant was awarded in 2005 to Professor Mackay-Sim to head up a team at Griffith University in Brisbane researching growth of adult stem cells harvested from the nose which could then be used in treatment of range of serious injuries including spinal injuries.
An inspirational scientist and international leader in stem cell research, Professor Mackay-Sim has given hope to thousands of Australians with spinal cord injuries. In 2014, his research helped play a central role in the world's first successful restoration of mobility in a quadriplegic man. As the director of the National Centre for Adult Stem Cell Research for a decade, Alan's research has championed the use of stem cells to understand the biological bases of brain disorders and diseases such as schizophrenia, Parkinson's disease and Hereditary Spastic Paraplegia.
The award acknowledged that Professor Mackay-Sim's "pioneering work has led to collaborations with teams of health professionals who are translating his research into clinical practice. He has laid the foundation for the next generation of researchers and demonstrated the value of inquiry, persistence and empathy."
Prime Minister Malcolm Turnbull announced Sister Anne Gardiner OLSH, Senior Australian of the Year for a life time of work amongst the Tiwi Aboriginal people.
The 85 year old Catholic nun accepted the award in the name of all Daughters of Our Lady of the Sacred Heart who have lived and ministered among Australia's indigenous people for more than a century, and "on behalf of the Tiwi people of Northern Australia in whose life I have been privileged to share for more than 50 years as an invited member of their community".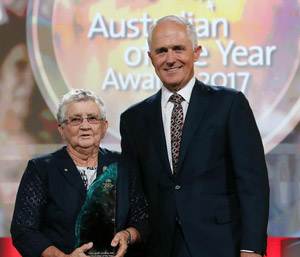 Sr Anne moved to Bathurst Island when she was just 22 years to live and serve as a Daughter of Our Lady of the Sacred Heart amongst the Tiwi Aboriginal people. She spent over 6 decades teaching, building community and supporting the local people and their culture.
In her acceptance speech she called for greater cultural understanding and recognition of Australia's indigenous peoples in policy.
"It is of paramount importance that those responsible for policy development consult with the relevant persons and groups among our First People, so that policies may recognise and appropriately include their language and cultures, particularly in areas such as leadership, education and employment."
Sr Anne was recently honoured for her lifetime work by being named as the Northern Territory Senior Australian of the Year.
"I pray that all people in our wonderful country Australia regardless of language, culture, skin colour or religious belief may stand tall as proud Australians," said Sr Anne.

Archbishop Fisher also congratulated Australian Catholic University's (ACU) Vice-Chancellor and President, Professor Greg Craven, for being named in the 2017 Australia Day Honours List.

Archbishop Fisher acknowledged that Professor Craven was made an Officer of the Order of Australia in the General Division within the Australian honours system, in recognition of his "distinguished service to tertiary education, to the Catholic Church, and to constitutional law".
"A year ago he also received a papal knighthood for these contributions. Congratulations and thank-you Greg: the Catholic community is very proud of you!"
In 2016, His Holiness, Pope Francis appointed Professor Craven as a Consultor to the Holy See's Congregation for Catholic Education making him a member of the Vatican dicastery - in one of the nine major departments in the Roman Curia, which oversees more than 1,000 Catholic universities and institutes of higher education in the world. The previous year The Pope appointed him to the Pontifical Equestrian Order of St Gregory the Great for services to the Catholic Church in Australia.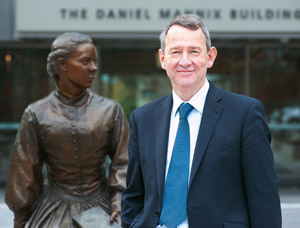 Australia recognises the outstanding and meritorious service of its citizens through The Order of Australia Awards. Officers in the General Division are awarded for "distinguished service of a high degree to Australia or humanity at large".

Professor Craven said he was "very humbled and honoured" to receive an Order of Australia Award, and said it was a credit to the work and enterprise of all the staff at ACU.

"I don't see this as a personal award but as one really recognising what all my colleagues at ACU have achieved over the last decade," Professor Craven said.

He noted that the award highlighted two of his great passions; the law and education and that "It's very nice that the citation mentions constitutional law. It reminds me of when I used to have academic credibility".

Chancellor of ACU, The Hon. John Fahey AC, said the award provided important recognition of the significant contribution Professor Craven has made to Australian life.

"This is a great honour that reflects Greg Craven's commitment to public service and his embodiment of the Catholic intellectual tradition. Throughout his career he has consistently provided expertise in legal, political and academic fields; and demonstrated educational leadership in Australia and internationally," Mr Fahey said.

Professor Craven has overseen; the expansion of the University to more than 30,000 students and more than 2,000 staff; a comprehensive restructure, including the creation of seven new research institutes; the creation of two new campuses in Adelaide and Rome; and the growth of existing campuses. ACU's research results have flourished and in 2015, according to the Excellence in Research for Australia (ERA) results, ACU was recognised as the most improved institution in the country.

Before his appointment to ACU, Professor Craven served as Deputy Vice-Chancellor, Strategy and Planning, at Curtin University in Western Australia, where he also held the position of Professor of Government and Constitutional Law, having previously served as Executive Director of the John Curtin Institute of Public Policy.

Professor Craven was Foundation Dean and Professor of Law at the University of Notre Dame Australia, and Reader in Law at the University of Melbourne. He served as Crown Counsel to the Victorian Government from 1992-95.

Professor Craven has written several books and journal articles about Australian government and Federalism; and is a regular commentator on public life through a column he writes for The Australian newspaper and through contributions to Catholic publications.