If You Can't Make ACYF - Live Stream It!
Catholic Communications, Sydney Archdiocese,
30 Nov 2017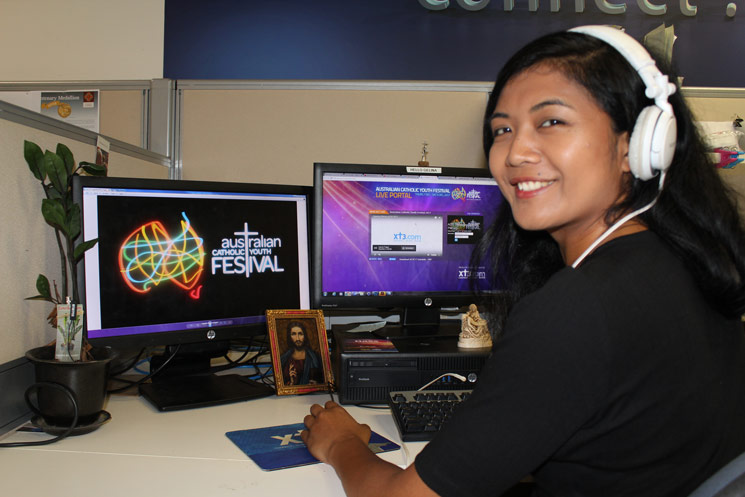 ACYF is only a week away and the excitement is really building for the three-day Festival!
However for anybody who can't make it out to one of the three venues - Qudos Bank Arena, Sydney Showgrounds and The Domain - key events will be live streamed.
All of the action from the Plenary Sessions as well as the beautiful closing Mass in The Domain will be available for everybody to enjoy.
Xt3's Digital Content Producer, Gelina Montierro, is really excited to be able to offer the interactive experience to those who can't make it to the event.
"We know that live web-streaming events like ACYF is great for people who would love to attend but can't due to distance, disability or financial cost," she said.
"Lots of parents of ACYF pilgrims will also tune in, as well as those overseas. And all of the events can also be watched on demand!
"There will be a live chat function on the webcasts so you can ask questions, make comments and really be part of the whole experience."
Xt3, which stands for Christ (Xt) in the Third Millennium, was founded in Sydney for World Youth Day 2008, with the inspiration for the name coming from Saint John Paul II, who challenged young people to "bring the Gospel of Christ to the third Christian Millennium".
It's free and delivers digital ways to explore your faith and take advantage of features such as the "Ask a Priest" forum, the event calendar to promote your Catholic events, the interactive prayer wall, Advent and Lent Apps, daily news and much more.
To watch ACYF just visit: www.xt3.com/acyf2017/live
Events being live streamed:

Thursday 7th December
Opening Plenary LIVE- 9:30am -10:45am AEDT
Evening Plenary LIVE - 6:30pm-8:30pm AEDT

Friday 8th December

Opening Plenary LIVE - 9:30am -10:45am AEDT
Evening Plenary LIVE - 6:30pm-8:30pm AEDT

Saturday 9th December
Pre-Mass Concert - From 4pm AEDT
Closing Mass LIVE - 6:30pm-8:30pm AEDT