Pope Arrives in Myanmar
Catholic Communications, Sydney Archdiocese,
28 Nov 2017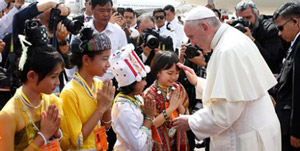 Pope Francis arrived in Myanmar after a more than 10-hour, overnight flight from Rome. The children in costumes, representing only a portion of Myanmar's ethnic groups, were joined by another 100 schoolchildren wearing white slacks and white T-shirts with the logo of the papal visit.
The arrival ceremony at the Yangon airport was brief and led by an envoy of the president, because the formal welcome was scheduled for the next day in Naypyitaw, which has been the capital since 2005.
However, Pope Francis had a "courtesy visit" with the leaders of the nation's powerful military. The Pope and General Min Aung Hlaing, who was accompanied by three other generals and a lieutenant colonel, met in Yangon Archbishop Cardinal Charles Bo's residence, where the Pope is staying.
Greg Burke, director of the Vatican press office, told reporters the meeting lasted 15 minutes. After discussions about "the great responsibility authorities in the country have at this moment of transition," the two exchanged gifts.
The Pontiff gave the general a medal commemorating his visit to Myanmar and the general gave the Pope "a harp in the shape of a boat and an ornate rice bowl," Mr Burke said.
Pope Francis had been scheduled to meet the general on Thursday, his last morning in Myanmar. Although described by Burke as a "courtesy visit" and not an official welcome, the visit seemed to go against the usual protocol, which would dictate that the Pope's first meetings with authorities would be with the head of state and head of government.
Mr Burke did not say whether Pope Francis had mentioned in any way the plight of the Rohingya, a Muslim minority from Myanmar's Rakhine state, who are treated as foreigners in the country.
General Min Aung Hlaing has been criticised by human rights groups for what has been described as disproportionately harsh measures against the entire Rohingya community following attacks on security posts by small groups of Rohingya militants.
FULL STORY
Pope meets generals after brief welcome by children in Myanmar (CNS)
RELATED COVERAGE
Papal Visit to Myanmar and Bangladesh (Crux)
Pope Francis becomes first Pope to set foot in Myanmar (The Tablet)
Pope arrives in Myanmar for first papal trip to country (SBS News)
Pope Francis arrives in Myanmar on diplomatically sensitive visit amid Rohingya refugee crisis (ABC News)
Source: www.cathnews.com