Cathedral Lights Up For Christmas
Catholic Communications, Sydney Archdiocese,
24 Nov 2017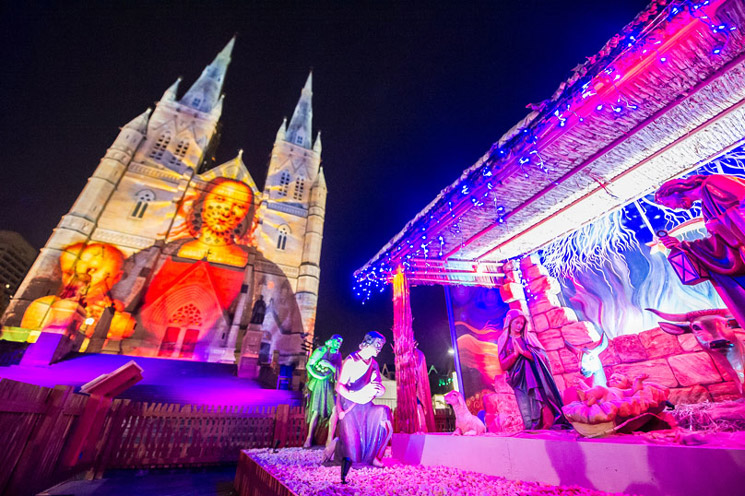 Bring the whole family to the annual Lights of Christmas spectacular on the facade of St Mary's Cathedral.
Now in its seventh year and with over 1 million visitors annually, the event is sure to capture the imagination of audiences of all ages alike with a blend of storytelling and traditional and digital artwork.
With a theme based around time and being attentive to those around us, why not come along and make this an annual family tradition.
The display has been created by AGB artists and will feature illustrated watercolour-based artworks in three segments.
The first is a visual feast of Christmas images created from the Cathedral's own stained glass windows and motifs in the crypt.
The second story is based around the main theme "The Gift of Time" - getting off devices and technology and paying attention to the people around us.
And the final section is always the projection of the Christmas Madonna and Child artworks. There will be three old masters paintings and three more contemporary artworks on display.
Archbishop of Sydney, Anthony Fisher OP, has extended an invitation to all Sydneysiders and visitors alike to enjoy the stunning animated light and sound spectacular.
"Many young people from around Australia will be here for the start of the Australian Catholic Youth Festival and I hope they will join the thousands of people from all over Sydney and from all communities who have made Lights of Christmas a wonderful Sydney tradition," Archbishop Fisher said.
Lights of Christmas will be launched on Wednesday, December 6 in the cathedral forecourt.
It will begin each night at 7.30pm with a choir performance, followed by the light and sound show commencing at 8.30pm and continuing until midnight.
The final show will be on December 25.