Euthanasia Always Wrong: Pope
Catholic Communications, Sydney Archdiocese,
21 Nov 2017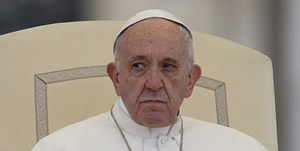 The Pope addressed the ethics of medical intervention in end-of-life care, telling doctors at the Vatican last week that they must care for the sick "without shortening their life, but also without futilely resisting their death".
The European members of the World Medical Association met last week for a discussion with the Pontifical Academy for Life on end-of-life care. At the same time, across St Peter's Square, the Vatican Dicastery for Promoting Integral Human Development and the International Confederation of Catholic Health Care Institutions were hosting a meeting on inequalities in health care.
"Increasingly sophisticated and costly treatments are available to ever more limited and privileged segments of the population," Pope Francis said, "and this raises questions about the sustainability of health care delivery and about what might be called a systemic tendency toward growing inequality in health care."
A variety of factors must be taken into account when determining what medical interventions to use and for how long with a person approaching the end of his or her earthly life, Pope Francis said.
For those with resources, treatments are available that "have powerful effects on the body, yet at times do not serve the integral good of the person."
The Pope referred to Pope Pius XII, who 60 years ago told anaesthesiologists and intensive care specialists that "there is no obligation to have recourse in all circumstances to every possible remedy and that, in some specific cases, it is permissible to refrain from their use."
"From an ethical standpoint," the Pope said, withholding or withdrawing excessive treatment "is completely different from euthanasia, which is always wrong, in that the intent of euthanasia is to end life and cause death."
Meanwhile, the assisted dying debate in Victoria will continue in the Legislative Council today, the Herald Sun reports.
Another marathon session is expected before a vote as early as tonight. Opponents of the bill are expected to debate the issue until early Wednesday morning in a last-ditch effort to derail proposed laws.
Despite warnings about the health impacts of all-night parliamentary sessions, following Labor MP Daniel Mulino's collapse last week, Legislative Council members expect the government will try to get a result before adjourning.
Source: cathnews.com