Orange Sky Founders to Speak at ACYF
Catholic Communications, Sydney Archdiocese,
11 Oct 2017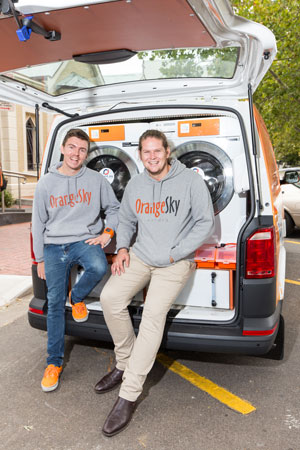 THE AUSTRALIAN Catholic Youth Festival today announced that the two young men behind ground-breaking charity Orange Sky Australia that offers a free mobile laundry service for the homeless will be among keynote speakers at the Australian Catholic Youth Festival.
Lucas Patchett and Nicholas Marchesi will join a stellar line up of headline presenters and performers including world renowned Canadian Christian singer Matt Maher, speaker and worship leader Emily Wilson and fellow American singer songwriter Steve Angrisano along with local artists and Church leaders at the three-day festival at Sydney's Olympic Park from December 7-9.
Patchett and Marchesi came up with the world first mobile laundry idea three years ago when aged just 20, wanting to provide dignity and respect as well as clean clothes to those living on the street.
The pair from Brisbane, who fitted out an old van with a generator, water tanks and two large washing machines and dryers, said they were thrilled to be part of the stellar line up for ACYF and share the Orange Sky story with thousands of young people.
The simple idea has now grown to 16 laundry vans and three shower vans across Australia.
"Our mission is to positively connect communities and we have more than 100 volunteers who facilitate genuine and non-judgemental conversations every single day," Patchett said.
"We've met so many incredible people on our three-year journey, and we hope that by sharing these stories, we will inspire others to make a difference," added Marchesi.
"We are really looking forward to meeting some of the 15,000 young people who will at the festival and can't wait to be involved."
Check out more of the speakers and performers at the Australian Catholic Youth Festival here.