Proactivity stressed in National Child Protection Week
Catholic Communications, Sydney Archdiocese,
9 Sep 2016

This week is National Child Protection Week around Australia. Now in its 26th year, National Child Protection Week invites National Child all Australians to play their part to promote the safety and wellbeing of children and young people.
The theme for this year is "Protecting children is everyone's business."
The sentiments are echoed by the director of the Sydney Archdiocese's Safeguarding and Ministerial Integrity Office, Karen Larkman.
Ms Larkman took up the role of director of the Safeguarding and Ministerial Integrity Office in November 2015 following a review of Archdiocesan child protection policies instigated by Archbishop Anthony Fisher OP. Karen came to the Archdiocese with 25 years' experience in child protection - on the front line as a case worker, as manager and chair of child protection conferences, and working in partnership with agencies, parents and carers to ensure the protection of children.
Prior to beginning her work with the Archdiocese, Ms Larkman was invited by the Royal Commission into Institutional Responses to Child Sexual Abuse as an expert witness in relation to out-of-home care.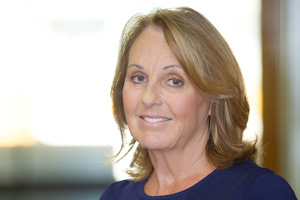 After reviewing and reformulating the Archdiocese's safeguarding policies and protocols, Karen and her team set to work implementing training sessions for lay leaders, Archdiocesan staff and priests.
So far this year, 23 training days have been held, with over 420 Priests and Archdiocesan staff participating. During the training sessions, participants are walked through the revised policies and taught about ways to identify the possibility of abuse, and best practice in ensuring an environment is safe and protective of minors. The attendees are also reminded of their reporting obligations.
Ms Larkman said that while training days are currently aimed at existing staff and agencies, the Safeguarding and Ministerial Integrity Office can tailor the sessions to the needs of any group. For example, a training day was recently held for volunteers at St Mary's Cathedral, Sydney.
The important thing, Ms Larkman says, is to be proactive.
"If we are not part of the solution then we are part of the problem and I've met so many good people who want to be part of the solution but just don't know how to go about it. The training sessions that are currently running provide information and advice to support people working within the Archdiocese in understanding their role and responsibilities in this area," she told The Catholic Weekly in an interview earlier this year.
To contact the Safeguarding and Ministerial Integrity Office, email Karen Larkman at karen.larkman@sydneycatholic.org or phone 93905810.