Bishops Call Faithful to Prayer and Fasting for Marriage and the Family
Catholic Communications, Sydney Archdiocese,
29 Sep 2016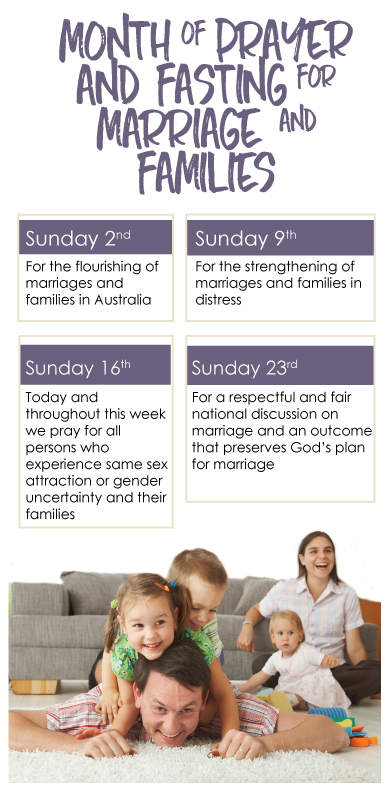 The Australian Catholic Bishops Conference has announced that October will be a Month of Prayer and Fasting for Marriage and Families.
Australia is presently facing an immense challenge to our understanding of marriage, its meaning and its purpose. A national vote on whether the laws on marriage should be changed will likely occur in 2017 and Australians will be called to reflect on the importance of marriage and the family.
Scripture and the Church's history give us many examples of the great impact when a whole community undertakes prayer and fasting together.
For this reason, every member of the Church is being encouraged to pray for marriage and the family during the Mass, by offering the Rosary, by attending Adoration or by adding additional prayers - either alone, as a family or with a prayer group - for the month of October, which is also a month dedicated to the Holy Rosary.
The faithful are also encouraged to add fasting to their prayers.
The first four Sundays of the month have been assigned a different theme, and parishioners will notice that the prayers of intercession during Mass will focus on the following themes:
For the flourishing of marriages and families in Australia;
For the strengthening of marriages and families in distress;
For all persons who experience same sex attraction or gender uncertainty and their families; and
For a respectful and fair national discussion on marriage and an outcome that preserves God's plan for marriage.
In a true sign of unity from those who support and uphold marriage, other Christian churches have taken up the initiative of the Catholic Bishops and are joining us in prayer and fasting for this urgent intention.
You can find out more about the month of prayer and fasting at http://www.acmfc.org.au/month-of-prayer-and-fasting/ and join the Facebook group at https://www.facebook.com/PrayForMarriage/