Bishops' School in Rome - New Auxiliary Bishops of Sydney Meet Pope Francis
Catholic Communications, Sydney Archdiocese,
22 Sep 2016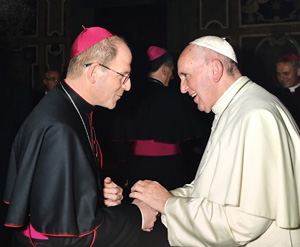 Recently ordained Bishop Richard Umbers and Bishop Anthony Randazzo were attending a Course of Formation for New Bishops in Rome from 10-18 September, fondly referred to as "Baby Bishop's School."
The seminar attended by 200 bishops appointed by Pope Francis in the past year was organized jointly by the Congregation for Bishops and the Congregation for Eastern Churches. It consisted of formal talks, opportunities for questions in the plenary forum and small group discussions in language groups inside the Vatican's Clementine Hall.
The new bishops celebrated Mass at the tomb of St Peter having a personal audience with Pope Francis.
Pope Francis reminded the new bishops that they were appointed during the Holy Year of Mercy, making them "Apostles of Mercy" with a special mission to bring to their diocese an awareness of the great mercy of God for his people.
"Mercy," Pope Francis told the new bishops, "should form and inform the pastoral structures of our Churches."
Bishop Richard Umbers shared through social media some main points he took away from Pope Francis' Homily, including the call to make mercy tangible.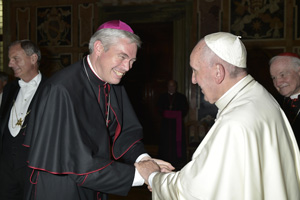 "You can ignore a cold and distant god but not a God who is close to you" Bishop Umbers reflected.
Bishop Tony Randazzo was one of eight bishops invited by Cardinal Marc Ouellet, the Prefect of the Congregation for Bishops, to address the international gathering. Bishop Randazzo spoke about the faith of the young people of the Archdiocese of Sydney, the upcoming Australian Catholic Youth Festival being hosted in Sydney in December 2017, followed by the Year of Youth in 2018 marking a decade since Australia hosted the World Youth Day 2008 in Sydney, and the proposed Plenary Council of the Australian Catholic Bishops Conference in 2020.
The gathering was an occasion for each of the bishops to experience ecclesial communion by praying, conversing and living in community together, a rare opportunity given the bishops come from across five continents.
Bishop Randazzo was struck by the passion with which Pope Francis addressed them.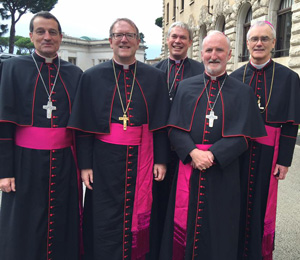 "The Holy Father spoke about our ministry of shepherding the flock of Christ with deep and moving passion which can only come from personal experience of Christ," said Bishop Randazzo, "whose flock is entrusted to us bishops. It is not about us, it is always about Christ."
Pope Francis also addressed the formation of priests as a key focus area for the bishops. He gave a sound warning about the shortage of priests but cautioned against being tempted by numbers and quantity of vocations rather than a focus on quality.
Bishop Randazzo responded to this directive from the Holy Father.
"Through the power of the Holy Spirit I want to call young men to be generous and offer themselves as missionaries of mercy, as heralds of the Gospel, and as priests for God's people," he said.
Both Australian bishops met personally with Pope Francis. Bishop Randazzo, who shared he had met the two previous Popes as well as Pope Francis once before, explained that meeting Pope Francis as bishop was an entirely different experience.
"He embraced me as a brother bishop," said Bishop Randazzo, "I was deeply humbled, I was profoundly moved, and at the same time I was edified and encouraged. It was a moment I shall never forget."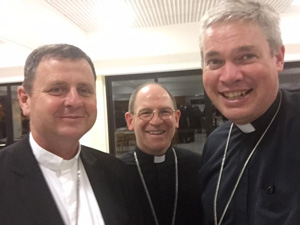 Bishop Umbers and Bishop Randazzo expressed their desire to return to Sydney and engage in the episcopal ministry with Archbishop Fisher and their brother bishops. Bishop Randazzo was eager to share the joy of his encounter in Rome.
"I want to share with the people of Sydney the joy of this experience so that together we can experience the Mercy of God. I want to invite the young people of our Church to listen deeply to the call of God in their lives."
Bishop Umbers was interviewed by Rome Reports, a Vatican based news agency and a report on the week in Rome along with the interview can be viewed here.
He was also quoted in a report on Crux by Inés San Martín entitled 'Baby bishops' get a crash course in the realities of the Church.