Getting to know Bishop-Elect Tony Randazzo
Catholic Communications, Sydney Archdiocese,
4 Aug 2016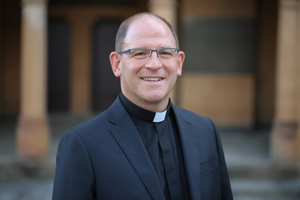 Bishop-Elect Anthony (Tony) Randazzo is excited about returning to Sydney, the city of his birth, following his episcopal ordination in August, and he says the thing he's most looking forward to is getting to know the people.
"I'm really excited about coming to Sydney and one of my greatest desires is just to meet people," he says.
"God has done amazing things in my life through faith, but God doesn't just do amazing things in my life, but in so many people's lives, and so I want to meet people and encounter their faith.
"I want people to hear the Good News of Jesus Christ, but I don't want to do it on a soapbox, but rather through meeting people."
Bp-Elect Tony was born in Sydney in 1966 and has three sisters. When he was 11 months old, the family moved to the Gold Coast, where his parents, Colin and Caterina, owned a business. He was educated in the local Catholic primary schools and then Aquinas College, Southport and his family life was anchored by a strong and active faith.
"I'm blessed because of the faith of my family," he says.
"For my family, practising the faith was not just a Sunday outing. There were three key elements which punctuated our weekly life and rhythm as a family.
"Every Sunday, we went to Mass and that for me has been the anchor of my entire life.
"Then, during the week, we prayed the Rosary together as a family, a tradition we'd inherited from my mother's family, who were Italian and who, for centuries had a very strong devotion to the Rosary.
"And then, more often than not, on a Wednesday, my mother would take us to Adoration and Benediction of the Blessed Sacrament, after which, the Sacrament of Penance was available. My parents never forced us to go to Penance, but always made sure we were around when it was offered and it became a point of grace in my life and continues to be a point of grace now, as a priest hearing confessions."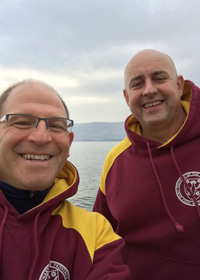 Bp-Elect Tony says his earliest memory is of his mother teaching him the words of the Our Father at age three.
"I have a clear memory of her teaching me to pray the Our Father in Italian, because that's how she prayed it," he says.
He can't recall at what age he first thought of becoming a priest, but says that prayer encounter with his mother may have been an early whisper from the Holy Spirit.
"God's Holy Spirit starts whispering in the heart at any age," he says. "I wouldn't be surprised if the Spirit first whispered to my heart at age three when I was learning the Our Father.
"There have been times all through my life when I heard the whisperings of a life of service in the Church."
Lives of service to the Church are not uncommon in Bp-Elect Tony's family - in fact priestly and religious vocations stretch back seven generations on his mother's side and there are also priests on his father's side. His mother's late uncle, Br Gaetano Di Losa OCarm is possibly on the road to sainthood, with the Cause for his canonisation now officially open.
"I think we're a sacerdotal family," he laughs. "God keeps calling us forward and I just happen to be the latest one."
Bishop-Elect Tony says that growing up, he was very involved in parish life and had the good fortune of having a marvellous parish priest and associate priest.
"That associate priest was Fr Michael McCarthy, who is now Bishop McCarthy, the Bishop of Rockhampton, and I was very fortunate to have his watchful eye as a mentor in later high school," he says.
After leaving school, he took Fr McCarthy's advice to gain some life experience before pursuing a priestly vocation. He worked in a pub and also taught music at the local Catholic school.
"So it was a jam-packed year. And during that year I went to a vocation weekend in the Archdiocese of Brisbane and that solidified things for me regarding my vocation."
Bishop-Elect Tony entered the seminary in Brisbane in 1985 and was ordained by Archbishop Francis Rush on November 29, 1991.
Appointments as assistant priest at local parishes followed, before he was asked in 1995 to become Master of Ceremonies and Associate Pastor at St Stephen's Cathedral, after which, in 1998, he worked in the Regional Tribunal.
That same year, Bishop-Elect Tony was asked by Archbishop John Bathersby to go to Rome and pursue post graduate studies in Canon Law. He obtained the Licence in Canon Law (JCL) Magna cum laude from the Pontifical Gregorian University and then went on to obtain a specialisation in Jurisprudence.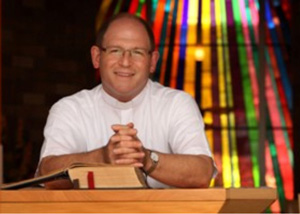 From 2001-2003, he returned to Brisbane as Parish Priest of Regina Caeli Parish in Coorparoo Heights, and was also appointed Associate Judicial Vicar of the Tribunal and Director of Vocations for the Archdiocese, before once again being called to Rome, this time by then Cardinal Joseph Ratzinger, to work as an official in the Congregation for the Doctrine of the Faith.
In 2009, he was asked by Archbishop Bathersby and the Bishops of Queensland to return home to the post of Rector of the Holy Spirit Seminary.
"The bishops asked me to undertake some restructuring and rebuilding of the seminary in Queensland," he says. "The rector before me was my old mentor, Fr Michael McCarthy. He laid the foundation for the work I came back and did for the next seven years."
During Bishop-Elect Tony's time as Rector, the seminary increased its numbers from four young men to a full capacity of 32.
"We had to build more buildings to accommodate all the seminarians, which was wonderful," he says. "But this cannot be about the numbers. If all we're doing is playing a numbers game, we're not serving the People of God."
Rather, he attributes the positive outcome of the seminary reforms to having had good foundations, a wonderful team of collaborators and an increased focus on pre-formation, or discernment, through Canali House, a house of discernment he had founded some years previously.
"We created a space, allowing young men to ask the question, without feeling any pressure: 'What is God asking me to do with my life?' And that approach has played a large role in young men wishing to enter the seminary and go on to priesthood," he says.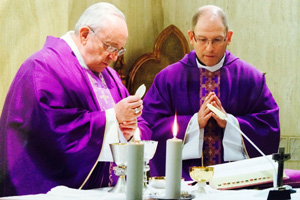 Bp-Elect Tony says he was surprised when the Apostolic Nuncio called to invite him to become an Auxiliary Bishop of Sydney, but says he finds the prospect "really exciting".
"Sydney is the Mother Church in Australia and I want to see the relationship between the Mother Church and the people grow and foster," he says.
"Apart from my desire to meet the people, I am also really looking forward to working with Archbishop Fisher and with Bishop Brady and Bishop-Elect Umbers.
"They are all mightily talented men and amazingly diverse men, and men of deep faith, and I'm eagerly looking forward to working with them to share the Good News of Jesus Christ, both with the faithful and also with those who haven't heard of Jesus yet, or who are on the margins somewhere, because that's where we are really called to be."