Australian Pilgrims gather in Krakow for the National Gathering at WYD 2016
Catholic Communications, Sydney Archdiocese,
26 Jul 2016
On Tuesday morning, Krakow time (6:00pm AEST) Australian Pilgrims will gather at Tauron Arena to celebrate the 2016 Australian Gathering. This unique event gives all those who have travelled from Australia the opportunity to join together and to encounter Christ as the Australian Church in a foreign land before the official Opening Mass of WYD16.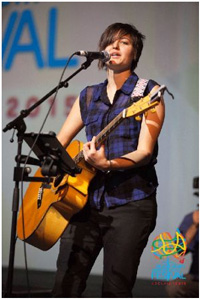 The 2016 gathering builds on the development and success of previous Australian gatherings bringing together various elements to help engage pilgrims such as stories, prayer, drama, music, preaching and witness.
This gathering will feature musical performances by Australia's own singer songwriter Genevieve Bryant and the SOUL Band from the Diocese of Broken Bay. In keeping with the theme of WYD16, a special feature of the 2016 gathering will be the singing of the Divine Mercy chaplet, set to music and performed live by Father Rob Galea.
Pilgrims will be greeted by the Australian Ambassador for Poland Mr Paul Wojciechowski who is also attending the gathering.
Mr Malcolm Hart, Director of the Office for Youth from the Australian Catholic Bishops Conference will address pilgrims and share with them the vision for the Year of Youth, a special year for the Australian Church to mark the 10th anniversary of WYD08 in Sydney.

The Archbishop of Sydney, Archbishop Anthony Fisher OP, greeted pilgrims via social media with a special video message and encouraged them to continue with openess to faith. Archbishop Fisher sadly could not travel to WYD16 as he is recovering from a Guillain-Barré syndrome.
Archbishop Fisher said that he is looking forward to hearing stories from the pilgrims on their return to Australia and is confident that WYD16 will equip them to share the merciful love of God with their friends and family.
Watch the video message below:
The Australian Gathering in Krakow will be streamed on www.Xt3.com/live from 7:00am-9:00am on Wednesday the 27th of July (Please note this is a 13-hour delayed broadcast)