Getting to Know Bishop-Elect Richard Umbers on the Way to World Youth Day
Catholic Communications, Sydney Archdiocese,
21 Jul 2016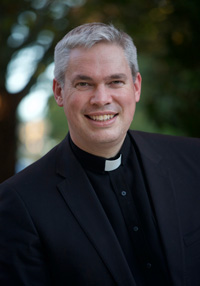 Most bishops-elect take a quiet retreat in preparation for taking on their new episcopal ministry, but for Bishop-Elect Richard Umbers, at least some of the weeks leading up to his episcopal ordination will be spent on pilgrimage with about 850 energetic young people from the Archdiocese of Sydney -and he can't wait.
"But don't worry, I will squeeze in a week's silent retreat after World Youth Day (WYD), in the lead up to my ordination as a bishop," he laughs.
New Zealand born Bishop-Elect Umbers, who is a priest of the Prelature of Opus Dei, at just 45 years of age, will be the youngest Australian bishop to take the WYD pilgrimage this year, and he's looking forward to spending time with the young pilgrims from the Archdiocese and getting to know them better.
He's already well acquainted with many young people in the greater Sydney area, through his previous work as a school chaplain, university college chaplain, and as a tutor/lecturer at the University of Notre Dame, and says it is a ministry he loves.
"What I love about working with young people is their ideals," he says. "It's often said that being with young people keeps you young yourself and I think that's true.
"And I'm really into philosophy, so I love the discussions you have with young people, the questions they ask. It's like a Socratic dialogue."
Before arriving in Krakow for WYD, Bishop-Elect Umbers' pilgrimage will include his first visit to the Holy Land.
"I'm really excited about that," he says. "To walk in the footsteps of Christ in a very literal way will really help my prayer life and I hope, my preaching, because when you've been to these places, you can talk as an eyewitness and give some kind of testimony.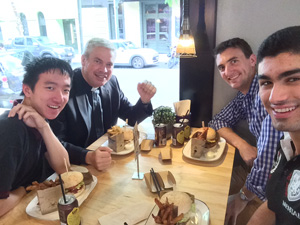 "To actually see the Sea of Galilee where Jesus called the Apostles, to be there in that place, will be quite amazing, especially in this period leading up to my ordination as a bishop, it will bring my own calling into very sharp focus."
And as a strong admirer of St John Paul II, Bishop-Elect Umbers is looking forward to the pilgrimage to the homeland of the late pope who he first laid eyes on as a WYD pilgrim to Manila in the Philippines in 1995.
"Yes, my first WYD was in Manila. There were five million people there at Mass that day, with John Paul II," he says.
"Coming from New Zealand, it was my first time being able to see the Pope and as a Catholic we always have a desire to see Peter, don't we?
"Later on, I was able to meet him when I was living in Rome and it was evident when you met him that he was a saint. The things that struck me about him were not only his intense prayer, but also his great sense of humour. He's the only person I know who consistently would have his security detail cracking up laughing."
Among Bishop-Elect Umbers' duties as a chaplain on the Sydney Archdiocesan WYD Pilgrimage will be some regular teaching and preaching.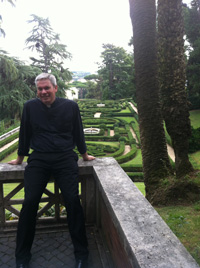 "I see it as an opportunity do a little bit of apologetics, to explain to the pilgrims some of the different aspects of the reality of the life and death of Our Lord," he says. "Although having done some preaching on buses on a previous pilgrimage experience, I'm aware that it's those times when I'm feeling like I'm at my most inspirational, that you find that actually most of the people on the bus are asleep!"
Bishop-Elect Umbers says he has high hopes for the impact the WYD experience will have on the young people who attend.
"One of my hopes is also to inspire other young men to consider the call to priesthood, in the same way that I am exploring this calling in my life," he says.
"But my main hope for the young people I will be with is that they be shored up in the faith through this experience."
And, as a regular user of social media, Bishop-Elect Umbers will be sending back regular 'velfies' (video selfies) of his pilgrimage experience.
"Social media is actually a natural activity for me," he says. "As someone on the younger side of episcopal ages, it's not something I hear about, it's something I do. It's just like driving a car to me.
"So yes, there will be velfies!"
Bishop-Elect Umbers says that as the young Sydney pilgrims gather with millions of other young Catholics from around the world, together with Pope Francis, he hopes to encourage them to take heed of some of the lessons to be found in the Pope's encyclical, Laudato Si.
"I want to see if we can look at Laudato Si as a real new plan for the New Evangelisation," he says. "By looking to praise God and putting God first in our life, in respect to His creation, this impacts how you live your life, treat other people and live the Gospel in today's society."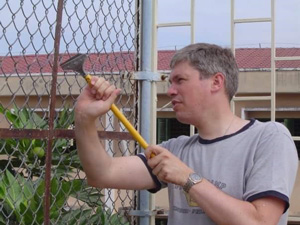 He says he can't think of a better way to prepare for his new ministry as a bishop.
"To be in that situation in the Holy Land and then with the Holy Father is a really wonderful preparation for (episcopal) ordination," he says.
"I'm aware that I have to be a source of unity and this will be a great way of living the Universal Church and being a conduit for the young people with the Holy Father and the Church.
"And to be celebrating the Sacrament of the Holy Mass and you're there at Calvary and all the places associated with the priesthood of Our Lord and the calling of the Apostles - you don't get much better preparation than that."
To follow along with Bishop-Elect Umbers' WYD journey and the pilgrimage of all the Australians through videos, photos and messages see the Xt3 WYD blog at www.xt3.com/wyd2016blog.